Three Things: Sunderland-Chelsea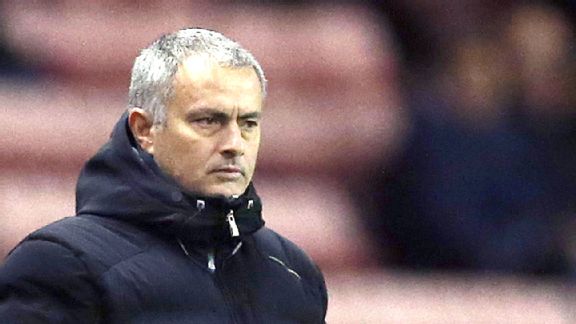 Ian MacNicol/AFP/Getty ImagesJose Mourinho's Chelsea continues to frustrate during his second spell with the club.
SUNDERLAND, England -- Chelsea's up-and-down season continued as the side was upset in a 2-1 loss at Sunderland in extra-time. Here are some thoughts from the match.

Chelsea's sub-par performance undone by two subs

During what was a busy summer of transfer activity on Wearside, it was Fabio Borini and Ki Sung-Yueng who were the last two through the doors at the club's training grounds. Both were late moves to replace the departing Stephane Sessegnon, and their loan deals from Liverpool and Swansea respectively were not viewed with any real importance.

However, those sentiments have dramatically changed, and as Christmas approaches, the pair seem like the best two presents Gus Poyet could have asked for.

- Worrall: Blues mauled by Black Cats
- Randall: Spirited cup comeback fires Sunderland hope

Ki operates in the same way Liam Bridcutt did for him at previous club Brighton, dictating the play and orchestrating proceedings. Meanwhile, Borini provides the attacking threat required to stage a resurgence away from relegation.

And while there is much criticism of the current loan system and how often it sees talent culminate at the big clubs -- Chelsea, for example, could name a full XI of players currently away from Stamford Bridge -- Sunderland now thrive from it.

Borini had already announced himself on Wearside with a goal in the Tyne-Wear derby. He had predicted his influence on proceedings to a friend, according to news outlets the week before, despite knowing he would likely start on the bench.

The Italian is not a clairvoyant, more someone who believes in actualization and a positive mental attitude -- a key requirement of Sunderland are to stage a new year fightback. Working extensively with a mental coach, the Italian was synonymous with everything good the home side did as the man nicknamed "the Pirate" sought to steal a result from Jose Mourinho.

His endeavor was quickly rewarded with the equaliser and the opportunity to display his trademark. Changing the complexion of a game for the second time this season, the absence of Steven Fletcher indicated that perhaps the club could look past the Scotland international for goals this season.

Helping to lift the 20,000 fans who had braved the cold to head to the Stadium of Light, Borini's defining moment would come deep into extra time. Seeing the ball arrive at his feet in the box, he displayed supreme composure to find Poyet's other substitute Ki.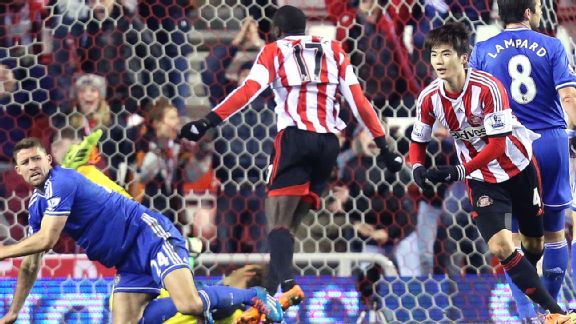 AP Photo/Scott HeppellKi Sung Yueng's courage reminded some of his days of stardom in South Korea.
A star in his homeland of South Korea, it is confidence issues that have so often plagued the midfielder and inhibited him from achieving his potential. Yet in a moment, in a less than packed stadium, he rid himself of those demons to fire past Mark Schwarzer and bring a glimmer to the aptly named Stadium of Light.

For Poyet, the concern remains that he owns neither player. Ki has been discussed as costing in the region of 10 million pounds, with Borini likely to garner the same fee if not more. Discussions over permanent deals are still light years away, however the more pressing concern remains their Premier League survival.

Potentially cast in the same paradigm that Wigan Athletic fell into late last season, balancing cup success with league survival, Poyet has been keen to stress the need for consistency both in terms of performance and commitment.

Allowing himself just the briefest of indulgences Tuesday night, Poyet explained that he is beginning to see the fruition of his plan on the pitch. However, as with every victory Sunderland have achieved this season, it is the game after the win that is infinitely more important than the win itself.

Chelsea fringe players fail midweek audition

"What do you think," Mourinho responded when asked if his side deserved to win the game. The tactician had maintained an air of defiance after his side's defeat, maintaining they were not deserving of such an outcome.

Wasting a number of chances, Mourinho bemoaned his side's inability to "kill off" teams. It was a hallmark of his last spell at Stamford Bridge, and one that now seems to evade the current iteration of Chelsea football club.

"If I want to win 1-0, I can," Mourinho said.

Yet it seems in chasing, creative, expansive football, Chelsea have lost their steel. Performing a public dissection of their recent form in his post match news conference, he cited defeats to Stoke City and Newcastle as examples of Chelsea outplaying their opponents without collecting a victory.

Crediting the fringe players he put his faith in, such as Willian and Kevin De Bruyne, neither really displayed the quality they had shown last season at Anzhi and Werder Bremen respectively. With De Bruyne also reportedly courting interest from Bayer Leverkusen, he confirmed to EXPRESS that he has sought discussions with Chelsea over his future.

With Mourinho also playing down concerns of his strikers lack of goals, this evening served as supporting evidence to the contrary.

Samuel Eto'o and Demba Ba arrived at Chelsea as fulcrum players for their previous clubs. Now the players duel it out for second fiddle to Fernando Torres. Neither gave glowing account of themselves as they struggled to outdo the league's joint worst defence -- with Eto'o, in particular, fluffing what is often considered "a sitter."

Attempting to rectify the situation late in the day with the introduction of Eden Hazard -- a man who had been described as unplayable during his last visit to Sunderland just weeks prior -- even he could not stir Chelsea into final third action, a worry going into an important Christmas period for their title hopes.

Brown key to Sunderland's survival hopes.

Sunderland fans have waited 22 months for Wes Brown to start successive Premier League games. A baron period that saw defensive calamities arrive with unnerving regularity, the change since his return to the side has been nothing short of remarkable.

A fringe player at Manchester United, Brown is now the kingpin of Sunderland's back four. Even helping to steady his former United teammate John O'Shea, the pair proved their combined 31 years worth of Premier League experience could nullify an expensively assembled attacking front line.

Perhaps most impressive of all Brown's qualities is his composure.

Far from infallible, he handles mistakes in a relaxed way, quickly attempting to rectify any glimmer of weakness to his play, such as a dangerous give away to Andre Schurrle in the first half that eventually saw him quell the ensuing attack. Along with Ki Sung-Yueng, the defender has become an integral part of Poyet's new look side.

With the South Korean dictating the play from the middle of the park, it is Brown who confidently strides out of defence with the ball at his feet. Given Poyet's system requires determination not to waiver from it, Brown is the ideal candidate. Presented the easy option of hitting long, he stuck to the game plan in the face of high-level pressing from Willian and Eto'o.

It is for that reason Sunderland were able to frustrate their opponents this evening, causing the current Europa League Champions to chase the ball more than they may have expected. Still, with a relative mountain to climb in the league and a congested Christmas fixture list, Sunderland's survival success will likely hinge on whether Brown is able to shed the injuries of years gone by, and make 2014 the year of his triumphant return.