Atletico's win over Valencia emphasises the clubs' differing fortunes
MADRID -- Atletico Madrid and Valencia are very similar in many ways. The two La Liga clubs are about the same size, have many of the same strengths and weaknesses and both have deep off-field problems.

None of this was evident as Atletico steamrolled their supposed peers 3-0 in Sunday night's clash at the Estadio Vicente Calderon.

The game was actually quite even in the first half, as befitted two clubs which have been so historically close. Atletico have won nine Spanish titles and ten Copas del Rey, while Valencia six championships and seven Copas.

But Valencia fans can point to more consistency over the years: Los Che are currently third in La Liga's all-time points table, with Atletico close behind in fourth spot.

The similarities don't stop there. Work is proceeding very, very slowly at Atletico's planned new 69,000 capacity ground – "La Peineta" -- near Barajas airport, while legal issues and Spain's property crash have stalled a plan to redevelop the Calderon.

Valencia also have two grounds at the moment: the New Mestalla which the club cannot afford to finish and the old Mestalla, which it cannot cash in on due to the fall in land values.

Such stadium woes have contributed to both clubs being horrifically in debt. Valencia owe about 430 million euros, despite following an austerity path for five years. Atletico are now [reportedly] over 500 million euros in the red to their various creditors.

Those huge financial problems mean that, despite both having about forty thousand abono season ticket holders, they have had to sell all their big name players in recent summers.

In the last four years Atletico have cashed in on Sergio Aguero, David De Gea, Diego Forlan and Radamel Falcao while Valencia's talent drain has been even worse: David Villa, David Silva, Juan Mata, Jordi Alba and Roberto Soldado have all left the club.

Atletico have long plugged holes with "help" from third party investors including the Doyen Group to assist in financing signings, a tactic which Valencia last summer started to adopt themselves.

Amid these departures, the teams have scrapped it out in recent seasons to be Spain's "best of the rest". Atletico edged past Valencia in the Europa League semi-finals in 2009/10 and 2010/11 -- Los Colchoneros went on to win both tournaments -- but Los Che generally have had the upper hand domestically, as well as some relative stability with Manuel Llorente as president and Unai Emery on the bench.

Thus, until December 2011 the clubs and teams were more or less evenly matched with Valencia, if anything, having the upper hand. When Diego Simeone took charge at the Calderon during the winter break two years ago, Atletico were tenth in the table and had just gone out of the Copa del Rey to Albacete from Spain's third tier. Emery's Valencia were third then and would finish the 2011/12 season there.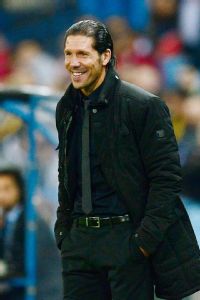 Javier Soriano/AFP/Getty ImagesSimeone has had plenty to smile about this season.
However, the decisive move had already taken place. Simeone's immediate impact pushed Atletico up to fifth, while Emery left Valencia in the summer of 2012. The Basque has been badly missed: his old club are now on their fourth coach in just over 12 months.

Current boss Miroslav Djukic arrived last summer and talked of making Valencia one of Europe's best teams again but such big words look pretty laughable at the moment amid boardroom chaos which saw the club [reportedly] put for sale by its bankers last week.

The visitors put on a relatively decent showing here and were probably the better team in the first half. Djukic has recently turned to youngsters such as Bernat, Dani Parejo, Sergio Canales, Victor Ruiz and, on-loan from Chelsea, Oriol Romeu.

They all started again here, leaving out of favour Ever Banega and big money summer signing Dorlan Pabon on the bench. Parejo and Romeu were impressive early, using the ball well and getting stuck into tackles when required. A goalless score at half-time was fair.

However, Valencia were overrun after the break when Atletico upped the tempo. Diego Costa ran riot against Ruiz and the kids in midfield were suddenly much less visible. Afterwards Djukic, who might have been fired already if there was money to pay him off, was stoic when once again facing questions about his future:

"All I can do is keep working to try and do as well as possible with the team, and move this forward," he repeated more than once.

As well as possible for Valencia this season looks like some cup success, as a top four finish is very unlikely with Athletic Bilbao, Villarreal and Real Sociedad all much stronger. And then any players who do impress this season could well be sold off next summer.

"Neither I, nor nobody here, came to Valencia to be tenth," Spanish under-age-future-superstar turned might-still-be-good-if-he-can-avoid-injury-for-a-while Canales said last week.

Nobody at Atletico talks about leaving. Costa, Koke, Juanfran and Arda Turan are among the players who have turned down bigger offers elsewhere to sign new long-term contracts. Costa was -- yet again -- unplayable here, scoring the first after a typical barnstorming run and thumped finish.

He also won two penalties as Valencia's defence resorted to the only possible means of stopping him, although he showed the one imperfection in his game by only converting one spot-kick. Atleti's third goal came from substitute Raul Garcia, who fired in to continue his fine recent scoring run.

The result maintained Atletico's amazing form. Since their only loss of the season at Espanyol in mid-October, their record is 36 goals scored and four conceded during over wins and two draws. It is becomingly difficult for Simeone to play down expectations that his side could become the first team other than Barcelona or Real Madrid to win La Liga since Rafa Benitez's not dissimilar Valencia side took the title in 2003/04.

Skeptics can point out that Atletico's squad is still not the deepest, but they may move in the January market as they are already guaranteed 30.6 million euros in Champions League cash, having won their group so easily to reach the last 16.

But Simeone's focus afterwards -- as always -- was on the next match, even though it is [just] a home Copa del Rey game against third tier Sant Andreu.

"You can dream, get excited," the Argentine coach told a reporter trying to get him to talk up Atleti's title chances. "But we live in the real world, we know how difficult it is to win every week. We keep our focus on the present."

This present reality has Simeone's side behind leaders Barcelona only by one goal scored, with their city rivals now five points adrift. Atletico are also a whopping 23 points ahead of Valencia.

You could say there has never been quite such a void between them. Atletico and Valencia are very similar clubs in many ways but they are currently heading on very, very different paths.