Moyes suffers Anfield agony again
LIVERPOOL -- The great managers whose finest achievement became apparent after their departure are a rare breed. Perhaps in this, as in much else, Bill Shankly is unique. As Liverpool celebrated Monday's 100th anniversary of his birth with typical enthusiasm, it was in part because Shankly was the founder of a great winning dynasty.

- Okwonga: United's issues on the flanks

Another iconoclastic Scot had the same designs. Three games after Sir Alex Ferguson's retirement, Manchester United are discovering it is not that simple. His handpicked successor, David Moyes, was condemned to a first defeat at the ground where, infamously, he has never won, and to the club that, famously, Ferguson knocked off their perch.

Ferguson's legacy incorporates two decades of success and a sizeable transfer budget that Moyes is struggling to spend. Three games into his reign, however, it is apparent the younger Scot's inheritance was not wholly positive. Moyes, in a strangely upbeat analysis, proclaimed himself pleased with much of what he had seen. "It's the best we've played all season," he said. "I was really impressed with how they played. I can see why they're champions."

The most damning appraisal, however, came from the United supporters, who went further than Jose Mourinho had last week in criticising their title-winning team. "We're s--- and we're champions," they chorused. On this evidence, a more appropriate adjective would be "mediocre," but football crowds don't deal in understatement.

Because as Liverpool secured the biggest win of Brendan Rodgers' tenure, the fault lines in Moyes' squad were exposed. That Daniel Sturridge was, Rodgers said, only 70 percent fit raised the question of how much damage he would have caused at the height of his powers. As it was, Nemanja Vidic and Rio Ferdinand, lacking nothing in valour or positional sense, struggled to keep up with a youthful, speedy striker.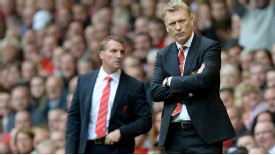 PA PhotosDavid Moyes has still not won a Premier League game at Anfield in his managerial career.
With an aging defence and an underpowered midfield, United present an invitation to faster opponents. Liverpool raised the tempo in a storming start. At times, United were overrun. The summer-long quest for quality and quantity, power and precise passing, in midfield is 24 hours from ending in abject failure. It is more than a decade since Ferguson envisaged Steven Gerrard as Roy Keane's long-term successor; even at 33, the Liverpool captain retains the dynamism and drive to dominate in the centre of the pitch. "He still has the composure and tenacity to play these games," said Rodgers.

His United counterparts were ruffled. Tom Cleverley and Michael Carrick were cautioned for failed attempts to impose themselves upon their opponents. The latter created United's clearest chance -- Robin van Persie shot wide -- but the former underlined why Moyes has targeted Cesc Fabregas, Thiago Alcantara, Ander Herrera and Marouane Fellaini.

Without any of them, the Scot has followed Ferguson's lead in showing favouritism toward Cleverley and Danny Welbeck, the homegrown hopes who tend to disappoint. The forward was in the Rooney role, reinvented as the No. 10, charging around in a position where creativity tends to be prioritised. A semi-fit Shinji Kagawa didn't even make the bench. The German Twitter campaign to "free Kagawa" from obscurity at United has failed, but without him, the only stardust in the side belonged to van Persie and Ryan Giggs, an icon whose intelligence has allowed him to play on into his 40th year. As ever, his longevity highlights others' shortcomings. Including, it would appear, those of Moyes and chief executive Ed Woodward in the transfer market.

The summer's triumph was retaining Wayne Rooney, only for that expert man-marker Phil Jones to take his teammate out of the game before it had even begun. "A boot by Phil Jones caught him down the forehead [during training]," Moyes explained. The seemingly indestructible, but actually injury prone, Jones then twisted his ankle to compound a bad weekend.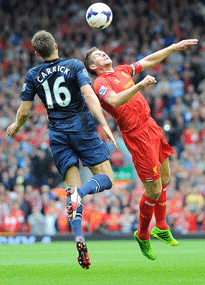 PA PhotosMan Utd's midfield was screaming out for a player with the dynamism of Steven Gerrard.
"Wayne would have made a difference," Moyes insisted. At the moment, however, he seems to have too few who can provide that extra ingredient. Meanwhile, despite a similar struggle to make a flagship signing, Liverpool secured two, comparatively quietly, in January when Sturridge and Philippe Coutinho were acquired. Those outcasts have been reinvented as outstanding additions.

Sturridge's peripatetic career has been a grand tour of United's enemies, whether Manchester City, Chelsea or Liverpool. It has encompassed spells as the hyped prodigy and an unhappy fringe player before his emergence as the finisher. He turned 24 in style, his quicksilver movement enabling him to find space and glance a header in after Daniel Agger met Gerrard's corner.

And so Liverpool's perfect start continued. Three 1-0 wins, each featuring a Sturridge goal, renders this their best beginning to a season since 1994. Some 109 points behind United over the past four years, they are now five ahead of them.

It might be deemed the Ferguson factor. While his recent record at Anfield was undistinguished, his trophy-winning habit protected him from criticism. Moyes has no such shield, and while he borrowed from his predecessor's handbook by praising his players for a poor performance, United's summer of discontent took a turn for the worse.

MAN OF THE MATCH: Steven Gerrard. A commanding figure in the centre of midfield.

LIVERPOOL VERDICT: Excellent on the front foot in the first half, they defended well in the second. If Agger was especially impressive, Martin Skrtel's role was as important. With two defenders, Tiago Ilori and Mamadou Sakho, watching in the directors' box, his reward may be a return to the bench. Victor Moses, too, is set to sign.

MANCHESTER UNITED VERDICT: As even Moyes accepted, they did not create enough chances. Nani, who made his first appearance of the season, brought a little more invention in his cameo while Javier Hernandez also looked sharp. The problems came before either was introduced.