United's under-fire squad players deliver at Villa
BIRMINGHAM -- Three minutes and four seconds separated Danny Welbeck's goals. It was a brief period, notable only for an insight into the mindset of the Manchester United supporters. A couple of years ago, they were boasting: "We're Man United, we'll do what we want." Now came a chant of mock defiance: "We are staying up." Manchester United's 3-0 win over Aston Villa was one of their finest results of the campaign, but it has been a season for gallows humour.

- Okwonga: United have a grand day out at Villa Park

Spoiled for two decades, these fans are now being tested. The realisation has set in that while the current collective will not follow in the footsteps of Tommy Docherty's side, who were relegated in 1974, nor will they emulate Sir Alex Ferguson's 13 title-winning teams. It is a season to cast envious glances at world-class players their rivals have signed while they sing songs about past greats or, in Ryan Giggs' case, a man born in the same year as Brendan Rodgers and Roberto Martinez and whose greatest goal came at Villa Park, but in a different millennium.

Even when their bravado made a brief return, with the taunt of "you've only come to see United," the next message from the stands concerned "Matt Busby's aces," not David Moyes' midtable men. Chances are few came to see Welbeck or Antonio Valencia, let alone Tom Cleverley. The allure comes from the name and reputation of United, rather than the identity of many of the players wearing the shirts, but for once, the much-maligned squad players prospered.

They did what too few United players have done this season and left their imprint on a match. The reason Adnan Januzaj's two-goal salvo at Sunderland stood out was that it provided a rare example of a player who wasn't content to cruise along in the slipstream of Wayne Rooney or Robin van Persie. Too many have been strangers to the score sheet.

Welbeck is a case in point, a selfless striker who tends to use his muscle without providing enough menace. "It has always been labelled at him," Moyes accepted. "But we had Robin and Chicho [Javier Hernandez] out and he stepped up to the mark." A perception-changing 185 seconds saw Welbeck score twice, sliding in to finish in predatory fashion after Januzaj headed against the post and again to meet Valencia's low cross. "He got two poacher-type goals," Moyes said. He then went hat trick hunting with uncharacteristic greed.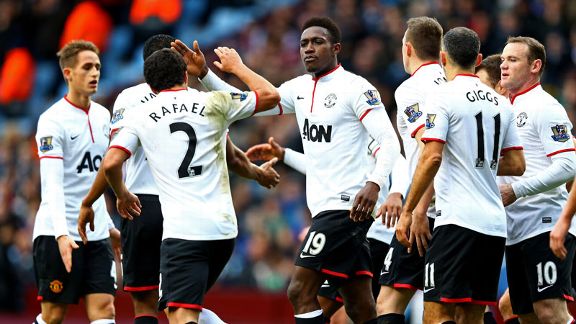 PA PhotosTwo-goal hero Danny Welbeck celebrates his opening goal against Villa.
Another scorer was encouraged to carry on contributing. "Tom needs to score more but he played well," Moyes said. Indeed Cleverley, who had gone 28 games without a goal, became the first United central midfielder to score in the league this season when prompted by the provider, Rooney.

Valencia has long enjoyed tormenting Villa and found a favourite opponent in the shape of the hapless Antonio Luna. "Tony Moon," as the Spaniard's name has been anglicised, was awful but many of his teammates were little better after Welbeck pierced their belief with the opening goal.

And so on this day, the grim-faced Scottish manager was Paul Lambert. "The goals we lost were disappointing," he said. "For the second and third, we were in possession of the ball and turned it over."

The victor, needless to say, was not getting carried away. "It has to be more consistent and I am still looking for that to improve," Moyes said.

The Everton and Newcastle defeats remain blights on his record and United are still outsiders to clinch a top-four finish, but there was a reminder of resolve. Moyes spent much of his 11 years at Goodison Park, especially the early seasons, galvanising limited players. He did that again.


"The all-round performance was more like it," he added.

It was more like the Everton of 2005 than the United of 1999. Yet it wasn't merely Giggs' presence at Villa Park that made them nostalgic. With his side three goals ahead, Moyes brought on Darren Fletcher, who made his first appearance since Boxing Day last year and whose introduction drew the loudest cheer of the afternoon. "Rightly so," said Moyes. "To return from an illness to play professional football for a club like Manchester United shows a lot about the boy."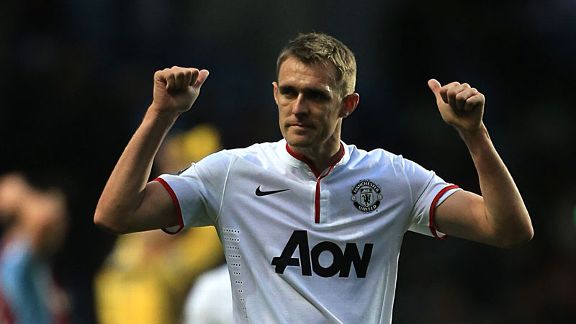 PA PhotosDarren Fletcher made his first Manchester United appearance since Boxing Day last year.
Fletcher's issues with ulcerative colitis have disrupted a career that illustrated wholehearted triers' capacity for overachievement. Lest it be forgotten, Moyes, an admirer of men with such qualities, once tried to sign him for Everton. The supercharged Fletcher of 2008-10 would have been invaluable this season; now he could add seniority and common sense in the middle of the pitch.

"We couldn't tell you exactly where he is at," added Moyes, cautious in case Fletcher suffers another setback. Regular United watchers will know how he feels. In a topsy-turvy season, good news has tended to precede bad. Yet now, as their self-deprecating fans will know, they are up to 25 points. They only need another 13 more to survive.

MAN OF THE MATCH: Danny Welbeck: He has rarely been a match-winner for United, so this was a step in the right direction. With van Persie out for a month, the challenge for Welbeck is to repeat this display and find the net again.

ASTON VILLA VERDICT: Miserable, after looking the likelier to score at 0-0. Left-back has been a problem position throughout Lambert's reign and Luna's troubles ensured that continued. Just as worrying is the way goals have dried up for Christian Benteke and Andreas Weimann, who was only on the bench. In their defence, their teammates created them too few chances. Their home form is strangely poor and it must be a concern that two of their wins this season, against Manchester City and Southampton, have come very much against the run of play.

MANCHESTER UNITED VERDICT: Much better, especially as eight players were sidelined. United head into what seems an easier run of fixtures. Nevertheless, the test remains whether they can defeat sides who, like Newcastle and Everton, are likely to finish in the top half. They could enjoy several fine performances at Villa Park, including Januzaj's, but Moyes was concerned that the teenager is being targeted by overly physical opponents.