White Hart pain for Spurs as Liverpool's development continues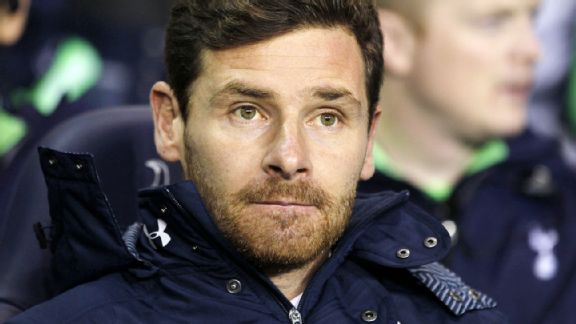 IAN KINGTON/AFP/Getty ImagesThree weeks after losing 6-0 at Man City, Andre Villas-Boas' men were thumped at home by Liverpool.
LONDON -- For two teams so close to each other in terms of ambition and credentials, the disparity could not have been clearer.

It was a day when everything went right for Liverpool, the 5-0 winners, and everything went wrong for Tottenham, but that was down to so much more than fortune or events falling the right way.

Let there be no equivocations about red cards or reversed incidents. One side fully deserved their humiliation, the other were well worth every word of praise. Spurs were as atrocious as Liverpool were exceptional. The difference made for what, at this moment in time, feels a statement result.

The long-term effects remain to be seen but what was visible on the day was resounding. The imagination and improvisation of Luis Suarez and Jordan Henderson summed up the joyous fluidity of Liverpool with the Uruguayan, captain of the side in Steven Gerrard's absence, leading the team in the most productive way possible -- with two goals.

Meanwhile, the unmoving dour facial expression of a clearly concerned Andre Villas-Boas reflected the flat hesitancy of Tottenham. Sources close to the White Hart Lane hierarchy maintain the recent speculation is true, that there are genuine concerns about the day-to-day management of the Portuguese and that a result like this will put his job under further threat.

- Crace: Abject Spurs destroyed
- Villas-Boas: Blame me
- Gerrard hails Suarez

Villas-Boas himself was slightly less defiant than previously when the pressure was mentioned:

"I have to get down to work," he said. "That's the only thing I can focus on. The call on that decision is not mine."

To a degree, it was that speculation that sped up the transition here from defeat to outright thrashing. After the 6-0 defeat to Manchester City, Villas-Boas conspicuously switched tactically, moving away from a dangerously high defensive line, while making other selection changes.

The extra solidity brought a creditable 2-2 draw against Manchester United and then successive wins over Fulham and Sunderland.

Villas-Boas, however, has occasionally come across as that curious mix of oversensitive and overconfident and this game appeared to further reveal that. Almost as if the Spurs boss was sufficiently emboldened by those recent results, he fully reverted to his favoured approach on Sunday. It was absolutely the wrong decision, totally playing into the hands of the vigorously assured visitors.

Where Tottenham were hesitant, Liverpool wrought the benefit of believing in a consistent approach.

"I loved our arrogance today, our arrogance with the ball, lots of angles," Brendan Rodgers said afterward.

The contrast between the teams was immediately evident and repeatedly emphasised.

On 18 minutes, Suarez and Henderson leapt on the laxness of the Spurs' defence for the Uruguayan to sleekly open the scoring. Eight minutes later, Mousa Dembele was beaten to a key loose ball. Sixty seconds later, Philippe Coutinho smashed the bar.

Spurs were being absolutely overrun, and by a midfield that seemed to have a more defined and purposeful shape than when having to accommodate Gerrard.

The key goal, which came five minutes before halftime, summed up the game to that point. Liverpool battered Hugo Lloris into spectacular saves until the centre inevitably gave way and Henderson got the goal he deserved. Fully confident, this was surely his finest performance in a Liverpool shirt, but only reflected the team as a whole.

"We want to go into any stadium and play the way we want to play," Rodgers said, beaming. They certainly did that here, so admirably going at Tottenham in such a full-blooded manner.

"The model of our game was outstanding," Rodgers said. "We were like animals without the ball. Our hunger to get it back was great."

Yet this was as focused as it was feral. There was perhaps some merit in Villas-Boas' assertion that the period immediately after halftime offered some potential for Spurs before Paulinho's "harsh" red card, but the broader issue was that Rodgers and his team had realised exactly how and where to hurt the home side.

What was even more impressive about this imposing win was that all five of the goals came from the same route, as Liverpool leveled Tottenham's high line to the ground.

In truth, the only thing the Brazilian's 64th-minute red card -- given for a high foot on Suarez -- really did was ensure the defeat would be worse.

"When it went to 10 men, we opened up the pitch with the ball, and pressed even harder," Rodgers said. "We work on overloads in training, and we saw that through very well."

That was the case in the 75th minute when left-back Jon Flanagan got forward to rifle home his first goal for the club. The last two goals, though, were the most luscious of the lot.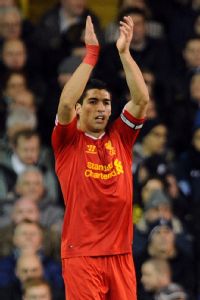 John Powell/Liverpool FC/Getty Images)Luis Suarez has scored 17 league goals in 11 games this season.
Suarez pulled off a magnificent chip for the fourth before Raheem Sterling rounded off a fine move to make it 5-0.

As to whether this all means Liverpool can have ambitions beyond just finishing in the top four, Rodgers said he is not thinking about such things and referenced a lack of squad depth which feels like it may well cost them.

"My job was to develop the style of football while moving the club forward, and that's what we've tried to do," he said. "Obviously you dream. That was my dream. I didn't come here to be fourth, third or second. Eventually you want to win. But you have to be realistic as well. We were eighth. Last year we were seventh. If we can stay clear of injury and continue to improve our football, let's see where it takes us."

It was the only occasion on the day that anyone in the Liverpool team displayed anything like uncertainty and the contrast with Tottenham was, again, clear.

While Rodgers is now renowned for distilling his team with defined principles, stories are beginning to spread about a certain laxness at Spurs training; as if the manager is not taking a strong enough hand in either approach or selection.

Villas-Boas seemed at a loss to explain what is going wrong in the Premier League, as he somewhat feebly pointed to Europa League form.

"This is a top-four squad, but in the Premier League the form isn't there," he said. "We built this squad to be up there challenging. We have the squad, the ability, and we believe in each other. But the results are not there to prove it."

Villas-Boas said afterward that he does not expect to do much business in January. If they sack him, Tottenham may well have made their most important move by then.

It certainly feels like Liverpool have made theirs.