Three Things: Chelsea-Crystal Palace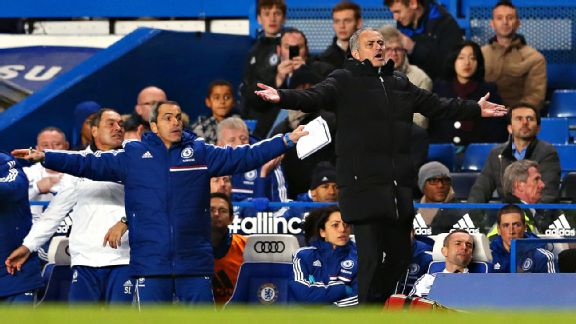 Scott Heavey/Getty ImagesJose Mourinho's side earned another valuable Prem win but showed they're not quite a finished product yet.
LONDON -- Three things from Chelsea's 2-1 home win over Crystal Palace…

A Mourinho result but not yet a Mourinho team
Not at their best, but far from their worst. Chelsea responded to last week's defeat at Stoke City -- and, more importantly, Manchester City's win over Arsenal -- in the only way that's really relevant: with a win. That capacity to claim these victories of understated value has been one Jose Mourinho has kept throughout his career. It is why he has never finished outside second since taking over at Porto.

Although the Portuguese manager has a fine record of imposing his will on competitions, though, it still feels as if he has some way to go to fully impose his personality on this Chelsea team. After all, a home match against a side as low as Crystal Palace should have been the perfect platform for the side to show their baseline quality. Instead, it illustrated just how much Jose still has to do to link the old and new Chelsea, as well as the old and new Mourinho.

- Lythell: Chelsea close gap on Arsenal

Consider the very start to the game, which carried a few stock traits of their season so far. At Real Madrid, Mourinho clearly developed a characteristic for absolutely blowing lesser sides away in the opening minutes of games. It is something he has frequently attempted to replicate at Chelsea, but the difference, of course, is that they lack the likes of Cristiano Ronaldo. Although undeniably rising as a world-class player, Eden Hazard is not yet close to that level, and it means Chelsea's exciting early bursts of intensity are nowhere near as exacting.

By the 10th minute, they'd begun to visibly level off and settle into that controlled, contained approach you would more associate with the old Chelsea -- but without that obvious record.

Yes, a goal did arrive in the 16th minute, but it was from a Willian long shot and opportunistic Fernando Torres rebound rather than the lightning exchanges of the opening 10 minutes. In other words, a little more down to fortune than forcing their game on Crystal Palace.

What's more, none of it deterred the promoted side. Within 13 minutes, they had claimed a relatively deserved equaliser through Marouane Chamakh.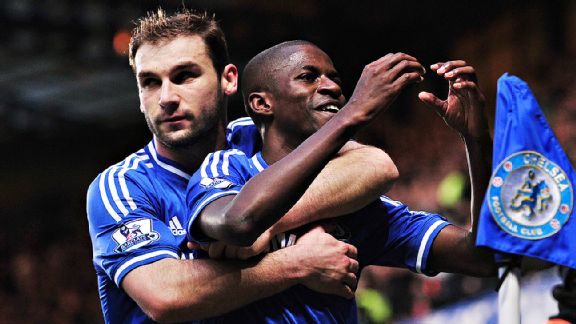 Carl Court/AFP/Getty ImagesChelsea's biggest issue is fusing their resilience with a cutting edge. Ramires' goal was enough vs. Palace, but they must improve.

The game was all quite open, which again feels somewhat out of character. The Chelsea of 2004-06 became renowned for generally unexciting games, but only because they had such a command and kept opposition sides so far away from their box. There was none of that here as Palace had a surprising amount of the ball deep in the Chelsea half. Jason Puncheon, Yannick Bolasie and Damien Delaney all squandered decent chances to claim a second Palace goal. In the 75th minute, Palace squandered a scramble even though Delaney looked a real threat at every second-half set piece.

By then, though, Chelsea had already gone ahead through Ramires' supreme strike.

- Report: Blues outlast Palace
- Prem wrap: Arsenal humbled at City

That is the other side of this. If Mourinho still has so many technical and tactical aspects of the team to build, he has already begun to imbue them with his own psychological resilience. That will always keep them close to the top of the league. Reaching it and staying there, however, could come down to completing the other side of the job.

Palace foundations already looking stronger
Saturday's result wasn't just about Chelsea and the team issues the home side must improve. Palace came very close to punishing them because they have clearly made improvements of their own. That they so put it up to the potential champions is testament to a squad who looked as good as doomed just a few weeks ago. Now, there are no certainties about relegation other than that Palace will make a very real fight of preventing it. They have already become a much more difficult team to play against.

You would expect nothing more from a Tony Pulis team, and he has clearly done much to solidify the side in the short time since his appointment.
It would be hugely unfair, however, to just put it down to the change of manager. Caretaker Keith Millen had already done much to fill the gaping holes in Ian Holloway's framework after the latter's departure, and there were clear signs of improvement -- for example, a more imposing physicality -- in the games before Pulis came in. The 0-0 home draw with Everton and 1-0 victory away to Hull City were evidence of that.

The broader point of bringing in Pulis is that he is more capable of building on that, and Palace did add to their decent start. At times, they were admirably running at Chelsea -- substitute Stuart O'Keefe had a particularly fine game in midfield.

Pulis' brand of football might not be admired, but keeping this team up would be an admirable achievement. That already looks much more likely than it did.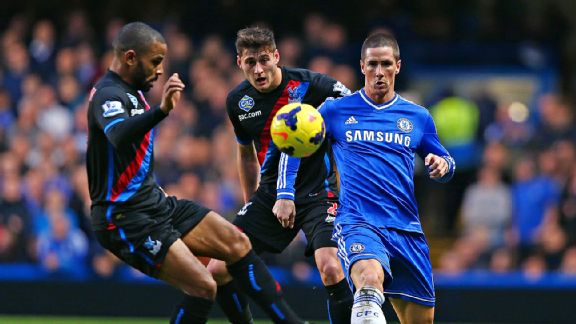 Paul Gilham/Getty ImagesFernando Torres rediscovered his poacher's instinct vs. Palace.
Forwards no longer so backwards
If Palace are now more difficult to write off, Chamakh is also a lot harder to ridicule. The improvement of the team has been accompanied by the rise in form of the Moroccan, and the two cannot be a complete coincidence. Chamakh has scored three goals in his past three games. Almost as relevant to his form, a forward previously seen as a soft touch has added to Palace's more physical edge. Here, he was also dropping back to help the play. After a three-year funk, this looked much more like the player who had such influence on the 2009-10 Champions League and persuaded Arsenal to sign him.

Whether this is going to be the season in which a few such players recover their careers remains to be seen, but there was an interesting parallel at the other end with Torres. The Spaniard has had a spree of articles and analyses written about his ever-wavering form and has been there and back again more times than there are minutes in the Hobbit trilogy. As such, it's difficult to say anything definitive about him other than the nature of his opening goal in this game was notable.

As Torres has adjusted to changes in his physique and career, it as if he has become conditioned to scoring only a certain type of goal, most of them involving some kind of run rather than opportunistic or instinctive finishes. Yet on Saturday, he notched the quintessential poacher's goal, what seemed his first in some time, as he opportunistically pounced on Julian Speroni's parry.