On this form, Prem title is City's to lose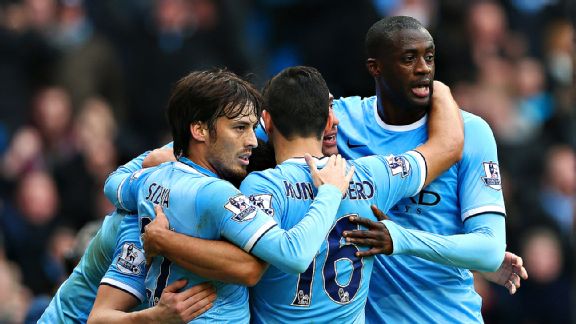 Clive Brunskill/Getty ImagesMan City will get a chance to improve their Premier League road record Saturday at Fulham, but will be missing several key players.
MANCHESTER -- Fortress Etihad is precisely the wrong place to arrive with tired legs. A team that averages more than four goals per home game proved irresistible again. Arsenal were ransacked and hit for six.

Manchester City pinned Arsenal back from the start; their perfect home record has usually been achieved through blowing away opponents with an early blitz. City began both halves in such fashion, rode out three attempted comebacks, damaged Arsenal's title credentials with a 6-3 rout and crystallised their own in the process. The Gunners join Manchester United and Spurs in being humiliated at City's impregnable home.

- Curtis: Electric City zap Gunners
- Mangan: Arsenal self-destruct against ruthless City

"Our philosophy is to try and score more goals," Manuel Pellegrini said. "Because it's the best way to win."

The visitors showed notable spirit and confirmed their attacking threat with three well-taken goals, but they still departed Manchester in misery. Each time Arsenal scored, a City goal took the game back away. David Silva's 66th-minute goal to make it 4-2 was the crucial strike. It knocked the stuffing from Arsenal, even allowing for a late Per Mertesacker goal that was answered by an even-later Yaya Toure penalty.

In his midweek tête-à-tête with Roy Keane, Patrick Vieira suggested that Arsene Wenger's greatest strength as a manager is a faith in his players, but that is concurrently his greatest weakness, too. Wenger remains steadfast in selecting his strongest teams when possible, thus stretching a small squad to its limits. Reinforcements of quality are required. As the game slipped away, Wenger looked ever more tetchy on the sideline, his arms folded tightly over his sleeping bag overcoat.

"It was a very open game; we made too many mistakes," Wenger said after the game. "Our strength until now was our defensive discipline, and, in the second half, that went. We were a little bit tired and had to run after the score."

Arsenal arrived at Eastlands looking careworn. Everton had outrun them the previous Sunday, and a midweek Champions League oddity saw Wenger's team holding on to lose 2-0 at Napoli. The latter result has already endangered Arsenal's European season; a difficult round of 16 assignment awaits regardless of Monday's draw.

- Mangan: Arsenal self-destruct vs. ruthless City
- Report: City put six past league leaders

Sergio Aguero's typically rapier finish from Martin Demichelis' header in the 14th minute met City's rocket-from-a-gun template. Arsenal were already rocking on their heels. As Everton and Napoli have shown in the past week, the Gunners leave space for intelligent running to exploit. Of their usual midfield quintet, only Mathieu Flamini is capable of locking the back door, and he made a bad mistake for Fernandinho's first goal, City's third. The unit that has been the engine of Arsenal's success so far badly let down the manager, and Jack Wilshere's middle finger at City fans betrayed a lack of maturity on his part.

Behind them, Mertesacker has been rightly praised for a fine campaign, but City targeted him. The German's stately deportment was ill-matched to the perpetual motion of Aguero, and Laurent Koscielny lacked the physique to contend with beastly Alvaro Negredo. The Frenchman's game came to a premature end when he injured himself before half-time, sliding in vain to stop Negredo scoring City's second. He was able to stand at first, but then collapsed to the ground. The sight of him in a knee bandage spelled fear for Arsenal. Beyond deposed captain Thomas Vermaelen, who replaced Koscielny, the centre-back cupboard is now bare.

Arsenal's spine suddenly looks rickety. Olivier Giroud's excellence has abated. He should have scored in the 56th minute from a pinpoint Bacary Sagna cross but sent his glancing header skidding wide. Midweek saw the French striker tell reporters he sees himself as the most tired of all Arsenal players. Now, the centre of defence faces being robbed of a pairing who have equally excelled. Although Arsenal's press men were quick to inform the media that this was no ACL for Koscielny but instead a "deep laceration," it still seems likely to rule him out for weeks.

Not that City escaped collateral damage, either. Aguero's participation was ended in the 49th minute by a calf injury. A ginger limp to the sideline was a bad portent. Only Luis Suarez has been in the same striking stratosphere this season, and City could face Christmas without their talismanic Argentine.

Other City concerns were illustrated by Arsenal's first-half equaliser. Toure idled as Aaron Ramsey robbed him. Mesut Ozil delayed his pass until reinforcements could join them, and Theo Walcott, making his first start since September, scored. Costel Pantilimon's incomprehensible lack of a dive might yet hasten the return of Joe Hart.

The Romanian hardly redeemed himself elsewhere, either. A Walcott free kick was met with the punch of a man 10 pints of strong ale to the good, and, early in the second half, he fumbled and slipped and had to rely on the frantic hacks of his defenders to bail him out. Demichelis continues to be a disaster waiting to happen, such that Pellegrini must be grateful to have Vincent Kompany back and playing.

The Belgian made one thrilling solo run deep into enemy territory and countless interceptions. He will be required as City attempt to turn around their poor away form, beginning at Fulham next week.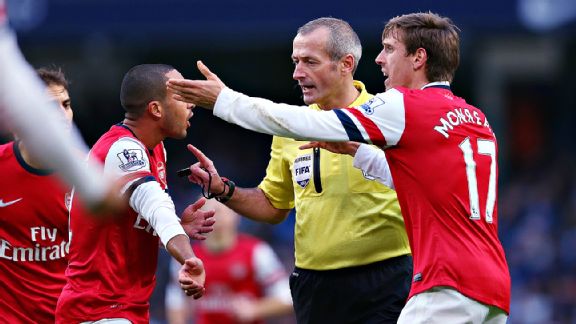 AllsportArsenal did themselves no favors against a ruthless Man City side.

By contrast to midweek's mathematical mix-up in Munich, Pellegrini does have a plan in place, and that is to enter the new year within three points of whichever team leads the league. Instead, he enters the Christmas week in that precise position, having humiliated the league leaders to boot. Not that he was fully satisfied.

"It was a more complete performance than against Bayern Munich because we did score four this time," Pellegrini said. "Arsenal scored three, and I think that's too much."

Wenger, meanwhile, had more reason to regret. "What hurts me more is we had an opportunity to make it nine points from Manchester and now it is three," Wenger said. "And that was against a team that were not unbeatable today."

In truth, Wenger's team were always kept at arm's length. Should City perform half as well away from home, then they, and not Arsenal, are set fair for the title. This was a withering statement of intent. Arsenal withered in City's wake.