Three Things: Chelsea vs. Steaua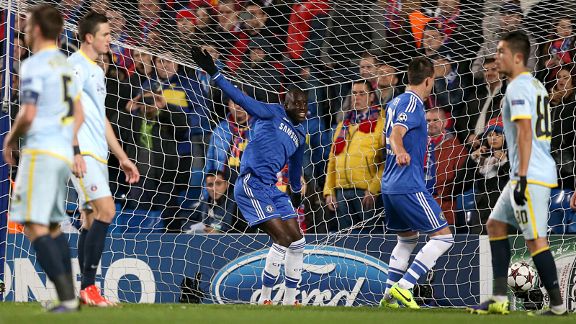 PA PhotosDemba Ba sweeps home Chelsea's opening goal from close range.
LONDON -- Three things from Chelsea's 1-0 win over Steaua Bucuresti that sealed the Blues' progression to the Champions League knockout stages as winners of Group E.

A table that tells a lot
By the end of the year, winners of the group. By the end of the season, winners of the competition? At the minute, it's hard to think so.

Jose Mourinho claimed on the eve of this win over Steaua Bucuresti that his team were not at the same stage of development as sides like Bayern Munich or the two Spanish giants. This group stage appeared to indicate that was not the psychological tactics that the Chelsea manager is typically known to employ.

The entire opening stage summed up their season so far. Chelsea were given a favourable bounce of the ball with a kind draw and, despite some very conspicuous slips, were still able to stay afloat. In fact, they rose to the top, as Mourinho demanded. He said he would not feel happy if they won the group with anything other than a win against Steaua and they at least fulfilled the minimum requirement.

Meeting the maximum requirements of the very top level of this competition is another issue.

As it stands, there appear just a few too many structural imbalances in the Chelsea team, which Basel expertly exposed in repeat victories and even Steaua almost managed to punish on Wednesday night. For all that they genuinely can be devastating when their attacking midfielders link up -- as in their own key wins over Schalke -- they do not yet have the full cohesion running right through the team that is so characteristic of Bayern Munich, Barcelona and even Real Madrid.

Yes, this competition may be a knockout more open to the nuances of fortune, but you still need to place yourself in the best position to maximise it.

Chelsea's most glaring gap would appear to be in central midfield. It's been intimated before, but is worth repeating because it's so relevant: Imagine the drastic difference a deep-lying passer like Xabi Alonso would have on this side. It isn't outlandish to say it would completely transform the team, because it at once provides greater protection for the defence and also better allows them to keep possession. What's more, there would also be the option of a player like Alonso picking out the runs of their strikers -- another issue highlighted as a weakness in this game.

Previously, Mourinho has been all too willing to downplay his side's chances in a competition in order to make his achievement look all the greater if he pulls it off. It was a trick that first came true for him at Porto.

In order to win the Champions League this season, at the least, Mourinho may need a bit more money to do some talking.

Still not paying it forward

Hit and miss. Demba Ba scored the key goal on 10 minutes to improve the scoring stats of Chelsea's strikers, but then offered wasted another opportunity on 51 minutes to illustrate why that has been such an issue.

As it stands, Ba's goal was just the 10th hit by a Stamford Bridge forward this season, in what was their 23rd game of the season. Mourinho is still getting plenty of mileage out of his forward trio but none of them are hitting any milestone tallies.

Against a side at the very bottom of the group, this should have been the game to fill their boots and replenish confidence.

Ba, for one, couldn't manage it.

It is possible, however, that this speaks to another potential structural issue; nothing deep, but something that could be tweaked.

Occasionally, it seems as if Chelsea's trio of midfielders all make the same type of runs and movements. That is somewhat inevitable given the intensity with which the squad's best qualities are concentrated in that area of the side and the fact they are still relatively early in their integration, but it doesn't always help the single forward. With the forward so often asked to complement them with work rate, he could perhaps occasionally do with an alternate run away from play in order to drag a defender away and free up that bit more space.

That Ba later had a goal ruled out for offside illustrated the tight margins, and that it is something that may only need to be tweaked, but it could have disproportionately large effects.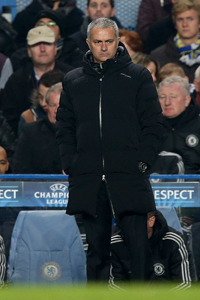 GettyImagesJose Mourinho has work to do if he wants Chelsea to win the Champions League this season.
No dummy runs in defence

In the 30th minute of this game, Nicolae Stanciu attempted a long-range shot that powerfully ricocheted off Branislav Ivanovic. In any other game in the past month, Mourinho might have claimed, it would have rebounded into the net. Here, it was deflected harmlessly out of the box. As a consequence, Chelsea claimed their first clean sheet in seven games in all competitions.

Of course, that underwhelming stat is down to much more than luck, much as it might suit Mourinho to spin the yarn that the poor record is down to nothing more than bad bounces.

Some of Chelsea's problems were revealed in the manner that Gabriel Iancu was allowed a clear one-on-one just minutes after Ba's goal.

Again, it points to those structural issues, and perhaps a defensive midfielder who can better combine protection and proactive passing.

Mourinho did restore one previous fixture of the Chelsea framework, as Ashley Cole was finally selected ahead of Cesar Azpilicueta at left-back for the first time in eight games.

If this one game against moderate opposition was never going to be enough to reinforce why Cole has been left out, it did reveal a certain rustiness.
Chelsea need to find a greater sheen.

Again, they did enough here, but it currently feels like it will not be sufficient to win this competition.