Three things: Man United vs. Shakhtar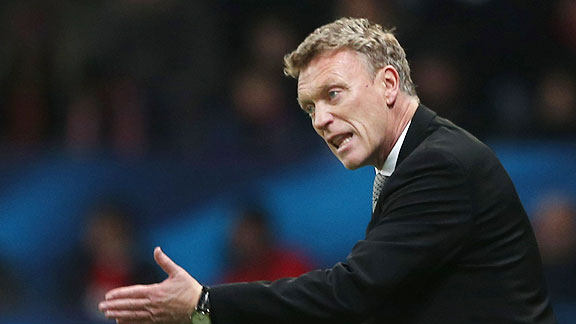 John Peters/Man Utd/Getty ImagesMoyes has overseen an impressive qualification for the Champions League last 16.
MANCHESTER -- Three observations from Manchester United's 1-0 win against Shakhtar in Champions League action.

1. Home comforts at last

Manchester United fumbled and faltered, but got there in the end.

On the sideline, David Moyes was a figure of impotent, boiling rage. His prematch press conference saw him assume full responsibility for his team's plight. Honest to a fault, he is that type of man.

Yet he is wrong, too. His players have been letting him down. They must bear some responsibility. Who aside from Wayne Rooney could boast of consistency this season? It does not speak well of the squad that a change in manager has led to their mediocrity across the board. Can they not be good players without Sir Alex Ferguson?

- Payne: Jones stops the rot

Good teams bounce back from defeat by kicking back harder. That the Newcastle loss resulted from a worse performance than that which was seen against Everton was a dangerous signal. This scruffy win needs to have a galvanising effect on the players and their manager.

The Stretford End still offers support for the new man. The die-hards do not want to be seen as a bunch who do not back their manager. Such pre-maturity is for fans of other clubs, or until things go really, truly wrong.

There were signs here that Moyes can have an effect on his players. The first half had been panicky, and the quality on display had come from Shakhtar Donetsk's bunch of Brazilians.

If Alex Teixeira, Douglas Costa and Taison had been better at shooting, Moyes might have suffered the indignity of becoming the first Manchester United manager to lose three home games in a week. He was no longer dealing in must-win games. Not losing had become the aim.

His team ran out for the second half with a renewed sense of purpose and looked as if they had angry fleas in their ears. Finally, the intensity of their play increased. At last, they pinned back Shakhtar and began to create some proper chances of their own.

Phil Jones is perhaps one man whose devotion to the Moyes cause cannot yet be questioned, and his powerful half-volley after 67 minutes lifted spirits and secured the win.

Shakhtar needed victory to go through, but Moyes' team held them at bay, assisted by some very poor set pieces and a rapidly fading belief from the visitors. Job done. Phew.

2. David Moyes' European vacation

Amid the domestic doom and gloom, Moyes can celebrate reaching the Champions League knockout round. His predecessor failed to do that two years ago and went out in the last 16 last season. When it was drawn back in August, Group A looked potentially troublesome.

Aside from twice leathering Leverkusen, United have hardly dazzled against lowly opposition. Real Sociedad, possibly the lowest quality Spanish opposition they have faced in recent years, caused real problems, while Shakhtar, weaker than last season, were troublesome too.

Still, for a first effort in this competition, Moyes can point to winning the group and avoiding the big boys too early.

Europe offers refuge from troubles on the home front, even if Moyes could not afford to lose another game at Old Trafford. That would have meant second place and pulling one of a highly dangerous selection of group winners in the last-16 draw, which could have spelled further doom on the horizon rather than provide something to look forward to.

Saturday's defeat against Newcastle saw a one-man delegation approach the gentlemen of the press and demand that a famed redtop reporter tell Moyes it was already time to go. The bulbous rage included the mime of a pen writing down that message.

That angry man will not get his wish just yet. Moyes has completed the first item on this season's checklist. He has a Capital One Cup quarterfinal next week, too. The League Cup and Champions League provide an oasis for his gathering storm.

Now to sort out that Premier League form. Patience may still be required among the loyalists, even if Mr. Angry has lost his.

3. Young's lost heart

Wilfried Zaha's cameo on Saturday was a reminder of his presence at United, though his performance betrayed why he had not been blooded before. Ashley Young does not have such excuses of callowness.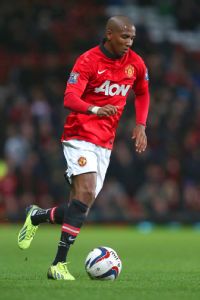 Clive Brunskill/Getty ImagesYoung had a night to forget for the hosts.
Confidence just seems to drain from him on the Old Trafford turf. One early drop of a shoulder aside, every touch was unfortunate. His attempt at a rebound of Januzaj's fine early effort was shanked into the disabled fans' section. When trying to flick on a long ball from Jonny Evans, he headed only into Shakhtar hands.

Later in the first half, when Darijo Srna's pace and judgment failed him, Young pounced and had only unsafe goalkeeper Andriy Pyatov to beat. A leg was waved, contact was made, but the ball looped wide.

Young is by no means a popular player among the club's fans. Repeating the trick with a horror skew just before halftime only deepened their disquiet.

He left the field just after the hour to loud cheers. Kindness dictates that those were probably directed at the arrival of Van Persie rather than at Young.

Young's arrival as a United player came in that balmy month at the start of the 2011-12 season when everything the club -- and especially he -- hit turned to goals.

It looked as if he could not believe how easy it was to play for Manchester United. Then followed a slump he has never recovered from. His last flourish came with a pair of what used to be trademark strikes at Tottenham in March 2012. He has since become better-known for his diving than finishing.

Any hopes of a World Cup place have surely been extinguished, as has a long-term future at United. Well-sourced rumours place him in the departure lounge alongside the hapless Anderson. Young is not without talent and could yet be a fine player for a middling club.

Even allowing for their current position, United are not one of those clubs. Young's 18-million-pound move has not worked out for either party. Both will probably be happier without each other.