Three Things: Arsenal vs. Everton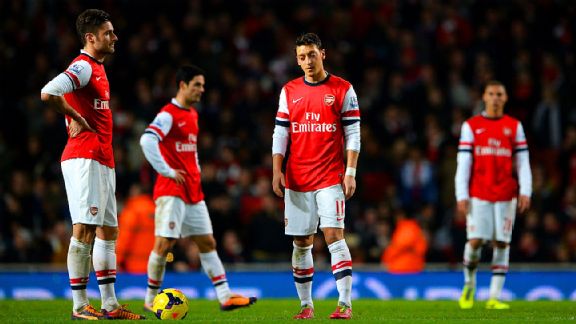 Michael Regan/Getty ImagesArsenal did well enough versus Everton but could come to regret dropping two late points.
LONDON -- Three quick points from Arsenal's entertaining 1-1 draw with Everton ...

Having answered old questions, Arsenal now face new ones
First off, let's be clear. Arsenal have claimed too many points in big games this season to have that quality doubted; they are undeniably the real deal and have moved on to an exciting new level compared to the stagnation of recent seasons.

That, however, also brings some new concerns. The issue is not now whether they can win the games to keep in a title race, but whether they can win the games to truly take charge, to drive it home, to grasp the nettle. As this game indicated, that remains to be seen. Three points in this match, which looked set to arrive as late as the 80th minute, would have put them seven clear at the top and given them significant breathing room heading into the congested holiday spell.

Even more importantly, it would have offered Arsene Wenger so much security and assurance ahead of two games against Manchester City and Chelsea. Although it would have been far from ideal, they could have afforded to drop points in one, if not both, of those matches and stay ahead. That is no longer the case; now that duo of games take on a different sheen.

Although they pressed and occasionally looked impressive -- especially with some of those passing moves at the end of the first half -- there seemed an almost intangible lack of bite about Arsenal. It will sting all the more because they lost the lead at home.

None of this is to say they won't be title winners, but this was not one of those classic title-winning performances you associate with champions.

Wenger's side remain in the lead and do look good, but it could have been even better.

Everton are here to stay
Perhaps the questions about Arsenal's exact status should now pass to Everton, but not in a negative sense. Because it is still so relatively early in the season, their high position still seems like something of an illusion. Yet it is solidifying with every passing game.

Over the past few weeks, the fair expectation would have been that Everton would gradually level out, and that games against the top clubs would see them begin to fall to their true position. But after four games against all of England's Champions League representatives -- Chelsea, Manchester City, Manchester United and Arsenal -- Roberto Martinez's side have taken seven points. It is now eminently reasonable to ask whether they themselves are capable of qualifying for Europe's top competition.

Sunday's display was just the latest to suggest they will certainly be competing for a top-four spot right until the end of the season. Even though they were occasionally opened up and the goal they conceded did betray a potential for some haphazardness in defence, there were a number of elements that meant this was a deeply impressive result.

First of all, there was the very fact that they immediately followed victory at the home of the champions with a draw at the stadium of the leaders. Secondly, there was the impressive resilience displayed in coming from behind. That illustrated hugely admirable character, and a creditable bravery.

This is clearly a side and a manager that do not accept their limitations. Martinez's approach and outlook is too expansive, pushing his team's possibilities. It does genuinely mark a contrast with David Moyes, who has always been a manager more accepting of limits, seeking to work within them.

What was almost as impressive as Everton's comeback here was the manner in which they started by taking the game to Arsenal and looking to keep it around the opposition's box. At one point in the first half, the home side had just 35 percent possession. Having made the ball their own, Everton are well capable of making a Champions League their own.

The kids are more than all right
It is not just Everton's present that looks good but also their future. Their two most influential players were arguably Ross Barkley and Gerard Deulofeu; the former dominated the midfield and did so well in disrupting Arsenal between the lines, while the latter secured the point with the game's standout moment of individual quality.

The manner in which the 19-year-old Spaniard generated such power, from such a tight space and from that angle, was as exquisite as it was exacting.

Both players look exceptionally bright. The one caveat, of course, is that Deulofeu -- like Romelu Lukaku -- isn't actually an Everton player, and there are fair questions as to how they will cope once such loan deals end and they return to their clubs.

An equally fair response, however, is that Martinez has repeatedly displayed an eye for astute loan signings. What's more, individuals of that calibre clearly want to play for him.