Three Things: Sunderland vs. Tottenham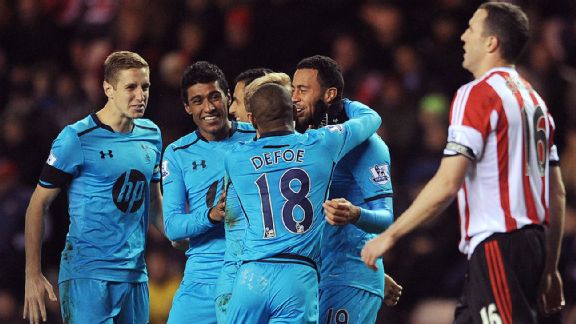 Chris Brunskill/Getty ImagesSpurs celebrate after John O'Shea's own goal gave them a 2-1 lead.
SUNDERLAND -- Three observations from Tottenham's 2-1 win over Sunderland.

1. Fortune favours the Spurs

Luck is one of football's intangibles and is viewed in different ways. Sam Allardyce is adamant that fortune does not even itself out over the course of a season, as it is so often claimed, while Andre Villas-Boas has often stated it has escaped Tottenham's grasp this season.

Most recently it was the heroics of goalkeeper Tim Krul and his 14-shot stopping masterclass that saw another ton of bricks placed onto Villas-Boas' back. However there are signs that the tide is turning and fortune is playing its part.

Against Fulham on Wednesday, Tottenham trailed with 18 minutes to go when Vlad Chiriches' speculative drive nestled neatly in the corner of Maarten Stekelenburg's goal. Fast forward to Saturday evening, and a cross from Mousa Dembele ended up in the Sunderland net via John O'Shea's shin.

The fortune did not just confine itself to Spurs' attacking play. Had Sandro's second half handball from a Sunderland corner been spotted by referee Lee Mason, the hosts could easily have been awarded a penalty.

A thought for Sunderland, who conceded their fifth own goal of the season, should be spared but, having seen his side fall behind, this was another important win amid the media glare for the Tottenham manager.

2. Spurs' attacking problems are not solved

That being said, and despite a week in which they have won twice and scored six goals overall, Tottenham's pursuit of attacking fluidity remains a work in progress.

Though the signs are that improvements are being made, after a summer spent inking expensive cheques and procuring some of the finest young talent European football has to offer, consistency remains elusive for Spurs fans.

With Roberto Soldado struggling for goals, Jermain Defoe was handed a second straight start, despite the fact that in ten previous games against Sunderland, he had not scored. There were plenty of chances to break his duck -- six in all -- but a fluffed one-on-one midway through the second half went some way to explaining why, for him, the Black Cats have always spelled bad luck.

Spurs have a talented midfield and an attack of some pedigree but lack a link between the two. Lewis Holtby -- who scored in Wednesday's 2-1 win over Fulham -- was tasked with being that middle man on Wearside. Despite his best endeavors, however, the first half saw Tottenham reduced largely to shots from distance as he struggled to have an influence.

In the end, despite taking 22 shots on a pitch which measures longer and slightly wider than that of White Hart Lane, Spurs ultimately benefited from a well worked set piece and the misfortune of O'Shea. Five of their seven shots inside the box missed the target.

Alleviating the pressure that came about in the wake of their Manchester City mauling, Tottenham's ship is more settled and they sit just two points off fourth place. Still, on the edge of their Champions League dream, more potency must be gained if that potential is to be achieved.

3. Sunderland's good play again goes unrewarded.

On Wednesday, Gus Poyet sat in his chair with a smile on his face after a narrow loss to Chelsea. Far from feeling the strains of Premier League management, he was pleased with a valiant attacking display that saw his side score three times.

After this latest narrow defeat to a capital city club, however, the Uruguayan's mood was more stern. The final whistle brought with it another cold, hard fact: this was Sunderland's 11th Premier League defeat of the season. Refusing to blame Mason's failure to award a penalty, a far more stern looking Poyet deemed the next four games "massive."

Under Paolo Di Canio, the word relegation seemed etched into the club's future. The arrival of Poyet may have increased those survival chances to slim from none but five points separate them from safety. Still in the early throes of December, next month's transfer window has already been highlighted as an important juncture for Sunderland.

There were undoubted positives against Tottenham. In midfield, Ki Sung-Yueng continues to thrive in a deep-lying role, dictating the play and helping the Black Cats maintain possession. Meanwhile, Jozy Altidore put in another bustling display up front, where he was partnered by Steven Fletcher.

Poyet has stressed the desire for quality over quantity in the New Year, until when it is vital the Black Cats stay within touching distance of their rivals.

Their manager believes that will be done by alleviating simple mistakes but is aware that, sometimes, the oldest habits are the hardest to break.