Knives out for Moyes as United slump into crisis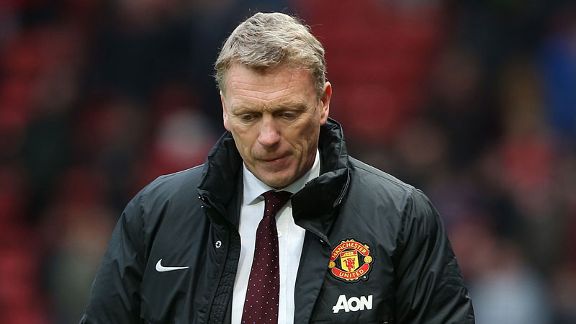 GettyImagesDavid Moyes was left with much to ponder after a second successive home defeat.
MANCHESTER, England -- Crisis? Yes, this is a crisis.

• Manchester United 0-1 Newcastle United

Footballing feast can rapidly fade to famine. Panic, too, can only speed decline, as Manchester United may recall from their own history. But when things are not going well, the knives come out quickly. Many want their judgment that David Moyes is not the man for United to be proved correct, and quickly, too. How long can he last if this continues?

Results are stacking up as evidence, with five defeats in 15 Premier League games. Everton and Newcastle United used to turn up for a habitual defeat at Old Trafford; both celebrated victories in four days. Everton had not won here for 21 years, and the Toon Army since 1972. Even Ryan Giggs was not born then. The last time United lost two Premier League home games in a row was May 2002, just weeks into Moyes' reign at Everton.

Yohan Cabaye's deflected goal off the sole of Nemanja Vidic's boot was the type of mishap that now happens regularly. That "Come on, David Moyes" anthem did not get much of an airing. A lack of confidence and belief in the manager has already sapped vocal support, though he was applauded by the Stretford End as he left the field.

"I think the fans have been great to me," Moyes said after the match. "I think they understand there's a great transition going on here but I don't think they or me expected us to lose five games by this stage of the season."

For the second match in a row, there was no relentless pursuit of late redemption. United played far better against Everton, too. Robin van Persie had the ball in the net in the 73rd minute, but his goal was correctly disallowed for offside. He and his teammates created little else of note, even if they might have had a penalty before Cabaye's winner when Vurnon Anita handballed following a Patrice Evra header.

"After Everton's victory it was either going to be a good time to play them or we were going to get a reaction," Alan Pardew said. "But we made a statement that we were here."

Van Persie handed in a transfer request last week -- or so the story went, from a combination of an anonymous Twitter account, and some second-hand information from former Liverpool defender and current media pundit Mark Lawrenson. Learned observers suggest a disagreement over training methods between manager and star striker. Van Persie, a classically Dutch straight talker, is not one to surrender his corner meekly. In the face of such speculation, Van Persie took his place in United's lineup. "Absolute nonsense," Moyes said dismissively.

Time for the amateur body language experts to find signs of disaffection though, by the end, most of United's players looked as if they fancied being somewhere else, too. Strikers are often difficult to read. The affectation of diffidence is a means by which to surprise opponents -- Denis Law made that an art form on this very stage.

Van Persie played as a No. 10 behind Javier Hernandez. Moyes' mainstay has been Wayne Rooney, trouble turned talisman, but suspension ruled him out, and so the Dutchman filled those shoes. In place of gusto was ghosting, although Van Persie did put in a Rooney-esque crunching tackle on Cabaye. It was his most obvious contribution of a listless first half for both teams. Well, that and a pathetic free-kick routine with Nani that set up a Newcastle attack.

The Pardew plan had been to hold on until halftime and pick off their opponents. It paid off, just as it had against Tottenham and Chelsea.

Pardew, flush with victory, was able to offer the type of support Moyes probably did not want to have to hear. "The best thing this club can do is stick by him," the Newcastle boss said. "He is the right man for them."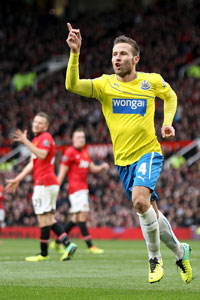 PA PhotosYohan Cabaye celebrates his match-winning strike.
Five wins from six now, and Newcastle, of all clubs, can look down on Manchester United as a panicking outfit whose greatest problem is a lack of fluency. Moyes takes blame for that but a refresher in late-Ferguson era teams would remind that doggedness had become the team's greatest strength. Creativity is hard to locate when a team cannot relax. Meanwhile, a previously iron will to win has departed, feared lost.

Rio Ferdinand, somewhat indiscreet about his manager's method of team selections, was spotted giggling on the bench as Moyes again shifted around his centre-backs. The last time he fielded the same pairing was back in October against Stoke.

Moyes is yet to field the same XI in his 15 matches, a clear sign of a man in a muddle, from a manager previously used to fielding the same team every week at Everton. A mark of continuing inconsistency was the Premier League bow of Wilfried Zaha as a sub. The erstwhile mystery man had his team's best effort in open play when dipping a shot wide from long range -- potshots had become the best hope of an undeserved equaliser. United's midfield in the closing minutes was Adnan Januzaj, Phil Jones, Anderson and Zaha. It was not a combination capable of restoring parity or faith in the manager.

Arguments that Moyes took over a title-winning team should be balanced against the fact United have needed a redux for some time. Few could suggest that the 2013 title winners were of the vintage of 2008's European champions.

"I haven't changed anything. It's the same players," Moyes said, defensively.

Rebuilding takes time and is usually painful, but a transfer window has already been, gone and was never properly engaged. Marouane Fellaini was absent with a bruised back, and absence might do him some good. The Belgian had become an unfortunate symbol of a sinking season.

Moyes must now take that role alone. Supportive evidence for any future success is dwindling in the face of poor performances and even worse results. This is not Everton. He now is at Manchester United, and their current position points to a crisis of confidence in him.