Encouraging signs of life for under-pressure Tottenham and Fulham
LONDON -- Fulham made a change but ultimately endured the same result; Tottenham Hotspur keep their manager but finally enjoy a change in fortune.

Of course, the actual reality of this 2-1 win for the away side at Craven Cottage is a little more complex than those raw facts, as some of the other contrasts around it illustrate.

This was the ultimate example of one of those games where, on another night, all of the key moments could have gone in drastically different directions. It was that haphazard, that chaotic, that close -- that enthralling.

The nature of all that was fully revealed by the manner of the goals: one from a mistake, two from ludicrously good long-range efforts. To cap it all, Fulham hit the post right at the death through Pajtim Kasami. In other words, they were the kind of incidents that you can't truly legislate for.

It said much about Tottenham that they actually played better and created more chances in the 0-1 defeat to Newcastle a few games ago. Some issues still remain, not least the fact that Spurs have not scored a league goal from open play inside the box since the 2-0 win over Aston Villa on Oct. 20 -- seven games ago.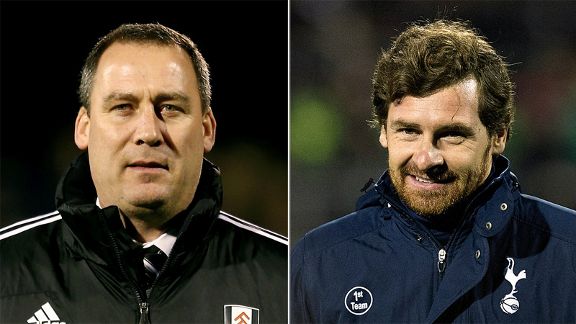 Getty Images, AP PhotoThe pressure is on for both Rene Meulensteen and Andre Villas-Boas but for very different reasons.
As such, the real consequence of a contest like this is not necessarily what happened in it but what happens next; whether you can build on it.

In that, there could be no denying the benefit for Tottenham in their chase for the top four.

Villas-Boas secured his first win in five games and finally has something concrete to point to again amid all the speculation about his job. When a reporter asked him whether he was back to his old self, after all the controversy of his press conference following the 2-2 draw with Manchester United, there was the flicker of a smile.

Villas-Boas did, however, concede both the importance of this win and the potential effect of continuing to miss chances.

"Very open," the Spurs manager said of the game. "Very difficult conditions for both teams. You can sense that every opportunity missed is an opportunity that feels like it should be taken. It always takes a bit out of you emotionally to recover."

There was certainly emotion about the eventual win.

"We are happy because it was important for us, a boost of confidence for everybody, staff-wise and playing-wise."

If Spurs still have issues in finishing chances, it would be wrong to say they did not show improvement in other areas that caused problems.

Most notably, there was a genuine excitement about much of their play, which has rarely been the case this season.

That was particularly true on the break, with one long run from Jermain Defoe getting the away fans up off their feet but also seeing Paulinho thump the ball into the stands. He skied it when he really should have scored. Of course, much of that may also have been down to the fact Tottenham were initially forced to play on the counter, both by their manager's three-man central midfield and the manner Fulham initially pressed.

In the extreme short-term at least, it seems fair to say the change of manager did have some effect -- not least emotionally.

Had Martin Jol stayed after the woeful 3-0 defeat to West Ham United on Saturday, the Cottage would have been an angry place. As it was, there was a new sense of enthusiasm behind Rene Meulensteen's outfit, which was reflected by much of the play. There was a rousing vibrancy you wouldn't associate with a team in the relegation zone.

"I wanted an inspired and disciplined performance and we got that," the new head coach said. "We won the fans back."

They didn't win the game, but they did -- at least temporarily -- rectify some real errors. By the time Jol left, the problems with his team were all too obvious: a complete lack of defensive structure, stagnant play and an absence of any link-ups or integration in attack.

Against Tottenham, Meulensteen saw some defiant defending, a genuine sense of will and a multitude of opportunities -- if also the kind of touches that illuminated this ground at the start of the 2012-13 campaign, most notably from Dimitar Berbatov.

"I had some good chats with Dimitar," Meulensteen said. "He is a player that really cares for this club and felt that was evident from how he performer."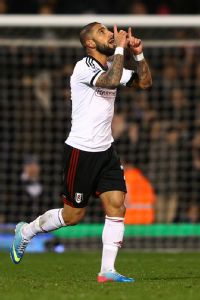 Paul Gilham/Getty ImagesAskhan Dejagah's strike was a bright spot for Fulham on Wednesday.
His name was booed before kick-off as a result of his agent's comments that he will look for a transfer, but there was genuine commitment tonight. By the 57th minute, Fulham's application was at the level were they were at least well placed to take advantage of opportunity, with Ashkan Dejagah firing home after a mishap from Michael Dawson.

At present, it is difficult to say whether this was all down to Meulensteen's influence or the inevitable consequence of the game's context.

It would also, however, be difficult to fault Tottenham's resilience. Their response was perhaps reflected by Erik Lamela, who put aside his own recent struggles to offer one of his best performances in a Tottenham shirt.

Still, they couldn't find the breakthrough -- until Vlad Chiriches almost broke the net. Meulensteen stated that it was a goal that "came out of the sky"; Villas-Boas admitted it "fell our way."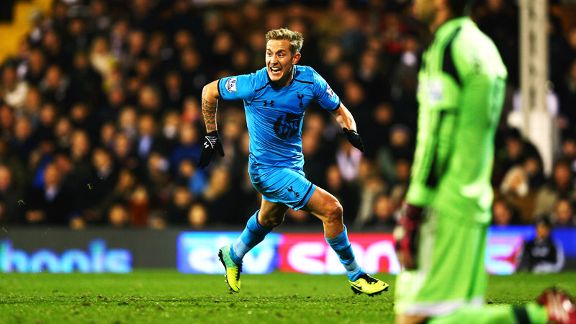 Paul Gilham/Getty ImagesLewis Holtby's goal sealed Tottenham's 2-1 win over Fulham.
Either way, the Romanian caught a dropping ball perfectly to drive a superb, low, 35-yard half-volley into the bottom corner.

Lewis Holtby went for the opposite, driving into the top right of the net in the 82nd minute.

As Villas-Boas put it, "two moments of inspiration" resolved the game.

The question now is whether it will inspire his team. At the very least, the worry about not scoring will be lifted. They just need to look livelier closer in.

Meulensteen, meanwhile, claimed this result, despite it being a loss, would restore life to his team.

"I told the players not to beat themselves up too much because they don't deserve it. It's a bitter pill."

For Tottenham, it suddenly looks much better.