Negredo nudging Dzeko back towards City's bench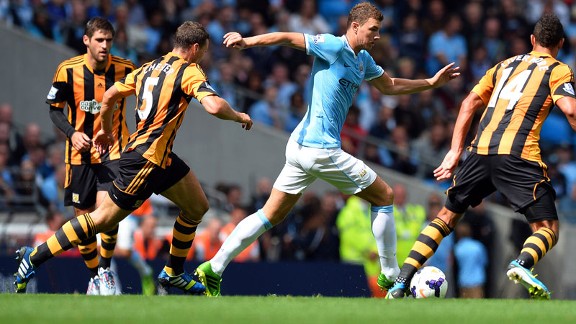 GettyImagesEdin Dzeko looks like he will be crowded out of the Man City starting XI.
MANCHESTER -- Three letters separate Edinson from Edin. Three letters, many millions and very different managerial philosophies. If Roberto Mancini had kept his job and got his way, the chances are that Edinson Cavani would have been Manchester City's record signing and the designated Tiger hunter against the rebranded Hull. Instead it was Edin Dzeko, living proof of Manuel Pellegrini's willingness to rehabilitate the disenchanted.

The Chilean seems the anti-Mancini, the opposite of his outspoken predecessor. Practically his first move was to install disgruntled substitute Dzeko as his premier striker. It seemed a vote of confidence. Yet his reign as the first of City's fearsome foursome might have lasted just two-and-a-half league games.

- Mooney: Manchester City's flat four

Then Pellegrini, with Mancini-esque ruthlessness, hauled off Dzeko, brought on Alvaro Negredo and saw the sharper substitute end Hull's admirable resistance, hanging in the air to head in Pablo Zabaleta's cross. On this evidence, 'the Beast of Vallecas' could be the Bosnian's nemesis. Dzeko risks being deposed and demoted. In a tale of three target men: Cavani and Alvaro Negredo -- both, improbably, the subject of bids from Hull in 2009 -- plus Dzeko, the Bosnian compares unfavourably to the men Phil Brown tried to buy.

It is a question of potency. Negredo's City career amounts to only 76 minutes, but he has had the ball in the net three times, even if one goal was wrongly chalked off. "He played some minutes the first game against Newcastle and scored a legal goal, but it was not valid," Pellegrini said. "The second game [at Cardiff], he played some minutes and also scored a goal, and today he played 45 minutes and scored one goal more."

It -- and in particular the way he peeled off James Chester to create himself the room to head in -- was a tantalising glimpse of the £20 million newcomer's capabilities; he should prove a constant menace to defenders. Pellegrini added: "I expect from Alvaro Negredo exactly what we are seeing every time he plays."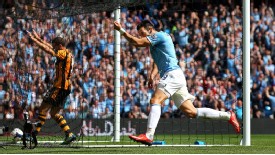 GettyImagesAlvaro Negredo has scored twice in three substitute appearances for Manchester City.
His predecessor on the pitch, however, is consistently inconsistent. Pellegrini had promised that City would finally see the Dzeko of Wolfsburg; instead this was another example of why he is the Etihad's great enigma, veering between excellence and mediocrity.

Terrific without finding the net against Newcastle, scorer of a brilliant goal at Cardiff and then reverting to ponderous ineffectiveness as Hull impressed, the first three games have been a microcosm of Dzeko's City career.

When he was sullen and sulking at the end of last season, there was the strange scenario that plenty would have been happy to see him go, even though 12 months earlier he had made the greatest moment in City's history possible by scoring the injury-time equaliser against QPR that preceded Sergio Aguero's winner.

Then he was, inevitably, a replacement, the role he objects to but excels at. It is part of the paradox of Dzeko, who covets a place in the initial XI but has proved the ideal 12th man. Mancini lacked tact in delivering the message that it is a squad game; more diplomatic Pellegrini might be easing his journey to the bench. "When we return after the international break, we have to play eight matches every month, so everyone that has a good possibility will have a chance to start," he said. "We are going to rotate a lot."

Amid the praise for Negredo, there was no hint of criticism for Dzeko; that is the Pellegrini way. "With Edin, we have two very good strikers, and we need both of them," he said. Some are needed more than others, however. City's four forwards, including Aguero and unused Stevan Jovetic, scored 76 goals for their respective clubs last season. Negredo, with 31, was the most prolific. Besides his mobility and aerial ability, his repertoire also could extend to free kicks: He was eager to take one in the final minute, but Yaya Toure won the argument and curled it in off the bar.

Two home games have brought two inch-perfect set pieces from the midfielder who, at this embryonic stage of the season, is City's joint top scorer. Along with Negredo.

MAN OF THE MATCH: Curtis Davies. A second defiant display at the heart of the Hull defence inside eight days. With the partnership of Davies and James Chester, Hull should keep their quota of clean sheets this season.

MANCHESTER CITY VERDICT: Underwhelming. After defeat to Cardiff, they struggled against a second promoted team. A repeat of their opening-day thrashing was never on the cards. "I never expected all the games would be the same as Newcastle," Pellegrini said, but the manager admitted his side have to improve. The concern should be that they didn't create many chances.

HULL CITY VERDICT: Three points from three games might not sound a great start, but they have visited Stamford Bridge and the Etihad Stadium, acquitting themselves well in the second half at Chelsea and in the whole of the Manchester City game. Quietly, Steve Bruce has bought well, with Tom Huddlestone and Jake Livermore excellent additions in midfield. What he needs now, as he knows, is a goal scorer, with Nicklas Bendtner the main target. Sone Aluko missed the best chance of this game.