Manchester United suffer another big blow under David Moyes
MANCHESTER, England -- Something had to give. A Roberto Martinez team had never even scored at Old Trafford. A David Moyes Everton team had never won there either. Manchester United, once the masters of the comeback, are now kings of conceding late, and in costly fashion.

"Are you watching, David Moyes?" mocked visiting fans. He was suffering on the sideline, hands on hips, as his former club landed a brutal blow: Everton 1, Manchester United 0.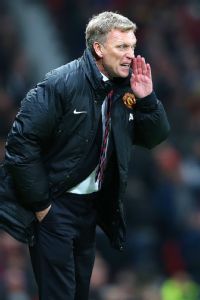 Matthew Peters/Man Utd/Getty ImagesDavid Moyes' first match against his former club ended in frustration at Old Trafford.
Bryan Oviedo's late winner allowed them to lord it over a man unforgiven for the manner of his desertion. Their backward glances were of mirth and schadenfreude. Things are going just swimmingly under Martinez.

Their vocal disquiet against Moyes is perhaps a sign of less sentimental times, on a night that began with a minute of applause to mark Munich air disaster survivor Bill Foulkes' passing.

A few years ago, Moyes was regarded as the saviour of what he labelled "the people's club." They showed him no mercy on their reunion.

He affected indifferent to the barracking. "It's not important," he said. "Everton supporters supported their team well tonight."

There remains a suspicion among Evertonians that Moyes' deal to succeed Alex Ferguson happened before April's derby with Liverpool. United's low bids for Leighton Baines and Marouane Fellaini caused deeper offence.

- Everton party like it's 1992

Fellaini, as is the modern way, was jeered on each touch. Baines is still Everton's but is denied to them for the moment -- and perhaps forever if his mooted January move to United happens -- after breaking a toe in the Mersey derby. Oviedo filled the shoes of his club's most potent force. Some hairy early moments when overlapped by Rafael were forgotten when Romelu Lukaku's shot squirted to him with five minutes left on the clock. Unmarked, Oviedo converted with calm. United offered little in attempting to claw back an equaliser. They almost seemed accepting of their fate, itself a distinctly worrying sign.

"I'm disappointed to lose, but that's how the game goes sometimes," Moyes said in a news conference that beat an all-comers' record for brevity. "It doesn't hurt more. Everton have very good players, so you would imagine it is a sore one when it is your old team, so that is the way it is."

Baines' absence and Oviedo's presence was the probable reason of attack-minded Rafael's return to United's team. Chris Smalling played at his more natural centre-back position, probably as a response to the threat and pace of Lukaku, a detail he failed to fulfill in the moves leading up to the winner.

Such measures are a reflection of Moyes' constant selection of horses for opposition courses. Last week's demolition of Leverkusen was an occasion where necessity was the mother of invention. Judging against other recent results, the BayArena romp looks a distinct anomaly, and a poor reflection of the strength of the Bundesliga.

Moyes' deep knowledge of Everton will have informed his selections while his opponent and replacement are far less tethered to how an opponent might play. Martinez can do little wrong in the eyes of his new club's fans. The philosophy never wavers, whatever the results or opponents, and they have been excellent so far, losing just once. Their early moments saw a volume of possession an Everton team has not enjoyed at Old Trafford since the 1980s, and especially not during the Moyes era. They had not won here since 1992, and that was in United's first-ever Premier League home game.

"It was more than a football game," said Martinez. "It was trying to stop a mental block. Someone told me we have not won here for over 20 years. We have played a lot better, but today we had a real mentality. We never felt inferior."

Everton showed dynamism, a change of pace, a turn of phrase that United's power-based approach does not supply. Shinji Kagawa provides variety, but after his performance in Germany, he has still not properly produced in England. He did not last an hour.

The Toffees' Gareth Barry, meanwhile, is a much derided figure, but his calm and poise at the base of midfield is almost precisely what United lack. They need a better platform from which to build attacks. Too often, they attack hurriedly. There is a noticeable lack of patience in their play.

Ross Barkley has been linked with being the latest on the brain drain down the East Lancs road. Two skillful surges saw chances open up, but he does not yet have the range of Wayne Rooney, his predecessor in prodigy. A decade ago, a teenage Rooney slalomed through United's defence and won the admiration of Sir Alex Ferguson. Moyes already knows all about Barkley, while he must do without Rooney against Newcastle on Saturday after he picked up his fifth yellow card of the season, leading to a one-game suspension.

"Dithering Dave," they called Moyes at Everton, and he took uncharacteristic risks in making a 57th-minute double substitution. On came Adnan Januzaj and Nani, an attempt to add verve to an increasingly unenterprising performance. It failed to pay off. Januzaj looked like what he is, a young player still finding his way. Nani, on the left wing from which he has rarely convinced, added little but to clog up the centre, where his runs too frequently took him.

It also seemed an unnecessary change. Rafael had attacked well enough on the right and pinned back Oviedo, while Kagawa almost always offers something different. Following the increasing trend of inverted wingers, Moyes did not find success. Januzaj and Nani are not Franck Ribery and Arjen Robben by any measure.

Moyes might be offered some credit for trying something different; his team had previously seemed unlikely to find the goal that might have settled his nerves. However, his substitutions have often been disastrous at United, with Smalling's late replacement of Rooney against Southampton and subsequent late error for an opponent's equaliser particularly coming to mind.

"We're gonna win the league," kissed off Everton's fans ironically from their deliriously happy fantasy land. United's chances of achieving that feat this season look even more ridiculous.