Three Things: Manchester City vs. Swansea City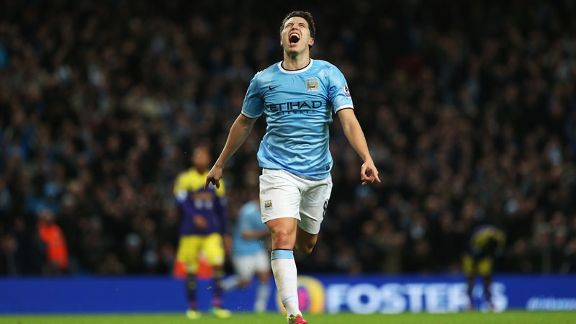 GettyImagesSamir Nasri celebrates his second and Manchester City's third against Swansea.
MANCHESTER -- Three thoughts from Manchester City's 3-0 win over Swansea City.

Nasri is back to his best

Samir Nasri may recognise the plotline from the Emirates Stadium. A midfielder confounds his doubters by becoming stronger physically, more prominent everywhere on the pitch and by delivering more goals. For Aaron Ramsey this season, read Nasri himself in 2010-11. Now, three years on, Nasri has returned to the form he displayed in his final year as an Arsenal player. He was sporadically excellent in his debut campaign for City and a grave disappointment in his second year in Manchester, but has been revitalised and reinvigorated so far this season.

- Curtis: Nasri's star in the ascendancy

The only reservation about the Frenchman's displays this season has been a comparative lack of goals but, after a two-month drought, he has doubled his tally for the campaign in the space of four days, with a goal against Viktoria Plzen and two against Swansea. The first, in particular, was a high-class finish and the way Nasri waited before shooting past Gerhard Tremmel was an indication of his confidence. Nasri played a game of brinkmanship, delaying until the goalkeeper had gone one way before dispatching his shot the other. When he is playing this well, it scarcely matters that the usually influential David Silva is injured.

Negredo is one of buys of the season

It seems a long time ago that Manuel Pellegrini was proclaiming that Edin Dzeko was Manchester City's first-choice forward. Actually, it was only July. Indeed, as recently as the start of October, Pellegrini picked Dzeko ahead of Alvaro Negredo against Bayern Munich. Fast forward a couple of months and there is little doubt who is the superior striker or who combines best with Sergio Aguero. Negredo is both a fine partner and a prolific scorer in his own right. His 12th goal of the season was a low free kick that highlighted the range of his skills; while he enjoys the nickname of "the Beast of Vallecas" and has the physicality of a British-style target man, he also possesses a lovely left foot and is very capable of scoring from outside the box.

While Negredo's 20 million pound fee is scarcely loose change, even for Manchester City, he nonetheless represents a bargain. Roberto Mancini had wanted to sign Edinson Cavani, who cost Paris Saint-Germain almost three times as much; among Spanish strikers, Tottenham signed Roberto Soldado for 6 million pounds more. He has still only mustered one league goal in open play. In contrast, Negredo has scored in seven successive games at the Etihad Stadium.

Manchester City start at speed

One of the major differences between Manuel Pellegrini's City and Roberto Mancini's side occurs at the beginning of games. The Italian's team tended to ease their way into matches. They were second-half specialists last season, scoring the vast majority of their goals after the interval. The Chilean's City, in contrast, tend to begin with a blitz. They are a high-energy side who don't like to waste any time winning a game. The result is that many are over long before the referee blows his final whistle.

Visitors to the Etihad Stadium perhaps should consider concentrating purely on defence for the opening 20 minutes because City are normally ahead by that time. Look at the times of their opening goals in home league games: the sixth minute (David Silva against Newcastle); the 16th minute (Aguero against Manchester United); the 17th minute (Negredo against Everton); the 16th minute again (Bradley Johnson's own goal in the Norwich game); after 14 seconds (Jesus Navas against Tottenham); and the eighth minute (Negredo against Swansea). Hull are the only visitors in the Premier League who held out until the second half. After the opening eight minutes, Swansea acquitted themselves reasonably well until half-time. Their problem was they were already chasing the game by the time late arrivals were just taking their seats.