Mourinho masterminds Chelsea's comeback win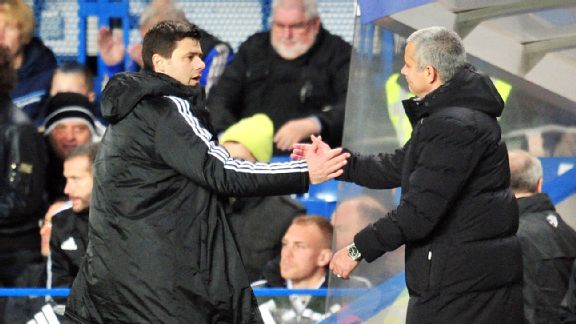 GLYN KIRK/AFP/Getty ImagesMourinho got the better of Pochettino to maintain his unbeaten home record in the Premier League.
LONDON -- Chelsea may still be searching for a new identity and they may still have to lose a few of the flaws they have shown recently but, just as he did in Sunday's 3-1 win over Southampton, the important thing is that Jose Mourinho generally finds a solution.

It is a factor that could yet prove the most decisive aspect of this developing Premier League title race.

Had Chelsea lost, as looked set to be the case in a flat period just before halftime, it would have put them in a hugely demanding position.
Not only would they have been seven points behind Arsenal in what already had the feeling of a clutch weekend, but there was also what this game would have represented.

- Lythell: Ba a game-changer as Chelsea recover

Southampton are a hugely impressive team, whose distinctive pressing game provides a very different type of challenge for the top sides. Prior to Sunday, Mauricio Pochettino's men had won at Anfield and drawn at Old Trafford.

Mourinho outfits generally make a habit of avoiding such statistics and that is still the case -- but only because the Portuguese was willing to so significantly change up.

Afterward, the Chelsea manager said that his new core "have to cope with the responsibility" of being in a title race. He is certainly ready to assume his.

"We gave Southampton a second half they were not expecting," Mourinho said. "And they couldn't cope with it."

It's fair to say Mourinho himself did not expect such a start to the match, as Pochettino's proactive approach enjoyed immediate effect with Jay Rodriguez capitalising on an atrocious Michael Essien backpass.

To a degree, though, that goal coming after just 13 seconds would condition the final 45 minutes in which Chelsea hit back. As Pochettino said afterward, it "changed" the nature of the game.

It meant that this was never quite going to be a test of Mourinho's ability to adjust to Southampton's pressing game, as had seemed the case beforehand, because the away side suddenly had something to protect.

There was still much intrigue, however, in the effect of the scaled-down version of that approach. Southampton closed Chelsea very quickly and left almost no room around their box, but the difference was that Mourinho had put out the players best equipped in the league to make the most out of minimum space.

Some of the most charged moments of the game came when Eden Hazard, Juan Mata and Oscar looked to evade swift challenges from the likes of Nathaniel Clyne.

It made for an enthralling first 35 minutes, with both sides seemingly playing at full pace, on and off the ball. Southampton always had Chelsea on edge, but also had to rely on one fantastic save from Artur Boruc as well as a number of other close calls.

Because Mourinho's side generally don't have to work to that level at home, and especially not against notionally inferior teams, all the extra running did seem to exhaust them.

The 10 minutes before halftime represented their worst and flattest period of the game, and -- even more than had the concession of the early goal -- recalled so many recent questions about this generation's exact readiness to win a title.

Mourinho, however, was ready to make the change. By bringing on Demba Ba -- for Essien-- to play alongside Fernando Torres, he suddenly gave Southampton a very different kind of problem as his team went into overdrive.

"Our 4-4-2 gave Southampton a very different game," Mourinho stated. "My feeling was not to wait until the end of the game, but give the opponent a new problem immediately.

"Probably they weren't waiting for that. They like to play the ball from the back, build from the back, and playing with two strikers meant they couldn't play from behind. They started building long, and that allowed my team to play more in the opponents' half and creating changes."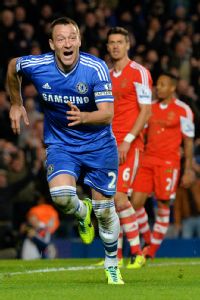 Ben Stansall/Getty ImagesTerry marked his 400th Premier League appearance with a goal.
That was certainly the case. On 55 minutes, Gary Cahill impressively turned in a header from an awkward position and, five minutes later, John Terry thundered in another after fine craft from Frank Lampard and the returning -- and rousing -- Juan Mata.

Pochettino pointed to poor luck, and the number of incidents that went against his team in such a brief period of time, not least the injury to Boruc and subsequent introduction of Paulo Gazzaniga just before Chelsea's second.

"Many things happened in quick succession," lamented the Saints manager. "We'd actually corrected many things at halftime, but didn't pay attention enough at a corner. Then we had Boruc's injury and conceded again... twice from set-pieces, something that shouldn't happen, mistakes; soft goals we shouldn't have conceded."

Mourinho had a different take.

"The first two goals were set-pieces, yes, but set-pieces arrive and accumulated one after another because we were in those areas."

That last point is key. Mourinho said in Friday's pregame press conference that this might be a game where Southampton wouldn't be allowed play their usual game and, by the second half, that was undeniably the case.

Chelsea had completely penned Pochettino's side in. Even more pointedly, it was Mourinho's tactics dictating the game, his moves that also altered the pace. Pochettino could only ever respond to what Chelsea were doing, and by then it was usually too late.

There could be no disputing Mourinho had won the tactical battle, even if it took until as late as the 90th minute for Ba to finally seal the win when he poked in from Ramires' cross.

Mourinho celebrated that one with relish: "It was the goal that gave us victory."

As to whether this will be the kind of game to give them victory in the title race, that remains to be seen.

"It's the sign of a team that's going to go step by step, understanding my ideas and mentality, players progressing," Mourinho simply said. "They must feel the responsibility to play for Chelsea and that was a sign of maturity: losing after ten seconds, keep calm, let's go..."

Mourinho himself certainly did that.