Three Things: Tottenham vs. Man United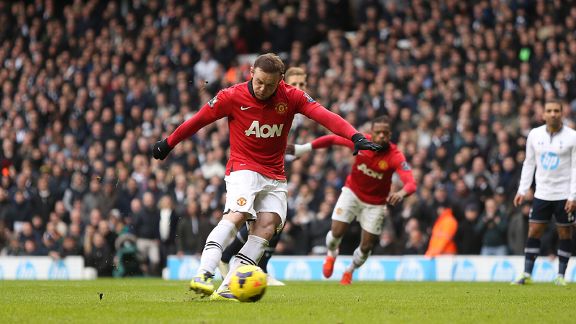 PA PhotosWayne Rooney scores from the spot for Man United against Tottenham.
LONDON -- Three thoughts from Tottenham's 2-2 draw with Manchester United.

1. Fragility on show at the Lane

Born was the beast of White Hart Lane. Sandro had just scored a wonderful strike, cutting inside to wallop an unstoppable shot past David De Gea. Andre Villas-Boas could not hide his delight. Sandro clutched the badge on his chest as a mark of the moment's significance.

Yet within seconds, Tottenham had given up their advantage. Fragility proved costly once more. Hugo Lloris upended Danny Welbeck and Wayne Rooney made no mistake from the penalty spot. They entered last Sunday with the Premier League's best defensive record, but Spurs are now conceding freely and usually as a result of their own lax play.

- Fitch: Spurs take step forward
- Okwonga: Utd draw at Spurs lets Arsenal slip away

Kyle Walker erred for Rooney's first strike, Lloris misjudged his momentum for the second. On such moments might Villas-Boas' employment be decided.

Not that Manchester United are a model of unshakeable consistency. They may have gone two months unbeaten, but are eminently vulnerable. Both Spurs goals were well-taken strikes of the type that barely count as a half-chance, but better opportunities were spurned by Tottenham.

A five-star win in Germany had won David Moyes time and credit. Losing at the Lane would be what he himself characterises as two steps forward and one back. Instead, stasis, leaving United now nine points behind early-season fliers Arsenal. They did little to suggest they can get back into the race. The top four is within reach, but a prolific festive season is required if there is any chance.

United were as unconvincing as they had been at Cardiff last week. The Premier League's hustle and bustle is not as forgiving as the wide-open spaces that Bayer Leverkusen offered in midweek. Spurs were the better team, but they badly lack belief.

Both bore the signs of failing to find a formula. United missed the calming influence of Ryan Giggs. Spurs wingers were not inverted this time, but Aaron Lennon and Nacer Chadli failed to exert enough influence. Quality was not in particularly high supply.

2. Villas-Boas in the firing line

The waiting phalanx of photographers told the expected story. The Tottenham manager was last to arrive to face the snap-happy hyenas. He tried to cut a dash of indifference as he greeted Moyes and cracked one of those trademark smiles that look somewhat insincere.

Villas-Boas has reached that fateful stage where every gesture and trait can be picked apart and interpreted. One Fleet Street thunderer pulled apart his abandonment of the squatting stance he employed at Chelsea. The truth of that probably lies in 36-year-old knees no longer being able to bend for so long, plus the fact that squatting like that at the Lane would lead him only into an earthworm's view, such is the odd camber of the playing surface.

One angry fan targeted Roberto Soldado. "Put him under pressure, you're jogging," he railed. Spurs' static striker was not within earshot, but his team's first goal arrived by the set-piece route that has been their only preserve this season.

Jonny Evans fouled Paulinho in a dangerous position and Walker powerfully drilled the free kick under the United wall. De Gea, left unprotected, could do nothing.

When United subsequently forced a series of corners, Villas-Boas paced in worry, imploring his defenders to "press." A victory at United last season won over doubtful Spurs fans. Winning this, even allowing for the visitors' reduced circumstances, would buy the manager time.

Soldado finally got a chance to prove himself in open play from a Paulinho pass, but his shot flew into the stands with the home manager cursing it on its way.

Moments later, Walker's error allowed Rooney to steal in and score. Villas-Boas responded with a clap of encouragement, perhaps conscious that the cameras would be analysing his reaction. He was convincing nobody in doing so.

United's stroke of luck badly buffeted Spurs' confidence. A game they had been controlling had slipped and their martinet manager's constant instructions and gesturing seemed to be achieving little but the fans' ire.

When Lennon was withdrawn for Andros Townsend, the decision was met with boos and what was less than polite advice to the manager. Director of football Franco Baldini had earlier been espied on his phone while smoking a halftime cigarette. From such sightings do wild rumours begin.

Villas-Boas' problem is that the more time goes on, the fewer people he is convincing.

3. United's midfield problems, Part 124354

The mantra of Manchester United's midfield continues.

Few need reminding that Giggs is now 40 years old, but amid all the birthday praise, here was another reminder: Age withers even the evergreen. Giggs, who played 90 minutes in Leverkusen, was not even selected for United's bench. That meant a return for Tom Cleverley, who was hopeless at Cardiff the previous week. Spurs' happiness to sit off Cleverley said much.

Phil Jones has become, at 21, and in the absence of Michael Carrick and Giggs, United's senior midfielder. Moyes did not trust Marouane Fellaini to reprise his gruesome twosome from Cardiff, so Jones manned the anchor role.

Sir Alex Ferguson always used to look to versatility in his squad, as did Moyes at Everton. Jones provides it. He showed the value of an ability to play at full-back when his overlap and cross set up Rooney's first equaliser.

Ferguson has perhaps overindulged in his favourite vin rouge when he suggested Jones has the capability to become his club's finest player ever.

In light of the legacy of players like Giggs, that was gross exaggeration, though United's result against Real Madrid in February might have been more favourable had Jones not succumbed to injury in needless fashion against Reading the week before.

This season, Jones' importance is growing. His future may lie at centre-back, but at present, United would be lost without him further forward. And now he will not be available against Everton on Wednesday after picking up a second-half booking.

Unless Giggs' ancient bones creak back into gear after a sup of his elixir of life, Cleverley and Fellaini will be reunited. Against a midfield as enterprising as Everton's, that could spell trouble.