Three Things: West Ham vs. Fulham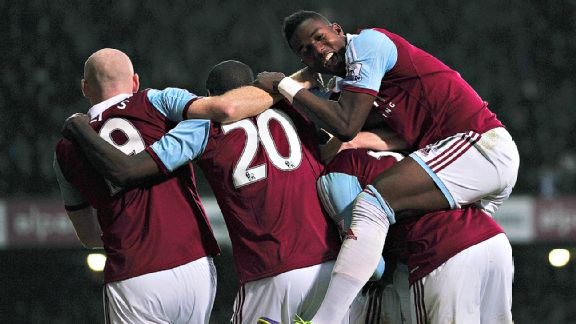 Carl Court/AFP/Getty ImagesWest Ham got the job done vs. Fulham but there's still much to fix.
LONDON -- Three quick observations from West Ham's 3-0 home win over Fulham ...

A tale of two teams
Today's game afforded some breathing space for West Ham but a little less air for Fulham as they continue to sink. The questions around Martin Jol's job will continue, but Sam Allardyce has at least provided a timely response to his critics around Upton Park.

West Ham claimed their first win in six games while Fulham's winless run now stretches to that number. They are going to have to start exerting themselves to avoid trouble -- although chairman Shahid Khan may have decide to exert control by dispensing with his Dutch manager.

- Thorne: Two Coles light up Irons

While this game confirmed the view that Allardyce and West Ham will always find just enough in reserve to keep them out of real danger, it is genuinely difficult to know what Fulham's status and outlook is. Their quality of squad makes it feel like they shouldn't be this bad, but that is the reality. They are far less than the sum of their parts.

This game, however, did reveal a lot of the main reasons that both sides are where they are in the table -- particularly, their combined issues in front of the net.

Allardyce's main issue temporarily fixed but also reinforced
It is not a coincidence that the goal to finally end West Ham's drought -- and give them that key first win in six -- arrived via a deflection.

Just after half-time, Mohamed Diame took advantage of a Fulham slip to stride forward and strike, with the ball skewing off Fernando Amorebieta. Maarten Stekelenburg was wrong-footed and West Ham were right back on top again.

Allardyce's side had a notable and definite surge in confidence after the goal, but that itself only serves the highlight their main problem.

West Ham's key complaint is made obvious by that huge gap in and around the opposition area. They badly lack Andy Carroll or even a striker close in quality to him. Carlton Cole provides good backup -- as he proved with his clinching strike -- but still doesn't look like someone to regularly front up.

Questions should be asked here about why Allardyce left himself so dependent on a single player and how one injury can cause such a multitude of problems. Although the West Ham manager has frequently insisted they went for four other forwards in the summer, something was evidently wrong with their transfer policy.

That can't be changed, but the point now is that Allardyce hasn't yet found the tactical change to temporarily alleviate the issue. For all the praise he justifiably got after the striker-less 3-0 win over Tottenham Hotspur, West Ham still seem to play as if they have a forward like Carroll on the pitch. Unfortunately for him, Modibo Maiga doesn't cut it. There were a number of situations when the ball was played into the area and Fulham did look in danger, only for an absence of any attack-minded bodies to let them off the hook.

At one point in the first half, Matt Jarvis crossed for Kevin Nolan in the box, only for the midfielder to attempt something acrobatic instead. It was the move of a team in bullish, high-scoring mood, not one that had only hit two goals in six games.

As such, that Amorebieta deflection was badly needed. It also had more than the required effect. After the strike, there was a clear confidence to West Ham. Suddenly, their attacks came together and they posed a much more significant threat. Both Stewart Downing and Matt Jarvis should have killed Fulham off. The two Coles eventually did, with substitute Joe claiming the third.

This is the value of goals even beyond adding to the numbers of the scoreline. To feel it more, Allardyce must get Carroll back, add a backup and also work out something of an alternative well beyond Carlton Cole.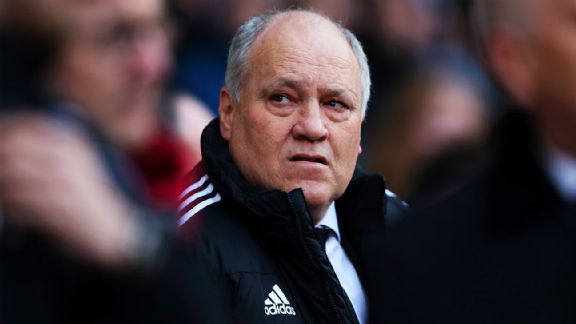 Ian Walton/Getty ImagesThe pressure's really on Martin Jol as Fulham again looked toothless and ineffective against beatable Prem opponents.
Fulham a pale shadow
It is a reflection of Fulham's dismal season that, for a manager at least renowned for his sense of flair, Martin Jol is currently overseeing a very dull team. This was -- yet again -- some way removed from the sparkle shown in autumn 2012.

The appointment of a technical coach like Rene Meulensteen is supposed to help that in the long term, even if the absence of the unwell Dimitar Berbatov affected them today. There was little to no link-up play between Fulham's attackers. That was painfully evident in their first meaningful attack of the game, when there were acres between Damien Duff and Pajtim Kasami. As it was, the attacker had to stretch to reach a pass that never had much chance of giving him a chance.

It was not just the dull movement that was so marked about their performance but the general lack of fizz. You would say Jol could do with adding flair in the January market but it's not like that is the type of player that is missing. Fulham have a few of them: Berbatov, Kasami and Bryan Ruiz, to name just three.

The latter of those came on after 65 minutes but couldn't change anything. Things actually got worse, which points to something deeper. The signing of Darren Bent in all of this is interesting given that the forward has never been famous for his contribution to general play. His admittedly excellent goal-scoring rate has always come at a cost, given it requires a team's attacking to be funnelled in a certain way. Now, it's not coming at all.

Fulham have scored just three times in their past six games, and Bent hasn't scored in any of them. As a result, Jol and Meulensteen have much to figure out. The former United coach is going to really have to work on an attacking integration that has long faded. Fulham have the players. They just don't have any of the pizzazz.