Three Things: Manchester City vs. Viktoria Plzen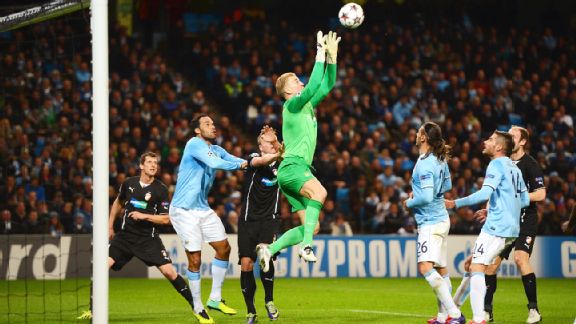 Michael Regan/Getty ImagesJoe Hart was back in goal for Manchester City but he'll need to continue to fight to regain his starting spot.
MANCHESTER -- Manchester City continued their winning ways with a 4-2 Champions League victory over Viktoria Plzen, but there's still plenty for manager Manuel Pellegrini to work on. Considering the level of competition they faced against Plzen, City's two goals conceded along with some midfield issues will need to be addressed.

Here are three thoughts from the game:

No happy return for Hart

Joe Hart was back. But that doesn't necessarily mean Joe Hart is back.

For the first time in a month, the error-prone England international took his place in the Manchester City goal. He was last seen on a first-team pitch for his club in October, cursing in frustration after his last-minute mistake allowed Fernando Torres to score a winner for Chelsea. Hart's return was loudly applauded by the City faithful, but while he did not blunder and despite fine saves from Daniel Kolar and Frantisek Rajtoral, it is hard to deem his comeback a successful one.

He was denied the clean sheet most anticipated when Tomas Horava hammered a 20-yard shot past him. Stanislav Tecl, who scored the second equaliser, also defeated him, giving the photographers a chance to take more pictures of an irritated Hart picking the ball out of the back of the net.

His frustration extended to both ends of the pitch: He briefly thought he had recorded a rare assist, but when Sergio Aguero latched on to his punt forward to put the ball in the net, the Argentine was penalised for a nudge on Marian Cisovsky. Otherwise, he was kept occupied as Plzen posed a threat on the counterattack. Perhaps the positive element of a poor defensive display is that Hart was busier than expected. Nevertheless, the likelihood is Costel Pantilimon will displace him in goal against Swansea.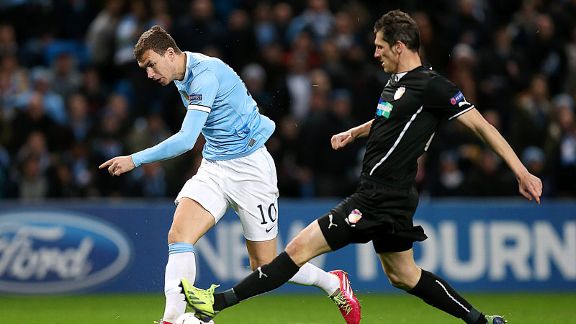 Press Association/AP ImagesManchester City's Javi Garcia failed to impress in a rare starting appearance.
City's squad players missed their chance

There is a school of thought that Manchester City have the finest squad in England, partly because Manuel Pellegrini has permed from 22 internationals this season and partly because, with two in each position, it is the best balanced. This was a game that lent itself to different conclusions: The first 11 remain an awesome proposition (at home, anyway), but their understudies are unconvincing.

With qualification to the last 16 already secured, Pellegrini made seven changes. It gave others an opportunity to impress. Instead, the sharpest performers were Samir Nasri and Aguero, two who figure in the strongest side. Nasri, continuing his fine form, was incisive and inventive and deserved his placed on the score sheet, and it was telling that Pellegrini had to summon another first-teamer, Alvaro Negredo, to score the crucial third goal.

- Mooney: City players on the fringe

Others offered less. Although he eventually scored, Edin Dzeko failed to combine with Aguero as instinctively and incisively as Negredo does. A second-string defence looked fallible, with stand-in captain Aleksandar Kolarov troubled by the raiding right-back Rajtoral and Martin Demichelis proving a substandard deputy for Vincent Kompany. The cumbersome Argentine went missing when Plzen levelled for a second time, leaving Joleon Lescott floundering.

It hardly helped the back four that Javi Garcia did not offer them enough protection. As Jack Rodwell is injured (again), it highlighted a problem for Pellegrini: With no satisfactory alternatives, he is overreliant on Yaya Toure and Fernandinho. The Brazilian was pressed into action again, and when he came off, the Ivorian replaced him. Toure will have to sit out the last group game against Bayern Munich after collecting an injury-time caution for a high challenge that could have brought a red card.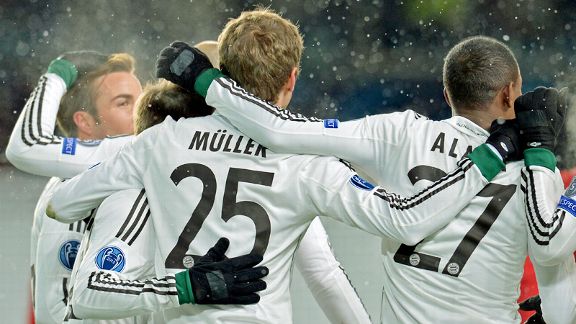 Epsilon/Getty ImagesThree-goal Bayern Munich had plenty to celebrate in Moscow Wednesday.
Second best could be problematic

After the plaudits, the problems.

The win against CSKA Moscow secured City's place in the knockout stages, the first time they have progressed as far. Yet unless City beat Bayern by three goals or win a high-scoring game at the Allianz Arena by two goals, they are condemned to second place. Statistics show that, of the last 32 semifinalists in the Champions League, only seven did not win their pool.

And should the other three English teams top their respective groups, there are only four possible opponents in the last 16: Paris Saint-Germain, Atletico Madrid, Real Madrid and Barcelona. That means City would do well to reach the quarterfinals, let alone the semis.