Football, family ties and travel tales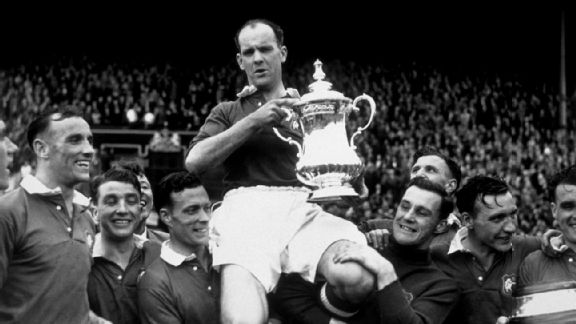 William Vanderson/Fox Photos/Getty ImagesCharlie Mitten (left) helps carry captain Johnny Carey after Manchester United won the 1948 FA Cup final.
I've been thinking about a trip I made to Belfast a decade ago this weekend, to write a feature about the derby between Cliftonville and Linfield. It was part of a series where I'd spend three days in a city interviewing fans, journalists, politicians, officials and players around the game between local rivals.

From Rome to Tel Aviv, to South Africa and the Faroe Islands, I spent six years doing it. I was sometimes frozen, sometimes scared -- I was kidnapped once -- but never bored.

Belfast was not my idea. Gavin Hills, the former Amnesty International Young Journalist of the Year, had told me about it shortly before his untimely death in 1997, age 30. Hills was someone I admired greatly, a fine journalist who visited some of the most dangerous places on earth: Sarajevo and Angola during the civil war when mainstream news organisations were reluctant to send a correspondent.

He would stay with me when he came to Manchester and tell me stories as we chewed over his ideas. One was his intention to write about the derby between "catholic" Cliftonville and "protestant" Linfield in Belfast.

When Gavin died, I planned to do it, but held back for years until an editor said, "If you don't go I'm going to commission someone else."

One month later, I found myself in the home of a convicted murderer-turned-politician who was also a big football fan. He had long seen the peace process as the Road to Damascus and was one of a dozen fascinating people I'd arranged to speak to from all sides of the community.

After the game, I was invited into Cliftonville's clubhouse where I met a director. He asked me my name and, upon hearing it, if I was related to Sam Mitten.

Sam is my granddad. His brother Charlie was the family star, a winger who played for Manchester United, but granddad played professionally for Ballymena and Portadown in Northern Ireland in the 1950s.

The elderly Cliftonville director told me that he'd played against granddad half a century ago. "Hard bastard. Centre-forward," was his description, which threw me, as I'd only ever known him as someone who watched horse racing and gave me sweets.

I called granddad and handed my phone over. The elderly pair chatted for 15 minutes about playing against each other. It was lovely to watch and there was a tear in Mr. Cliftonville's eye as he handed the phone back.

"Lovely fella," said granddad. "Haven't got a clue who he is though."

Half a century earlier, granddad had pretended he didn't have a clue when Ballymena's chairman questioned him over rumours that he'd been guesting for a team over the border in the Republic of Ireland in exchange for cash payments.

In 1936, my family had moved from Dunblane, Scotland, to Manchester because of football. Uncle Charlie was scouted by United, and although it wasn't quite his dream of Herbert Chapman's Arsenal, it was still a big deal.

When the second world war broke out, Charlie wanted to be a rear gunner in an RAF bomber, but because of his sporting excellence, he was kept away from front lines and instead found himself in Blackpool with Stanley Matthews, who told him he was an idiot for wanting to be shot at in a plane.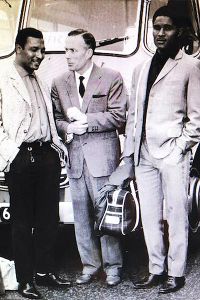 Mitten familyCharlie Mitten (centre) with Mario Coluna (left) and Eusebio (right) in Chicago.
Following that, he was in the Azores refueling long-range American bombers where he met several Benfica directors. The contacts were useful: In the 1960s, he took Benfica on a tour to North America.

Meanwhile, granddad joined the navy and was put on a minesweeper in the English Channel, clearing the harbours in Cherbourg, France, and Antwerp, Belgium. His boat of 18 men escorted ships in the D-Day landings. He said it was the greatest adventure of his life.

Back in Manchester, he played with Altrincham along with Manchester United players who'd returned from the war too old to play in Sir Matt Busby's first side.

Granddad reckoned games against rivals Northwich Victoria were more tense than Normandy battles, while grandma was a 1940s non-league wag who enjoyed a once-a-season club-organised trip to the spa town of Buxton, an hour from Manchester.

Granddad watched his brother, too, including in the 1948 FA Cup final against Matthews' Blackpool.

"Charlie gave me two stand tickets, but because our father was terminally ill, I told him that my fiancee and I couldn't go," granddad explained. "Then we changed our minds and Charlie gave us two terrace tickets instead. Everyone wanted a ticket in Manchester.

"Some of the Jewish businessmen in (Manchester's) Cheetham Hill were big United fans and invited the players, who didn't earn much, to their textile factories to choose some cloth to make a dress for their wives. The players tended to sort them out with tickets in return.

"Our bus left from the Gorse Hill in Stretford. There were hundreds of United buses, but most of us had never seen United play outside Manchester before. It was such an achievement to reach the cup final then and my fiancee had a red rosette, a scarf and a lucky charm. We had a singsong on the coach which rattled to Wembley in about eight hours.

"Matthews was one of my favourites, the best right-winger in the game. Charlie was marking him and he made a difference because he didn't give him a yard. I was very proud of my brother and of United for beating a very good Blackpool side 4-2.

"It was one of the best FA Cup finals and there were no problems with the Blackpool fans, either. In fact, we never called the other teams, we only cheered our own. My brother took me to some of the celebration receptions in Manchester. One was in Chorlton and I remember drinking out of the FA Cup."

The Mittens are a football family. Charlie's son John played for Exeter City, while Charlie junior made it as far as Man United's reserves. His son Paul was an apprentice at Man United.

My brother Jonathan had a great career in semi-pro football, also briefly playing for Altrincham like granddad. Younger brother Sam signed professional terms with Stockport County and is now in non-league while another, Harry, has been contacted by Manchester United, City and Everton in recent weeks. He's six! As for me, I write about it ...

But granddad was the head of the family. A father of nine, he was grandfather to nearly 30 and a great-grandfather, too. I spent Christmas Day with him in Manchester, his mind sharp despite his 88 years.

He thought I was crazy for driving to Hull the following morning to watch United, or "that rubbish" as he called them. No United team could ever compare to the boys of '48, starring his brother as part of a famous front five that also featured Jimmy Delaney, Johnny Morris, Jack Rowley and Stan Pearson.

Granddad died on Sunday, at peace and surrounded by family, having led a wonderful life. I'll miss him greatly.