Watching Messi, what's next for Camp Nou and life on the road with Mou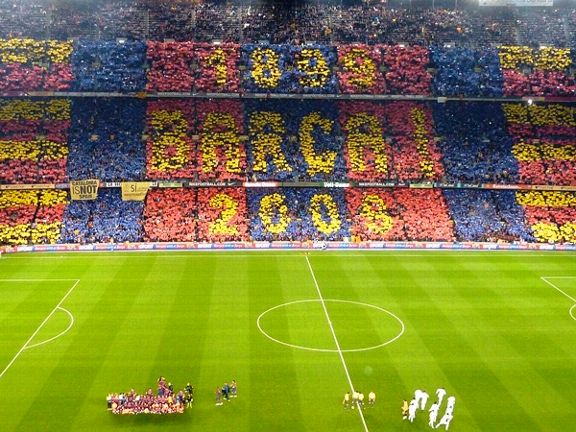 no_source / Andy MittenThe view from the Camp Nou press box ahead of October's Clasico.
Greetings from the press box at a half-empty Camp Nou. Barcelona have just scored after seven minutes against Celtic in front of the stadium's lowest attendance of the season: 54,342.

It is a game where Barca need a point to finish group winners and, against a side who will finish at the bottom regardless, it isn't the biggest pull in Catalonia.

Celtic brought 15,000 fans here in 2007. Tonight, a hardy 2,000 sit high on the upper tier opposite. Their team have just conceded a second goal.

The 600-seat press box, football's biggest outside Wembley, would be full if it were an important European game.

The Swedish and Italian presenters, coated in makeup, would be eyeballing each other in a competition to see who is better-looking. And that's just the men.

The Mexicans and Brazilians would be testing who could say "Goollll" the longest. They would be busy tonight; Barca have just scored a third. And a journalist would always turn up late and squeeze past at least 30 others, pulling on their computer cables and spilling their coffee, just as the game started.

Just like players, as a writer you can prepare well but you can still fail. In 2006, I was asked to write a colour article for a British broadsheet newspaper during a Barcelona vs. Chelsea game. The newspaper sent two other writers to cover the game.

My editor wanted me to focus on a young man called Lionel Messi. I spent the days before getting unique insight that the British audience wouldn't have known.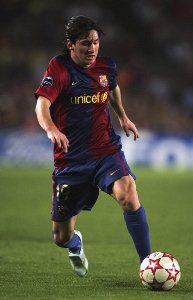 GettyImages / Mike HewittMessi, then 19, was unknowingly the source of much stress!
I started writing before the game and it was all going well: I would even have a chance to enjoy the game. Then Messi limped off injured after 20 minutes. The editor emailed: "Scratch Messi, go with another player. Deadline on the whistle, earlier if possible."

I shook my head in disbelief. One of the journalists next to me, a veteran called James Lawton, watched the game and smoked cigarettes.

On 75 minutes, he opened the cover on his laptop and spent 20 minutes writing 600 words of magnificence to meet his final whistle deadline. He was the sorcerer, I was the apprentice.

That was a huge game, tonight's is not and the press box is full of just the hardcore, including the pack who follow Celtic home and away and the Catalan journalists who do likewise with Barca.

Some have excellent relationships with the club's players and often know more about what's going on at the club. Players treat journalists with more respect than you tend to find in England.

When Jose Mourinho arrived at Camp Nou as a translator in 1996, he was sent to scout games of forthcoming opponents for manager Bobby Robson. A journalist, Lu Martin, traveled with him to write a preview of the team.

"I went with him and a photographer to Belgrade to scout Red Star ahead of a European game," said Martin, who is close to many Barca types. Close, as in someone like Pep Guardiola will call him and ask to go for dinner.

"There were big problem in Serbia with the government, but the mood was light on our trip. We joked that there were rumours that he was Robson's boyfriend, because he went everywhere with him.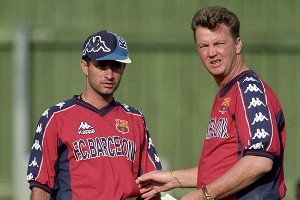 AllsportMourinho (left) at Barcelona: Translator, joker, tyre-changer.
"Mourinho laughed and said: 'Bring your sister along and we can find out if that's true.' "

Martin added: "I always remember something he said: 'I don't waste time thinking about the people who love or hate me.' "

"On the same trip," Martin goes on, "there was a flat tyre on the car in which we were traveling. Neither me nor the photographer had any idea how to change it.

"Mourinho cursed, suspecting it was deliberate because someone knew he was responsible for scouting the Red Star team. But he got out of the car and changed the tyre."

Barcelona have scored a fourth but few of the few Celtic fans expected a win and they're singing away. It might be their last time here, for Camp Nou may not be around in five years.

Barcelona are looking at either substantially redeveloping their home or demolishing one of the most famous venues in the world and moving to a new stadium nearby.

Either solution -- a vote will take place next month -- will see an increase in capacity from 98,600 to 105,000. It's not just that Barca could sell more seats for their biggest games, but because -- at 2 percent of the capacity compared to 7 or 8 percent of their main rivals -- they have too few high-yielding executive seats.

Barcelona also claim 20,000 members have an obstructed view of the pitch because of the overhang from various tiers of seating. In the worst cases, you can see the pitch and none of the stadium. It's like watching the game through a letter box.

Most of Camp Nou was built in 1957 and then redeveloped with a huge, extra, third tier for the 1982 World Cup final. It has more seats than any other stadium in world football and averages crowds of 80,000.

Yet beneath the stands and from the outside, the stadium is showing its age. Where I sit now smells because of antiquated toilet facilities nearby.

It's underwhelming for a club so big, especially when compared to some of the striking new venues like the Allianz in Munich or Milan's San Siro, with its giant red girders. A 2010 trip to the Dallas Cowboys' vast new home huge impressed the Catalans.

Barcelona have scored again, it's 5-0. I can see why redevelopment is needed but it's not the first time it's been discussed.

In 2007, the British architect Sir Norman Foster planned to increase the height of the main stand, then cover and clad the stadium in a Gaudi-esque terra-cotta exterior.

It would have been a new architectural icon for a city already stuffed with design classics, but the project never broke ground and was shelved by an austere new board who struggle to justify the anticipated 250 million euro cost.

The new stadium / redevelopment is back on the agenda, with the club stating that the costs will be funded from their 100 million euro annual profits, which have had another boost tonight.

Barca have scored again to make it six as they pick up another three Champions League points. But what of Celtic? They score at the death to make it 6-1.

A late goal -- or three -- can be a journalist's nightmare, necessitating highly stressful rewriting of copy. But not on this occasion.