Forlan's honeymoon, Eduardo's English and a dodgy line with Pienaar
Friday sees the draw made for the World Cup finals in beautiful Bahia, Brazil.

I speak regularly to a man who hopes to be playing in the tournament. Diego Forlan, for whom I ghost a column each month, was the Golden Ball winner in South Africa in 2010, and his Uruguay side has qualified via another intercontinental playoff. Not only that, they're one of the top-seeded teams.

Forlan lives and plays in Brazil for Internacional. I first got to know him when he played for Manchester United a decade ago, and we kept in touch when he moved to Spain to play for Villarreal and Atletico Madrid.

He will be watching the draw with great interest. If Uruguay play in Porto Alegre, where Inter are based, he'll be able to stay at home. Better still, the flight from Montevideo is only an hour, and thousands of Uruguay fans would head north.

The destination would suit Argentina too as it's the only one that, distance-wise, is realistically drivable from Buenos Aires and the country's northern centres of population.

England also want to play in Porto Alegre, for the weather in southern Brazil is closer to that of northern Europe than the more northern venues are.

Not that setting up a "base" will be easy. Group games have been spread to different cities the length and breadth of Brazil. If you're a travelling fan, you'll have lots of moving around to do in a country where getting about is difficult.

I've been to Brazil several times to write about football and interview players, and I'll be going again in the new year.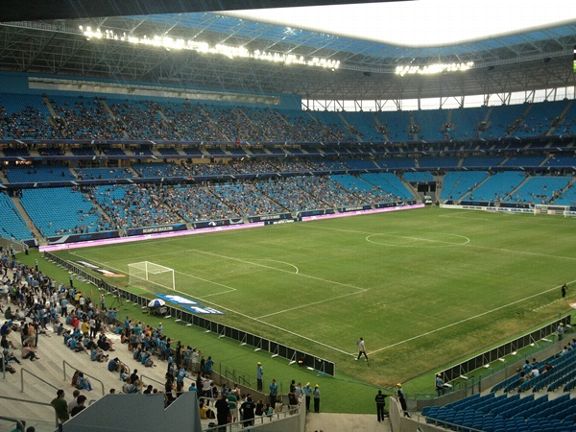 no_source / Andy MittenThe Arena do Gremio, which opened in December 2012.
I've visited some of the new stadiums and seen the construction sites. One impressive new venue is the 60,000 capacity home of Gremio, which opened a year ago yet won't even be used in the World Cup, as the chosen venue in Porto Alegre is Inter's home stadium: Beira Rio (Riverside).

It's not yet finished, though.

Forlan signed for the club a year ago, and every home game this season has been an away game as the Beira Rio gets rebuilt.

He has other things on his mind too, like his honeymoon. I asked where he was going.

"The Malvines," he said, with a strong accent.

"The Malvinas?"

I was bemused that he had chosen the Falkland Islands.

"But how will you get there?" I asked. "There are no flights from Brazil. And what will your Argentine friends think? And isn't it a bit cold and boring for a honeymoon?"

"No, the Maldives," he replied, laughing. "The islands in the Indian Ocean, not the Atlantic."

The Brazilian season ends this week. Forlan calculates that he has spent 200 days on the road this season with club and country.

It's another reason he is happy the World Cup is on his doorstep, though Brazil is so big -- you can fly for five hours internally -- he will be travelling regardless.

This week, I interviewed a Brazilian-born player who hit the road a long time ago.

Tracking down Eduardo, the Shakhtar Donetsk and Croatia striker who formerly played for Arsenal, was potentially problematic, yet his club was helpful and I soon had his phone number. He didn't answer for a couple of days then texted to ask if we could speak in a day or two.

I assumed that he spoke English as he had been at Arsenal for three years. He said he could but admitted that it was a bit rusty.

I had my Portuguese-speaking wife on standby but need not have worried: His English was fine.

Furthermore, so was the phone line. Despite all the technological advances that make being a journalist much easier, I still spend an inordinate amount of my life hoping that simple things like that will be decent or struggling to connect to wayward Wi-Fi signals inside football stadiums.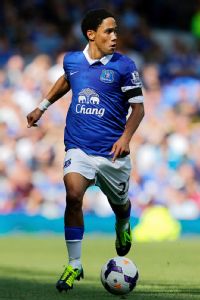 Paul Thomas/Getty Images"Hello, Steven. Are you there?"
An issue arose last week when I spoke to Everton's Steven Pienaar ahead of his side's game at Old Trafford. We were speaking between two major cities, yet the reception was appalling and I could hardly understand what he was saying.

"David Moyes is ... when we ... said that ... sometimes ... determined."

It was impossible.

"I'll call you after training," he said. He did, and the signal was better. He was also correctly confident of success at Old Trafford.

Wi-Fi at grounds improves year on year, yet there are still problems. When Athletic Bilbao's didn't work in the 2012, I was bluntly told: "It's an old stadium and we're moving soon."

Glasgow Rangers didn't have functioning Wi-Fi for a Champions League game as recently as 2010. I discovered that during the game.

The alternative was to ring my copy in, like they did in the old days, when dedicated copy takers would be on hand to type away. They would often ask you to spell out names clearly, especially unfamiliar ones, yet the odd mistake happened. They were usually picked up by sub-editors, but a famous few still got through.

There was the reporter at the 1998 World Cup whose dictated report read "the troublemakers dispersed when a police van drew up containing a dozen armed John Barnes" (Gendarmes).

Reading's "crisp passing" once became Chris Passing, while Wolves owner Sir Jack Hayward was quoted as saying that his club had "the worst team in the first division." He had actually said "tea."

The best one is probably apocryphal. A reporter filing copy from a Wales away game in the late 1980s was perturbed to see the strike force of Ian Rush and Mark Hughes referred to as "Russian Jews."

Copy takers are rare these days, though maybe it's a blessing that Rio Ferdinand won't be in Rio de Janeiro during the World Cup.