Meeting Forlan and following the Mata trail
I'm in southern Brazil, where it is so hot -- over 100 degrees Fahrenheit -- and unpleasant in the blazing sun. But I'm not on holiday, I'm working. There is lots of football to see, interviews to do and articles to write ahead of the World Cup finals.

An interview with Diego Forlan was set up a while back for Thursday, followed by a meal with our partners. Flights were booked, everything was sorted.

Last week, a day before I flew here from Europe, Diego sent an email. "I might not be here next Thursday," he wrote. "Call me".

Oh no, a nightmare scenario: Plan to fly to the other side of the world and then your plans disintegrate at the last minute. The interview had already been sold to a British newspaper.

So we spoke, except Diego couldn't speak too loudly in case anybody heard the conversation at his end. He said there had been some offers made for him and that his club Internacional were prepared to listen regarding their best-paid player.

Inter have financial issues, in part because they've been forced to play games away from their home for a season while their stadium is readied for the World Cup.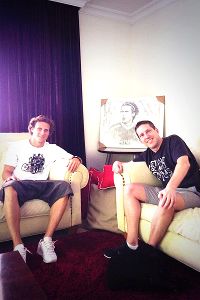 Courtesy @DiegoForlan7Forlan, Mitten and a picture of Forlan.
One offer, from Japan, stood out and appealed to the Uruguayan greatly. All that remained was to sign the contract. Diego, who I've known since 2002, asked if we could move our meeting to Monday. No problem.

Forlan's future was prominent in the media in Brazil, but none got it right. They said he was staying until the World Cup, that he was going to Botafogo, Mexico and more. I just had to keep my mouth shut.

On Saturday, I went to watch Inter in the Campeonato Gaucho state championship. There was no work, no press box and no screens to distract; it was just a game of football, on my own, where I didn't care about the outcome.

I didn't have a ticket, but bought one outside their (temporary) ground. The seller wanted the equivalent of 11 pounds, but I knocked him down to nine, bought water and popcorn and then sat at the back of the stand.

My "match off" was made infinitely brighter by the two groups of Inter ultras -- and the 56 visiting Sao Luiz fans -- dancing throughout the match to a drumbeat. I love the atmosphere at games in Brazil: people have a good time. You also see more females in the crowd than in Europe.

My day was going to plan until a radio journalist started working his way through the crowd and thrusting his microphone into faces to gauge fan opinions.

There were a lot for him to choose from in the packed area of the stand but I couldn't ignore him when he put his microphone in front of my mouth and asked me something in Portuguese.

"I'm English," I protested. "Nao falo Portugues."

"English!? Which city?" he asked (in English).

A dozen heads swivelled around.

"Manchester."

"United or City?"

"United."

"Why are you here?"

This was all live on radio. I explained that it might be easier if I spoke in Spanish, and he agreed. People nearby listened in, as you don't get many foreigners in this part of the world.

He wanted to know what I thought of Inter, Brazil and the World Cup. I explained that I visited the country every year because a) my wife is Brazilian and b) I work as a football journalist, and there are a lot of stories to write.

I added that I was meeting Diego Forlan on Monday. That was a big mistake.

More heads turned and I could see the wheels turning in the journalist's head. He started asking me about Forlan's future. I knew he was leaving but Brazil didn't.

I fudged it and said that he was happy at Inter but that he had had offers. The journalist knew I was holding back but I wasn't going to let anything slip.

"Is he going? Where have the offers been from?" he asked.

I said little but the journalist persisted.

"In your opinion, will he be an Inter player this season?"

I said he was happy with Inter.

"When is your interview with him?"

"Monday".

"Where?"

"At his home."

"So when will he leave the training camp to go to his home?"

He showed admirable instinct but I acted stupid and he moved on, after which fans began grilling me. They were friendly, but so much for the relaxing game away from journalism! Incidentally, the match started in 34 degree weather and finished in hailstones.

Manchester United lost at Chelsea the following day. As expected. Two hours after the final whistle, a text arrived from a very good contact.

Very good contacts help journalists do their jobs, and every journalist will have their 10/10 men, who is right nearly -- nothing can ever be 100 percent -- all of the time, and their 2/10 men, where you shrug your shoulders and wait and see.

The message came from a 10/10 man and simply said: "Mata." That put me on the trail, piecing together the jigsaw. By Tuesday, it was confirmed at one end.

I'm being cryptic because I have to be: Sources want to be protected and any journalist will tell you the same. You also get a lot of information which you can't use, but which helps build up background so that you can write a story knowing more than you're allowed to reveal.

And you build up pictures through intelligence. Agents will often tell you what they'd like to happen rather than what is actually happening.

Players will tell you their version of events, too, but imagine if your partner came home from work and told you about a disagreement with his or her boss. You would get one side of the story, while the boss would certainly have his or her side. Hence the need for multiple sources.

People close to you don't always help, either. Knowing what I do for a living, my family are asked for tips about what's happening. The questions are driven by a passion for the game and a thirst for knowledge and there's nothing wrong with that: those asking love their football and want to know more. However, my parents have had decades of practice at smiling, yet saying very little.

Not everyone is the same. I was told on Tuesday about someone claiming to be a "close mate" who has been telling people in his workplace about goings on at Manchester United. I'm the source, apparently.

He tells them with a nod and a wink, no doubt thinking he's impressing. I got told a list of things that he had said: talk about potential headline news. It was all fabricated, though. I've not had any contact with the "close mate" for five years and this only came to light when someone emailed me.

Time to go now. I did meet Forlan and his new wife, Paz, on Monday. Diego has 4 million Twitter followers, and he tweeted a picture of us.

I hoped my wife might be jealous, but she seemed to think that my presence only served as a contrast for Diego's blond good looks.

He did sign for Cerezo Osaka, and Mata will sign for United but there are more messages to decipher. Naturally, you get far more than normal in the transfer window because everything is so hectic.

Some of them are positive (or potentially so, if you like keeping the irreplaceable) while others make for more grim reading. Such is the relentless roller coaster of football, especially where Manchester United are concerned ...