Contain Ronaldo & United have outside chance
"The world will stop to watch this tie," Real Madrid manager Jose Mourinho claimed Monday on the eve of the second leg of Madrid's Champions League tie with Manchester United. "I doubt expectations can be bigger than for this one . . . nobody knows what will happen because the teams are well-matched."

Well-matched in terms of ability, and well-matched in terms of the scoreline: 1-1 is a tremendous first-leg result to set up the return meeting, because neither side is firmly in control. Strategically, the coaches must decide what approach to take -- to be proactive or reactive, to attack or defend. Here are three key tactical questions:

How will United stop Ronaldo?

OK, the former Manchester United attacker scored a fine headed equaliser in the first leg, towering over Patrice Evra at the far post. But overall, Phil Jones did a decent job of stopping Ronaldo getting space to shoot -- when he ran at Rafael da Silva, there were problems, but Jones was effective at doing the scrappy things: getting tight, making blocks, ushering him away from goal.

-- Giggs expects high-scoring affair
-- Marcotti: Managers could spring surprises
-- More blogs: Jolly - Delaney

But Jones is unavailable for the second leg, which leaves Sir Alex Ferguson with a problem. Not only is he without Jones, he doesn't have a suitable deputy. "Ronaldo isn't something we should fear," Ferguson insists. "If we go in worried about the damage Cristiano can do we forget what we can do ourselves."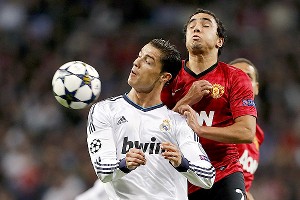 Angel Martinez/Real Madrid/Getty ImagesWith Phil Jones out, Real Madrid is hoping Cristiano Ronaldo, left, can exploit a mismatch against United's Rafael.
Which is entirely fair, but even Ferguson knows this isn't the complete story -- he was the one who deployed Jones in a specific man-marking role in the first place.

Presumably, Ferguson will use another central midfielder to the right of the pitch, and instruct that player to move out quickly toward the right flank, forcing Ronaldo to go down the flank, rather than move inside to the centre of the pitch. Tom Cleverley might be an option in a more defensive role than he's accustomed to.

But this is more about collective responsibility. As Ferguson acknowledged, Ronaldo has become the complete attacker. "He has fantastic physique, two great feet, pace and he's good in the air," he added. That's the problem – deny him space to cut inside and shoot from the left flank, and he pops up with a crucial header on the opposite flank. Ronaldo can score from any range and any position -- it's unlikely to be about man-marking him, and more about positional discipline and communication.

Can Carrick influence the game?

According to Ferguson, Michael Carrick is enjoying his finest season in a Manchester United shirt. Carrick's quality is all about his understated consistency -- his passes are steady rather than spectacular, his method of ball-winning is effective if not crowd-pleasing.

Carrick certainly has a fan among Real Madrid's starting XI in Xabi Alonso. "He makes those around him better," Alonso says. "Regardless of the fact that he's not the one who scores the most goals, or a great tackler."

Playing as a holding midfielder against Real Madrid is particularly tricky. Mesut Ozil isn't quite the best attacking midfielder in Europe, but no one is more clever with his positioning and movement. Everything Ozil does is an attempt to draw an opponent out of position, and his selfless runs have a habit of opening up space for teammates.

His ability to create space in that central zone allows both Ronaldo and Angel di Maria to come inside, and with Sami Khedira able to storm forward from midfield, Carrick can expect to find himself overloaded at some point, probably on the counter-attack.

"If the game is being played at 100 miles an hour, you can't get carried away with what's happening -- positioning is the key," Carrick once told FourFourTwo. "If you can get on the ball and support the attack then go for it, but be aware of where the danger is if the move breaks down. If they counter-attack you've got to be able to get in a position to help the defence."

That's the key for Carrick -- good positioning. A couple of long diagonal balls toward the flanks would be useful, certainly, but his primary task is defense in a match where a clean sheet confirms United's progression.

Can United match Real in terms of counter-attacking?

Manchester United reached the Champions League final in 2008 and 2009 because of an approach primarily based around counter-attacking football. With Ronaldo, Carlos Tevez, Park Ji-Sung and Wayne Rooney all options in a flexible attacking department, United contained opponents with resilient, deep defending before breaking at great speed.

The departures of both Ronaldo and Tevez in 2009 meant a couple of years where United's true footballing style was difficult to characterise. They played with great attacking ambition and always stretched the play on both flanks, but there wasn't such a patient, intelligent feel about their lineups. The side that was defeated by Barcelona in the 2011 final was more about ball retention than counter-attack -- Ryan Giggs and Carrick had commanded the midfield zone in the knockout stage against Chelsea and Schalke, but were exposed in the final against Barcelona, when United were too open.

Now, Ferguson has more counter-attacking options. Shinji Kagawa was signed on the basis of his brilliant play at Dortmund, when he specialised on staying high up between the lines, then drove forward quickly with the ball (much like Ozil), which is why Ferguson started him centrally in the first leg at the Bernabeu.

Danny Welbeck offers pace, power and constant running up and down the line, and while Robin van Persie isn't the most natural counter-attacker himself, his presence up front allows Ferguson to push Rooney back to the flank -- where he excelled in United's counter-attacking era.

A common feature of United's big games from the start of the season -- particularly in the 3-2 win away at Chelsea -- was their sudden, quick attacks down the flanks. A return to that approach, despite this being a home fixture, will be United's best chance of troubling a Real side that lacks a defense-minded tackler in midfield. It also will prevent Real from counter-attacking into space, which could result in a patient tactical battle.

Michael Cox is a freelance writer for ESPN.com. He runs zonalmarking.net.