Can QPR make a great escape?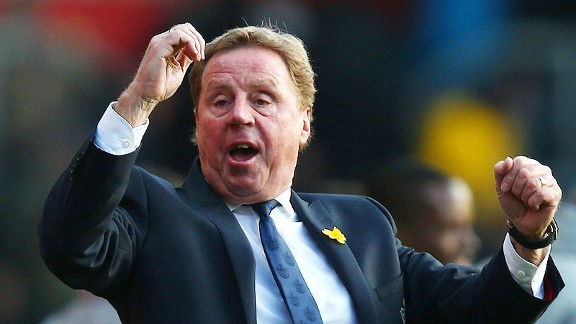 Clive Rose/Getty ImagesA celebratory Harry Redknapp took his QPR side a step towards Premier League safety with a late win at Southampton.
Surely, surely 'Arry can't save QPR, can't he? This is the question on the lips of many a football fan today, after an unexpected happy return to St Mary's for the Rs boss at the weekend. Given a hostile reception on his old stomping ground, Redknapp's delight was plain to see after his side recorded a vital win in the battle against relegation.

While they are still odds on to be demoted to the second tier of English football and remain bottom of the pile despite a sheer upturn in form since Redknapp's arrival, after the weekend's result things are looking a whole lot rosier than they were. Now only four points off safety, they face crucial games against Sunderland, Aston Villa and Wigan in the coming month, so it might not be such a preposterous idea that they could pull off the greatest of escapes. A look at WhoScored.com's Premier League table since the turn of the year gives us some indication of how much things have improved at Loftus Road.

With only four points and no wins from their 13 games under Mark Hughes this season, Redknapp has led his side to three wins and seven draws in his 15 games in charge, giving his side the 10th best record in the Premier League since January 1, 2013. They'll be ok then, right? Going on form, probably not.

In the eight games in that timeframe, QPR might have only conceded five goals and only lost twice but, notably, of the teams involved in the relegation battle, they have only gained ground on Aston Villa and Wigan. It is of course rudimental to presume that anyone will continue exactly in their current vein of form. Football is too unpredictable for that. But what is key is that while QPR have improved and have given themselves a fighting chance of survival, the teams around them, in particular Reading and Southampton, have shown little sign of tailing off as the season's end draws closer. Both sides have equalled the Rs with ten points in their last eight games, and have therefore retained their respective positions three and seven points above them. QPR were decidedly below par under Mark Hughes, but what exactly has Harry Redknapp improved since his arrival?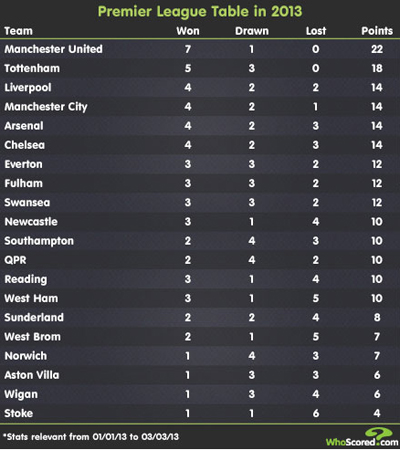 Other / Whoscored.com-
They are not keeping the ball any better than before. Against Southampton on Saturday, the Rs recorded an abysmal pass success rate of just 59.7%, though what is probably most surprising is that only a few weeks ago they managed to complete even fewer of their passes in a Premier League game (58.8% vs West Ham). Both tallies are way, way down on the lowest they recorded under Hughes this season (70.6% against Norwich), but Redknapp is more known for efficiency where necessary than a short passing game so this isn't all that surprising.

The fact that they are up in 14th in the rankings for pass success and possession, as can be seen on WhoScored.com's Premier League stats page, is for the much part down to Hughes' games in charge. Many expected them, with the signings they made, to be pushing for a mid-table spot, but in reality they were always in a relegation battle and Hughes should have opted for a more pragmatic approach at an earlier stage.

The fact of the matter is that upon Redknapp's arrival, QPR's results were so bad that things really had to improve. With the personnel he had available to him, it's not exactly surprising that their form got better. Redknapp has been praised by so many of his players in previous years for his man management skills in boosting the confidence of his squad, and that is exactly what he has done. However, what he has undoubtedly benefitted from most is the money available to him. In January he had near unlimited funds and was almost playing a real life game of Football Manager in that he could have whoever he felt necessary, providing they would join the Premier League's bottom club. With Christopher Samba in the side they look more assured and secure at the back; Andros Townsend adds an element of dynamism that QPR were lacking with Junior Hoilett out injured for much of the season; with Loic Remy leading the line they look more threatening in front of goal.

On paper, there is no doubt that QPR have a good enough team to survive in the Premier League, and with Harry at the reins it is still very much a possibility. However, things might have been left just too late, even for Redknapp to mastermind an unlikely comeback from the depths of the table.

All stats courtesy of whoscored.com