Tactics Board: Rangers exploit high-pressing Saints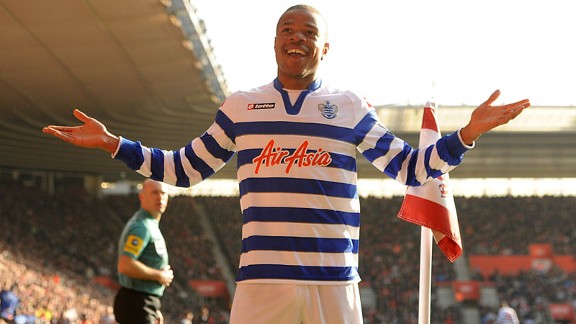 PA PhotosThe return of Loic Remy has given QPR a cutting edge up front.
This was not defeat to their former manager for Southampton. It was a loss planned by two of their former managers. Harry Redknapp's happy return to St Mary's suggested he had borrowed Alan Pardew's blueprint after Newcastle overcame the Saints six days earlier.

- Smith: Rangers perform Saints miracle

The key for both was to find a way of winning against Mauricio Pochettino's pressing game. No sooner does any development in football, whether stylistic or formational, occur, then others will look to counter it and Saints play a more extreme version of the pressing game than anyone else in England at the moment. Redknapp, like Pardew, looked to spring quick counter-attacks and expose a Southampton defence who, because their midfield work in the opposition's half to try and retrieve possession, can be starved of support.

While Redknapp's reputation is as a man-motivator and wheeler-dealer, this was a tactical triumph. It also hinted his scouts had taken copious notes at St James' Park. It was apparent in Redknapp's team selection, both who he did pick and, in Adel Taarabt, who wants a free role behind the striker and hardly contributes without the ball, who he did not.

Southampton's high-tempo approach requires industry. To counter it, QPR put an emphasis on energy in the midfield. They also looked to mimic Newcastle's tactics. Pardew deployed a 4-2-3-1 formation with runners on the flanks and Redknapp's wide men, Junior Hoilett and Loic Remy, quicker than their United counterparts. Newcastle had perhaps their most powerful player, Moussa Sissoko, as the advanced central midfielder. Ji-sung Park, nicknamed "Three Lungs" in his native South Korea, may not quite have the same stamina but could be the closest equivalent in Rangers' squad and was chosen for his second league start since October.

His role was not identical to Sissoko's - the Frenchman was ahead of two central midfielders, whereas Park played on the side of a central triangle with Stephane Mbia at the base – but he was the one of the central trio charged with getting forward to support striker Jay Bothroyd. More often, however, he was shielding his defence.

Because QPR's approach was dictated by Southampton's. Pochettino's is a philosophy that gives Saints plenty of the ball, often high up the pitch. So QPR opted to sit deep – indeed, they have defended deep and with men behind the ball for most of Redknapp's reign – but they also looked to make a quick transition from defence to attack.

Newcastle had scored on the counter-attack against Southampton. QPR struck twice, with their first a particular illustration of how to regain the ball and, within a few seconds, advance 80 yards and score. It came from a four-man move. Left-back Armand Traore played an aerial ball forward, thus cutting out Southampton's midfield, who were pushing up against their QPR counterparts. Then Rangers' 4-5-1 became 4-3-3 as the wingers broke, target man Jay Bothroyd chested it down to Hoilett and he played a diagonal pass for the scorer Remy. His run showed the advantage of playing a striker on the right wing.

The disadvantage of selecting Remy there was that he sometimes didn't track left-back Danny Fox in defence. Instead, Redknapp shored up his right flank by replacing Esteban Granero, the right of the central midfielders, with Jermaine Jenas, more diligent defensively, and then shifting Park to the right in a switch to 4-4-2.

The Korean has long been a defensive winger – in his Manchester United days, he was often chosen for key games precisely because he could be relied upon to help his full-back – but he took that still further by setting up Bothroyd's winner after a tackle. He dispossessed Maya Yoshida before crossing. It highlighted another element of Southampton's game: with their midfield high up the pitch and their full-backs ordered to attack, their central defenders can be dragged wider which, in turn, can create room in the centre.

When Rangers had the lead for a second time, their lack of central-midfield options on the bench counted against them. Against a side playing 4-4-2, Southampton threatened to over-run them. In the end, Redknapp reverted to five in the midfield with substitute Fabio da Silva becoming the third right winger and Park going back to the middle.

The final statistics showed that Southampton had two-thirds of possession, three times as many shots and more than twice as many on target. So both approaches contained a risk: Redknapp gambled that Rangers could win with far less of the ball and while operating largely in their own half, Pochettino that Southampton would not be stranded upfield and unable to protect their back four when they lost the ball.

It backfired as Southampton experienced a stark turnaround in the space of three weeks. Two games earlier, they had defeated the defending champions Manchester City. On this occasion, they lost to the division's bottom team. Both results, to some extent, could be attributed to their policy of pressing.