11 points with 11 Prem rounds to go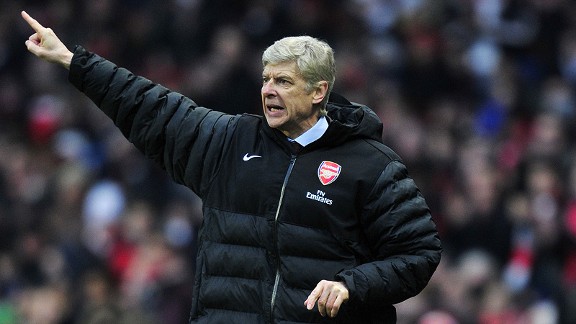 Glyn Kirk/AFP/Getty ImagesIt's been a tough season for Arsene Wenger, but all might be forgiven if he can beat Spurs again.
Like La Liga and the Bundesliga, the battle to win the Premier League appears to be over by the end of February. But with Champions League qualification and the relegation places still to be decided, plenty of questions remain. Here are 11 of them, one for each remaining Premier League round.

Round 28: Who rules north London?
Arsenal vs. Tottenham

Arsene Wenger used to complain about the number of fierce London derbies Arsenal faced, saying that his side was at a disadvantage compared with Manchester United. These days, your average "London derby" seems to have less meaning, though it's been a while since Wenger voiced these concerns.

However, Arsenal versus Tottenham remains one of the country's fiercest rivalries, and this Sunday's fixture will be particularly feisty, with three things at stake. First, there's simple local pride. Second, there's the obvious ramifications for finishing in the top four, something Wenger has done every season since he arrived in England. Third, there's Wenger's record of never having finished below Tottenham in a Premier League campaign. All of which makes this a good old-fashioned London derby and plenty to play for.

Round 29: Who lifts themselves out of the relegation zone?
Reading vs. Aston Villa

As things stand, Villa are 18th and Reading 19th. Wigan, the side just outside the relegation places, enjoy a week off due to Manchester City's FA Cup participation, meaning Roberto Martinez likely will spend his Saturday watching Villa's trip to Reading.

Presumably he'll be hoping for a draw because a win for either would lift them out of the drop-zone, at least temporarily. The points will be important but the psychological boost could be even more crucial as Villa's kids struggle for confidence and Reading have spent only two weekends outside the bottom three places since August.

Round 30: Can QPR finally win a six-pointer?
Aston Villa vs. QPR

Harry Redknapp has fared well against good opposition since taking charge of QPR, recording draws against Manchester City and Tottenham Hotspur plus a shocking 1-0 win away at Chelsea.

But QPR's problem has come against poorer sides -- they haven't beaten any relegation rivals this season. Villa Park would be a handy place to start; QPR dominated the reverse fixture in Redknapp's first game but lacked finishing ability. QPR need either Bobby Zamora or Loic Remy, both back from injury, to provide the goals that Djibril Cisse scored at this point last season.

Round 31: Where's the surprise?
No standout matches

On paper, this is the least exciting weekend of the run-in. None of the current top eight is playing each other and none of the bottom eight is playing each other. Nothing's happening. It's the last weekend in March, the clocks go forward and daylight savings time begins -- it's the best possible football weekend for our Sundays to be an hour shorter. Monday morning's headlines are up for grabs -- who can pull off a surprise win?

Round 32: Can United prove their dominance on the pitch?
Manchester United vs. Manchester City

Manchester United almost certainly will win the title, regardless of the outcome of this Monday night clash against Manchester City. A 0-0 result would be fine but that's not what Manchester United are about, and it's certainly not what winning a title is about.

Real Madrid's 2-1 win at the Camp Nou last season meant more than the three points -- it proved Jose Mourinho's side had recovered from Barcelona's famous 5-0 win to assert their dominance in a direct meeting with their title rivals.

Similarly, Manchester United were outclassed when City won 6-1 at Old Trafford last year and performed even worse in the 1-0 defeat in late April. They've already beaten City this season, but United won't want Samir Nasri's half-hearted block to sum up their title -- this is the chance for Robin van Persie or Wayne Rooney to provide United's defining moment.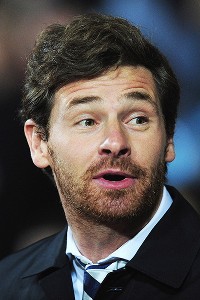 Jamie McDonald/Getty ImagesSince exiting Chelsea in ignominious circumstances, Andre Villas-Boas has actually thrived. He'll get a chance to show the Blues how well he's doing in Round 33.
Round 33: Can Villas-Boas get revenge?
Chelsea vs. Tottenham

Incredibly, it's only been a year since Andre Villas-Boas left Chelsea -- who have also managed to sack his successor in that short time, despite winning the European Cup -- and the Portuguese coach hasn't gotten over Roman Abramovich's decision to fire him. "I respect the decision of the owner of Chelsea, but I will never accept it," he said at his Tottenham unveiling.

When Roberto Di Matteo's Chelsea recorded a 4-2 victory over Spurs at White Hart Lane earlier in the season, it felt like Villas-Boas was a long way from toppling Chelsea. Di Matteo's side finished that day four points clear at the top, while Tottenham were level on points with West Ham, West Brom and Everton. Now, since Chelsea's stagnation under Rafael Benitez, Tottenham could push Chelsea outside the Champions League places. Villas-Boas would certainly accept that.

Round 34: How is Rafael Benitez greeted at Anfield?
Liverpool vs. Chelsea

OK, so there's no guarantee that Benitez will still be in charge of Chelsea and he'll surely be greeted as a hero. But this will be a bizarre situation: a manager of an away club getting a rapturous reception from the home fans while being simultaneously jeered by his club's own supporters. Benitez is a remarkably divisive character -- this game will illustrate that chasm perfectly.

Round 35: Which hoops are still in it?
Reading vs. QPR

The league's current bottom two, Reading and QPR, meet at Madejski Stadium. It's very rare that more than one side has been relegated from the Premier League with four rounds to go so there will be something at stake here.

Reading have more points, but on paper QPR possess superior players. In one way or another, this will be a huge fixture.

Round 36: Who rules Merseyside?
Liverpool vs. Everton

In the Premier League era, Everton have finished above Liverpool only twice. In 2004-05, David Moyes' side pipped Liverpool to fourth position in the Premier League -- but not only did Liverpool trump them by winning the European Cup, Everton lost in the playoff round for the Champions League anyway. The next time it happened, which was last season, Liverpool also won silverware (the Carling Cup) and managed to overcome Everton in the FA Cup semifinal too. Somehow, Liverpool always have the last laugh.

This time, it's different. Liverpool are out of the Capital One Cup, the FA Cup and the Europa League. There's no "get out of jail free" card this time around -- it's a straight head-to-head fight to determine the best team on Merseyside and sixth place will probably bring a European slot for next season, too.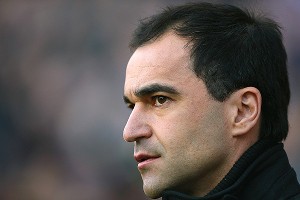 Alex Livesey/Getty ImagesRoberto Martinez has masterminded several great escapes while in charge at Wigan. Does he have another in him this season?
Round 37: Who's still motivated?
Relegation contenders face tricky matches

The current bottom three all face tricky home matches: Reading are playing Manchester City, QPR are at home to Newcastle and Aston Villa host Chelsea. If this was the second weekend of the season, you'd predict three away victories.

But on the penultimate weekend of the season, motivation is an issue. Manchester City or Chelsea could be competing in the FA Cup final while Chelsea also could be involved in the Europa League final -- both might be distracted, while Newcastle's season effectively will be over. This weekend will show that quirks in the fixture list can be as important as the strength of the opposition.

Round 38: Can Wigan do it again?
Wigan vs. Aston Villa

Wigan against Aston Villa is a perfect final day relegation scrap. Wigan are the underdogs who have been escaping the drop for years while Villa are one of just seven clubs to have appeared in every Premier League season. Paul Lambert's inexperienced squad might wilt under the pressure against a group of players who know this situation well.

If you need a more specific storyline, serial escapee Martinez turned down the Aston Villa job last summer in order to remain at Wigan for another year. Sealing survival in this fixture would be the perfect way to justify his decision.