Martinez: Delusional or tactical genius?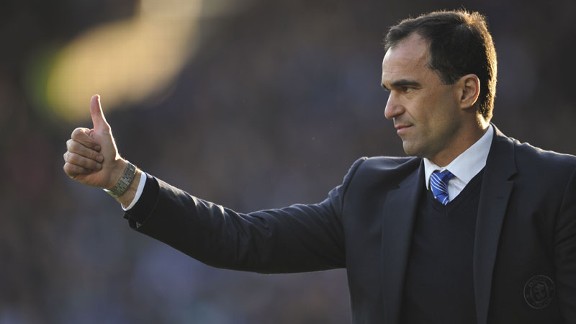 PA PhotosMartinez is confident that Wigan have enough depth to beat the drop
Premier League managers are never likely to play down the abilities of their own players or themselves in what is a game full to the brim with egos. Roberto Mancini's claim that he is the 'best manager in England' over the past 15 months may have been taken out of context by a few people, but it remains a rather outrageous outburst given that he only succeeded in achieving what many would have expected him to with the riches at his disposal at Manchester City. However, Roberto Martinez's recent claims that his Wigan side are "a top eight team" are difficult to find an explanatory context for.

- Brown: Is Paul Scharner nearing his peak?

Maybe that is just what comes with making it to the highest level of English football. Few would put forward Martinez's name when asked who football's most egotistical men are and it was arguably just a ploy to boost confidence in the ranks (though it might just have been a disillusioned, reactionary comment to his side's first victory since beating Aston Villa in December). They are not a top eight side, the table shows that, plain and simple, but Martinez also said that his side are "technically and tactically better" than in previous seasons, and that is not quite as ridiculous a claim. Whether or not they are better in such ways, it certainly wouldn't be outrageous to claim that Wigan are amongst the most interesting Premier League teams in a tactical sense.

The only Premier League team to consistently play with three central defenders, the tactics Roberto Martinez employs is one more often found in Italy than England, and it is refreshing to see a team break away from the norm. They originally began to play with the formation against bigger sides last term, in what many considered an overly defensive move of playing with five at the back when they needed points. When Italy fielded three at the back at Euro 2012 they had Daniele De Rossi at the heart of the trio, able to come out of defence with the ball and join the midfield. At Wigan, Roberto Martinez does not have such luxuries available to him and things are rather less glamourous as a result.

Scotland's Gary Caldwell marshall's the defence, and with an 83.1% pass success rate - poor for a centre-back - he does not use possession as well as Martinez might hope. He is not there for his ball skills though, and somewhat unsurprisingly, Caldwell shows his worth without the ball, blocking the most shots (21) and making the most clearances (108) of Wigan's players. Caldwell is thus asked to remain at the back, while the other central defenders - in Saturday's win over Reading it was Paul Scharner and Maynor Figueroa - will make forays forwards and join in on the attack.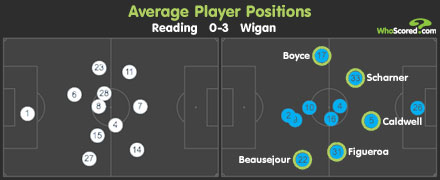 Other / WhoScored.com
As one can see from the players' average positions in that victory in WhoScored.com's match report, Figueroa and Scharner play unusually high up the pitch, thereby pushing Jean Beausejour and Emerson Boyce - who are essentially wing-backs - yet further up the field. Figueroa picked up a goal and an assist while Beausejour managed an assist himself, highlighting exactly how effective their ploy was in that game.

It does truly seem as though Martinez is partly right in his claims; his side are tactically better than they were last season. Exactly a year ago, Wigan were bottom of the table and had been written off by many people as having no chance of survival, before the change in formation led to their winning seven of their final nine matches to escape the drop and finish 15th in the table. A year earlier on Feburary 28th 2010 and the Latics were again bottom of the pile at this stage of the season. That year they lost only two of their last nine games and avoided relegation on the final day of the season. This season they have scored more goals than they have ever managed at this stage of a Premier League campaign, netting 33 times in total, and are in 17th place.

Those goals have been spread fairly evenly throughout Wigan's squad, with no fewer than 12 different players having netted this term, while only Man Utd (17), Chelsea (15), Liverpool (14), West Ham (14), Tottenham (13) and Manchester City (13) have more different goalscorers than them. It is not as if the personnel at Wigan have improved massively from last season, but rather that, as Martinez has stated, his team are more organised and used to the tactics that he employs.

Only six teams - all in the top half of the table - average more possession than Wigan (54.8%), whilst only seven teams - all top half bar Southampton - have played a lower proportion of their passes long than Wigan (11.2%) in the Premier League this season.

Martinez can be proud that he has stuck to his principals in his time at Wigan, and they continue to play the attractive style of football he also promoted at Swansea. Placed 17th in the table at this current time, Wigan are in the slightly unfamiliar position of not having to make another great escape in the run in, and with less pressure on the team to get results, they may be able to build on last week's result and extend their stay in the top flight to an incredible nine successive seasons.

All stats courtesy of WhoScored.com