Look outside "big" leagues for action, drama
How does one assess the strength of a league? An obvious answer would be something along the lines of "strength" multiplied by "competiveness" -- basically you want quality but also expect unpredictability.

Let's be honest -- 2012-13 just isn't a great season for European domestic football. The Champions League is as exciting as usual and the raw quality is certainly apparent from the major clubs. But in terms of competitiveness, this year has been a disaster. Manchester United lead the Premier League by 12 points, Barcelona lead La Liga by 12 points, and Bayern Munich lead the Bundesliga by a staggering 17 points, while Juventus are a relatively modest six points clear in Serie A.

Analysis: Is Cazorla the EPL's best Spaniard?
Brewin: Bale to test loyalty's double standard
Rzouki: Award confirms Antonio Conte's quality
Marcotti: Monday Musings
Hirshey: Too little, too late from Mancini, Man City

Cumulatively, the league leaders have a 37-point advantage over their nearest challengers compared to 17 points at this stage last season, 27 points the season before that, and just seven points in 2009-10, when no side was more than four points clear.

None of the leagues is mathematically decided just yet, of course -- if last season's Premier League battle taught us anything, we shouldn't assume that dominant leads will automatically turn into title success -- but we're hardly expecting many end-of-season nail-biters.

Why has this happened? Is this an illustration of modern football -- the most powerful side dominating the league, reaping the financial rewards of that achievement, pumping the money back into the side, and repeating the process again and again?

Well, yes and no. The likes of Manchester United, Barcelona, Bayern and Juventus leading their respective leagues is hardly a novelty, but their dominance has two parts -- they're not only streaking clear in front with historically impressive points tallies, but their challengers are trailing behind the points totals expected of runners-up.

The Premier League is the best example: In the past five seasons, the average points total achieved by the champion is 86.4. If Manchester United continue their current points-per-game rate (and with FA Cup and European Cup commitments, plus the freedom to take their foot off the gas, that might be difficult), they'll finish on 95.7 points. The record Prem points tally is held by Chelsea, which managed 95 under Jose Mourinho in 2004-05. Clearly, this is a frighteningly efficient United side.

Look at Manchester City in second place and extrapolate their current points-per-game rate through mid-May: They'll finish on 78.6 points, short of the 83.2 usually required for second. United performing above expectations is the primary cause, but City are also failing.

There's a similar pattern in Spain and Italy. Barcelona are on course for 103.3 points, beating the record of 100. Bayern are set for 88.7 points, beating the record of 81. In both cases, Barcelona and Bayern would be toppling the records set by Real Madrid and Dortmund, respectively, last season, which sums up the modern dominance of the big sides even if it's not the same club every year.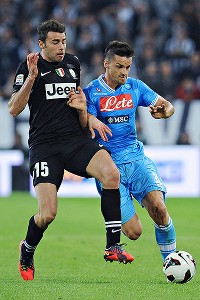 Valerio Pennicino/Getty ImagesAll eyes will be on Juventus and Napoli this coming Friday, a game that could determine whether or not Serie A remains intriguing down the stretch.

This unusually uncompetitive campaign is the perverse thing about the four major leagues in 2012-13. The three clubs with huge leads -- Barca, Bayern and United -- all finished second last year and have been out for revenge this season. The only side with a slender advantage, Juventus, are the only one of these league-leading clubs to triumph last season.

On that note, it's also interesting that the three clubs set to relinquish their titles -- Manchester City, Real Madrid and Dortmund -- were drawn together in an extremely tough Champions League group, while Manchester United, Barcelona and Bayern waltzed through comfortably. It's not the primary factor to their lag, but it may have contributed. Ajax, the fourth team in the group of death, may agree -- they won the Dutch Eredivisie title last season, but endured a difficult autumn and now sit second in the league.
In the major leagues, Italy is the only remaining hope of a decent title fight. Having produced three separate winners in the last three seasons -- Inter, Milan, Juventus -- it's also the only league to have provided us with a "new" title fight -- Juve are battling Napoli for the title.

Therefore, Friday night's clash between Juventus and Napoli has taken on huge importance -- not just within Italy but for European football as a whole. If Napoli triumph, Juve's gap drops to three points while Antonio Conte's side still have European distractions (unlike Napoli) and trickier remaining fixtures. If Juve win, it's a nine-point lead -- a psychological blow that might be too tricky for Napoli to overcome.

In that case, we might need to turn our attention elsewhere. Marseille's defeat at PSG on Sunday probably ends their title chances, but Lyon trail Carlo Ancelotti's side by only three points. Lyon have two advantages: no other commitments (unlike PSG, who are still in the French Cup and the Champions League) and the fact that PSG must travel to the Stade de Gerland with three weeks of Ligue 1 remaining.

The Eredivisie is also very exciting this season -- PSV, Ajax, Feyenoord, Vitesse, Twente and Utrecht are separated by just eight points, though Twente parted company with manager Steve McClaren this morning after their sudden collapse and are very much outsiders along with Utrecht. It will probably come down to PSV and Ajax, who meet in mid-April at the Philips Stadion.

Then there's Portugal, which is simultaneously brilliantly competitive and frustratingly uncompetitive. Benfica and Porto have exactly the same record -- 16 wins and four draws from 20 matches -- and even appear to choose the same weekends to drop points, but they're a massive 17 points clear of their nearest challenger. Again, there's a potential title decider here -- the pair meet at the Dragao in the penultimate round of the season.

Russia are currently on a midseason break in the first "winter" campaign. The resumption will find CSKA, Anzhi and Zenit within five points of each another -- disappointingly, there are no remaining title battles between the three contenders despite only 19 of 30 rounds complete so far.

Elsewhere, Anderlecht, Celtic, Shakhtar and Olympiakos have their titles in the bag; Galatasaray will probably triumph too. But somewhere between Europe's most popular divisions and its minor leagues in France, Holland, Portugal and Russia, there's still excitement. If Juventus defeat Napoli this weekend, we should give up on the big boys and seek genuine entertainment elsewhere.

Michael Cox is a freelance writer for ESPN.com. He runs zonalmarking.net.