Tactics Board: Travelling Stoke revert to type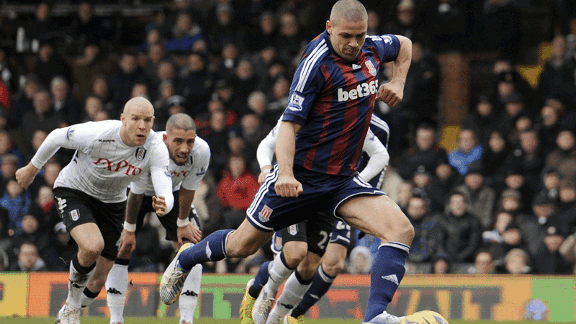 PA PhotosJon Walters has been an inudstrious mainstay in the Stoke starting XI for 78 games in a row
Liberty 1, Rigidity 0? Perhaps. The contrast between Fulham and Stoke was at its greatest in the forward lines as a free spirit, in Dimitar Berbatov, defeated a well-drilled team.

Stoke's emphasis is on height and hard work and their personnel are invariably industrious, while their Fulham counterparts have greater licence to roam and involve themselves in play. In a comparison of the strikers, predictably Peter Crouch won more aerial duels but Berbatov had more touches. Indeed, the Bulgarian has a tendency to drop off, play as a No. 10 and spread play. Bryan Ruiz, selected to play in the hole, often drifted to the right.

- Whittaker: Pulis sticks with recipe for disaster

Fulham tried to create an overload there. Occasionally, both wingers, Damien Duff and Ashkan Dejagah, would appear on the same side. They had the freedom to swap flanks, unlike the Stoke wide men. The Cottagers' goal contained most elements of their tactics: Sascha Riether crossed after a combination on the right, Berbatov, rather than attacking the ball, lingered deeper and met Robert Huth's header with the volley of an individual talent.

Until then, however, Stoke had appeared to be playing for a 0-0 draw. Indeed, they were set up in a familiar way on their travels. The Potters are close to booking a sixth successive season in the top flight. But the facts are that, since promotion in 2008, Stoke have scored 60 goals in 90 away league games. They arrived at Craven Cottage as the joint-lowest scorers on the road, but having conceded more goals than only six other sides. An accent on organisation meant the shape took priority.

And Tony Pulis has gone back to Plan A. After last season, when Stoke were the division's least prolific team, he tinkered with his gameplan in an attempt to give them more firepower. Two of their summer signings were untypical, a sign that Pulis was looking for another dimension.

Now neither is in the team and Stoke have reverted to their original blueprint. Indeed, Michael Owen, injured again, is yet to start a league game. A specialist finisher who contributes little in other parts of the pitch, he never seemed likely to displace the more industrious and adaptable Jonathan Walters, who is seemingly immune to injuries.

Tactically, the more interesting acquisition was Charlie Adam. While the Scot once operated as a quarterback, a long-range passer from the base of the Blackpool midfield, it is evident Pulis does not trust him defensively. Glenn Whelan and Steven Nzonzi have been the first-choice midfield pairing; when they are missing, the equally diligent Dean Whitehead comes in. Instead, Pulis attempted to use Adam further up the pitch.

His home debut came against Manchester City on the left wing; his first Stoke goal, against QPR, when he was tucked in as a supposed right winger. More often than not, he has played as the most advanced central midfielder. Yet the statistics - two goals, no assists and an average of only 32 passes per game - show Stoke have struggled to involve him in the game and why Pulis has dropped him for more industrious performers. At Craven Cottage, Adam was an unused substitute as he often is when the aim is to stop opponents.

Pulis' favoured formation, 4-4-1-1, can become 4-5-1 against elite opposition or away from home when Walters is used as a winger. This was a case in point, with Walters showing the versatility that has brought him 78 consecutive Premier League starts. He started on the right wing, moved into the hole for the end of the first half and reverted to the flank when, with Stoke 1-0 down, Pulis introduced a second striker in Cameron Jerome.

Initially, however, the unusual element was that the player closest to Peter Crouch at times was Geoff Cameron. The American was charged with trying to latch on to Crouch's flicks or win the second ball from goal kicks. It was another sign of Pulis' reluctance to disrupt a settled unit. Although Cameron has spent some of the season operating at full-back, he was the most attacking of the central midfield trio, with Nzonzi and Whelan occupying their normal roles.

But even in the first half, Pulis had amended his approach, sending Cameron to the right wing and moving Walters forward. When Fulham scored, his safety-first tactics were rendered irrelevant. Cameron was removed for Jerome, another staple of Stoke's tactics. He is their specialist impact substitute. Stoke ended playing the sort of aggressive, high-tempo 4-4-2 they use in home games.

The eventual statistics, showing they had only 39% of possession, were not unusual - on average only Reading have less of the ball this season - and hinted at Pulis' problem: with less of the ball, he has to select 11 men who can all contribute to the defensive effort, rather than a wildcard. But whenever they go a goal down on the road, they require a rethink and more attacking players. Not that this is news to Pulis: his business last summer showed he recognised the need for something a little different. Finding the right players and integrating them in the team, however, has been the problem.