England should look to Germany for inspiration, coaches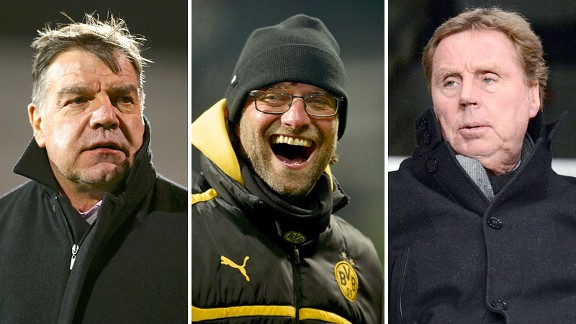 Getty ImagesTo halt its decline, English football should recruit German coaches from the tactically proficient and fast-paced Bundesliga.
It would be unreasonable to use Bayern's dismantling of Arsenal as sole evidence of the Bundesliga's dominance over the Premier League, but among various other factors, it has become increasingly clear that Germany will imminently become European football's true power base.

The relative strength of European leagues is obviously variable, but it's even more cyclical than one might expect. Judging solely from UEFA's coefficient scores over the past half-century, Europe's best league has rotated with impressive regularity: Spain dominated the 1960s, the Football League the 1970s, the Bundesliga the 1980s and Serie A the 1990s. From 2000, the pattern appears to starting again -- La Liga had an eight-year spell as Europe's top league, before giving way to the Premier League. If the repeat is to continue, the Bundesliga's turn is next. It's already starting to make strides up the coefficient table -- Germany started the season with seven sides in European competition, and none have been eliminated. They're the only country, from 53 of UEFA's member nations, with a 100 percent record.

Tuesday night's game at the Emirates wasn't a fair comparison -- Bayern are the runaway leaders in the Bundesliga, Arsenal are fifth in the Premier League. But the difference in quality was glaring, between two sides that espouse similar virtues -- Arsene Wenger would, secretly, have marveled at Bayern's ball retention, their fluidity and their promotion of young German talents. Bayern showed Arsenal what they were trying to be, reminiscent of the way Germany -- in dismantling England 4-1 at the 2010 World Cup -- demonstrated what English football must seek to become.

- Limbert: Clinical footballing lesson
- Video: Assessing Arsenal

English football is going through an identity crisis, and the raw quality of the top sides has fallen. It was the norm for the Premier League to boast three out of four Champions League semifinalists not so long ago, but now, for the second year running, only two of four sides have qualified for the second round. It's possible that no sides will reach the quarterfinals this season, and as remarkable as Chelsea's triumph last May was -- especially in overcoming Bayern on their home ground -- it can't hide the gradual decline of English football. That is evident not solely from poor European performances, but also in the general quality in the Premier League. There are no truly exceptional sides in English football this season -- there haven't been since Manchester United's Cristiano Ronaldo-inspired cycle ended in 2009. In terms of pure entertainment, English football can be satisfied, but tactically, technically and ideologically, English football lacks inspiration.

The most peculiar thing about the Premier League is that, while its proponents fiercely emphasise its Englishness, it has depended almost entirely upon foreign coaching influences. An English manager has never won the Premier League in the 20 years of its existence, and considering its only current English managers are in charge of West Ham, QPR, Reading and Newcastle, it's impossible to imagine that changing within the next five seasons, never mind in 2012.

In terms of nationality, there have been four major influences on Premier League football. Scotland, not literally a foreign country in political terms -- at least, not yet -- but a rival in the world of football, provided Sir Alex Ferguson, Kenny Dalglish and George Graham, the three dominant coaches in the league's formative years. Then came a French influence, courtesy of Wenger and Gerard Houllier, toward the end of the 1990s. A sudden Iberian influx in 2004 -- with Jose Mourinho and Rafael Benitez both joining the Premier League after European success elsewhere -- prompted English football's spell in the limelight, while a gradual Italian invasion -- Roberto Di Matteo, Roberto Mancini, Carlo Ancelotti -- has been apparent more recently. In various ways, and it's difficult to resist reaching for stereotypes, they've helped English football to evolve.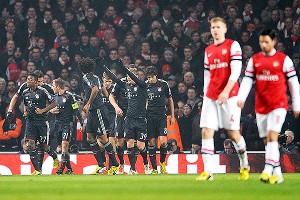 AP Photo/Anthony DevlinArsenal's setback against Bayern Munich was the latest example of England's decline and Germany's rise as a superpower in Europe.
Other than those four countries, the Premier League hasn't been particularly accommodating to foreign coaches. Managers from 18 separate countries have taken charge of a Premier League club, yet there are relatively few success stories outside the aforementioned nations -- even big names like Guus Hiddink, Luis Felipe Scolari, Egil Olsen and Sven-Goran Eriksson didn't last long enough to make a significant impact.

Amazingly, there has never been a German Premier League manager, which may once have been regarded as an anomaly, but now seems a travesty considering Germany's excellent football development this century. German football has rightly received praise both for its excellent structural approach and its talented technical footballers, but the development of its coaches is equally as impressive. In stark contrast to English football, 16 of the current 18 Bundesliga coaches are home-grown, many of whom belong to an exciting generation of intelligent, methodical strategists.

There are, inevitably, great variations amongst the styles of these coaches, but the general 'German model' appears a more achievable template for English football than the classic Dutch fluidity, Italy's love of tactics or Spain's emphasis upon ball retention. This generation of German football is indisputably based around technique, of course, but there's also an emphasis upon things natural to the English game -- quick transitions, closing down in midfield, width and classic No. 9s. It is Germany that English football must aspire to replicate, which may be difficult to take for a nation still reeling from famous defeats in 1990 and 1996, never mind 2010, but there's a more natural similarity than with Latin countries.

So here's an idea: England needs a couple of young German coaches involved at the top level of its football. There are, regrettably, few English coaches in a position to take the top jobs in the Premier League, all of which seem likely to change hands within the next five years. It goes without saying that Jurgen Klopp and Jogi Low should be on the wish list for the biggest clubs in English football, but if, say, Everton were to lose the services of David Moyes, they would do far worse than to appoint a man like Thomas Tuchel of Mainz, or one of his many skilled compatriots. England needs some inspiration, some new blood.

There's a wider context here -- English football, at last, has a shiny new National Football Centre in Burton, St George's Park. Its aim is to be "a sporting destination of choice for coaches, players, administrators and officials alike," and the League Managers Association have committed to basing themselves at the complex. But expensive facilities are useless, and mission statements are futile, without leadership and innovation from bright, creative football people -- whether at the FA, or in the club game.

If England can't provide those characters, it's clear that Germany is the most fertile recruiting ground. The major problem is that, as the Bundesliga becomes increasingly exciting and powerful, why would German coaches want to leave?

Michael Cox is a freelance writer for ESPN.com. He runs zonalmarking.net.