Is this Man United side one of the worst?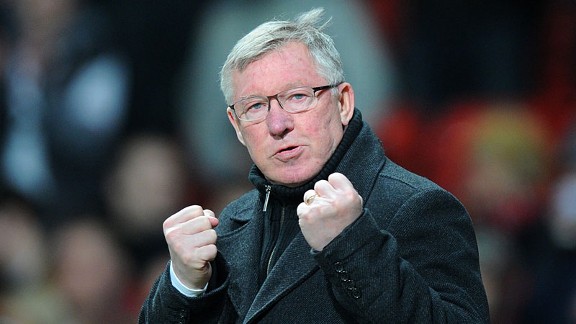 PA PhotosSir Alex Ferguson
With Manchester United sitting 12 points clear at the top of the Premier League with as many games left to play, into the FA Cup quarterfinals and with a decent chance of progressing to the same stage in Europe, Sir Alex Ferguson's side still has a chance of winning the treble this season.

The potential to emulate the success of the 1998-99 season is something that the manager has stressed to his players, yet some still claim that if United do go on, as expected, to claim their 20th Premier League title, it would be the worst side that the Scot has led to domestic glory. WhoScored.com takes a closer look at Fergie's recruits to discuss this theory.

Few would deny that with the addition of Robin van Persie alone United have strengthened this season, but they did so as a reaction to losing their title to "noisy neighbours" Man City. The Dutchman looks set to succeed where the three attacking players who proved most influential in shaping the side's success since the turn of the century (Ruud van Nistelrooy, Cristiano Ronaldo and Wayne Rooney) failed and win the title in his first season with the club.

The midfield, however, having been the basis for success of Fergie's previous best teams, is constantly pinpointed as the weak link of the current crop, and it's difficult to argue against that theory.

The team of 1995-96 stood out in that area, with David Beckham, Ryan Giggs and Roy Keane all playing pivotal roles behind a strike force of Andy Cole and Eric Cantona. By the time Fergie's most successful campaign came around, that trio of midfielders had developed into some of the best in Europe, with a certain Paul Scholes joining them. Nevertheless, the relative latecomer on the scene would miss the Champions League triumph over Bayern Munich, along with his central partner Roy Keane, through suspension.

The game saw Beckham move inside and play alongside Nicky Butt in midfield, with Giggs and Jesper Blomqvist starting on the wings. One could certainly argue that Ferguson wouldn't trade his midfield of now for that particular starting foursome.

Elsewhere on the pitch, the Red Devils certainly don't look under strength. The partnership, though rarely played directly alongside each other, of Rooney and van Persie is among the strongest in terms of technical ability that Ferguson has had. Competition for places up front has always been something that the manager has ensured, and in Javier Hernandez and Danny Welbeck, he has two very capable deputies. Comparisons have indeed been drawn from the 1998-99 season, when Ole Solskjaer and Teddy Sheringham were made to sit out long periods due to the blistering form of Cole and Dwight Yorke -- though the subs famously had the last laugh in Barcelona.

The front four have 38 league goals among them, with Welbeck accounting for just one. That tally is one that only the six sides directly behind them have managed over the course of the season and is twice as many as the league's lowest scorer QPR (19).

The back four is aging, but the similarities to that of the aforementioned 1995-96 season are interesting. A 21-year-old Gary Neville was right-back (Rafael, 22), the centre-back partnership of Steve Bruce and Gary Pallister were 35 and 30 respectively (Rio Ferdinand, 34; Nemanja Vidic, 31), and left-back Dennis Irwin was 30 (Evra, 31). David May, at 25, was providing decent cover for his two senior teammates, while Jonny Evans, also 25, has done more than that this season.

Although their defensive record in the league this season isn't great -- four teams have conceded fewer goals (31) -- it is an area that they have improved markedly now that all of their options at the back are available. Since shipping three goals to Newcastle on Boxing Day, United have conceded just three goals in seven league games, a better record in that time than any other side.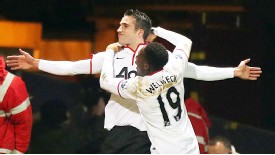 PA PhotosRobin van Persie: His 19 goals are the difference.
Perhaps, therefore, the criticisms have been a little harsh, but the fact is that Michael Carrick, who still divides opinions, is Fergie's first choice midfielder. The England man was labeled as underrated by many, and it now seems that as people have begun to praise him there are those who feel that he is undeserving of it. Comparisons to Scholes are unjust. He doesn't have the range of passing or vision of the great man, instead keeping the play ticking over and letting others create ahead of him, averaging over 20 more passes per game than any teammate with a near 88 percent success rate.

The fact is, however, that the likes of Tom Cleverley and Anderson aren't at the level that the fans have become accustomed to at Old Trafford just yet. Although both offer slightly more verve in attacking areas, neither has created as many chances per game -- Cleverley 0.9 and Anderson 0.6 -- as Carrick's average of one. In turn, the 31-year-old gets branded as boring because quality from central areas as a whole isn't what it used to be. He isn't really a regista, or a defensive midfielder, and that unsettles many who question the role he actually plays.

Elsewhere in the midfield, the wide men have been somewhat unimpressive this season, with injuries playing their part in the seasons of Antonio Valencia, Nani and Ashley Young -- none of whom have reached anywhere near their top form. Indeed, there is perhaps the lack of a clear best XI that there has been in the past, with United's success coming despite fielding somewhat muddled lineups this season.

The likes of Rooney, Welbeck, Shinji Kagawa and Cleverley have all been asked to play wide at one stage or another due to absence and form of the wingers at the club, and the team looks less convincing in turn. For a side to appear that way at times and still be in the position that United occupy is alarming. Credit must go to those who have played out of position and the manager in ensuring he gets 100 percent effort out of those who do.

They have fewer shots per game (15) than the rest of the top seven and average less possession (56.4 percent) than three of their biggest rivals (Manchester City, Arsenal and Liverpool). They concede more shots per game (13.5) than the rest of the top seven once again -- and even Southampton -- and rank eighth for tackles per match (19.5). Indeed, the only key area in which no team comes close to United statistically is chance conversion. Their 15.1 percent is streets ahead in the league, with Reading in second with 12.7 percent, and it will inevitably draw most people's attention back to one man.

It is a huge stretch to call United a one-man team. After all, no one labels City as such, and in terms of personnel, they haven't got any worse from the side that pipped their rivals on the final day last season; they simply haven't got better either. However, the difference between themselves and their closest rivals may well be 19-goal van Persie.

All stats courtesy of whoscored.com.