What's going wrong for Sergio Aguero?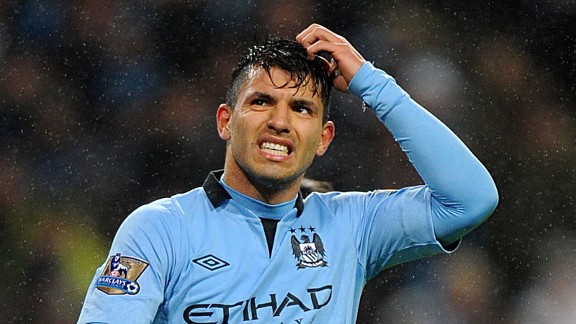 PA PhotosSergio Aguero shows his frustration
One of the most talked about names in the 2011-12 Premier League season has fallen somewhat out of the limelight this term. Sergio Aguero won Manchester City the title with his last gasp winner against QPR in May, and expectations were high for the Argentine's second season in English football, but it has turned out - so far at least - to be a rather disappointing one for him.

His two goals in the FA Cup win over Leeds this weekend sparked manager Roberto Mancini to claim that the title race could still be on if Aguero can maintain a higher level of performance for the remainder of the season. While Mancini was praising his striker for his input in the Leeds game, this was a clear indictment of Aguero's downfalls for much of this season. Where exactly he has failed may be up for debate, but his statistics speak for themselves, as can be seen when comparing his two seasons in England on WhoScored.com.

Well past the halfway mark this term, the most striking of Aguero's stats are his goal and assist tallies. With just 9 goals and 2 assists in 22 appearances this season, he has directly contributed to 11 goals, compared to 31 (23 goals, 8 assists) in 34 appearances in 2011-12. He has already made more substitute appearances (5) than he did last season (3), but it is not as if he has been lacking in game time. Aguero has scored a goal, on average, every 166 minutes this term, compared to every 113 minutes last season.

An attempt on goal comes only marginally less often: he has had one every 22 minutes this season, compared to every 20 minutes last season. And he is still getting into dangerous positions, but is obviously not as lethal this time around. In fact, he has scored 13.2% of his shots, when last season 17.7% were flying past the opposition goalkeeper. For much of last season, more or less everything went right for the blue half of Manchester, but things aren't going quite so smoothly this time around.

One might suspect that City are not creating quite so many chances, and Aguero is suffering as a result, resorting to pot shots from outside the area as he gets increasingly frustrated. However, he has taken almost exactly the same proportion of his shots (76.5%) from inside the box this season as he did last (76.9%) and, surprisingly, he is hitting the target with a greater percentage of his shots (44.1%) than he did before (40%).

Things are looking rather confusing at this point as Aguero hits the target more often, but scores fewer goals. And it is not as if there has been a marked improvement in Premier League goalkeeping this season. A look at where he places his shots on target might offer more of an explanation.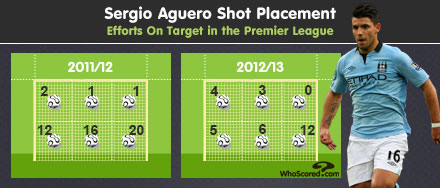 OtherAguero may need to adjust the height of his efforts
As you can see, there is a trend in Sergio Aguero's shooting, with the vast majority of his shots staying low and most of those aimed towards the bottom left of the goal. A shot from Aguero going towards the top half of the goal is a rarity, though what stands out is that he has already hit more shots above the middle of the post this season (7), than he did in the whole of last (4). The control with which he has his attempts on goal might just be waning slightly, which is much more likely a confidence issue than any indication of falling ability.

He showed signs of a return to form in his performance against Leeds at the weekend in a creative sense as well, showing he has a great understanding with Carlos Tevez. The countrymen combined time and again and, although it was Championship opposition they were terrorising, there is good reason for Mancini and co. to be optimistic if Aguero can hit form for the run in.

Catching rivals United in the standings is probably out of the question, though they did overturn what was thought to be an unassailable deficit at the top last season so they certainly shouldn't be written off. With Mario Balotelli gone, though, and Tevez not having scored a Premier League goal since the start of December, there is pressure and expectation aplenty on Aguero to deliver the goods that he did last term. Mancini is hoping this weekend proved he can do so, but an 'at the death' title-winning goal might be beyond even Aguero's capabilities.

All stats courtesy of whoscored.com