The best XI in the Champions League
The resumption of the Champions League is one of the high points on the footballing calendar. Spread over four separate match days to enable fans to watch as many games as possible, it's the stage where Europe's finest talents are expected to shine.

- Bennett: Balance of power is shifting
- Tyler: Frustrating glory
- Carlisle: Jermaine Jones at home in Europe
- Delaney: Continent divide
- Hunter: Real Madrid v Manchester United
- Video: Celtic Park showdown
- Video: Europe's No. 1

With so many of the best footballers currently plying their trade at Barcelona or Real Madrid, an overall best XI would be a rather futile exercise. Instead, here is a select side -- plus five substitutes -- chosen with the important proviso that only one player per club is allowed.

Manuel Neuer, Bayern

After initial hostility from some Bayern fans following his move from Schalke, Neuer has improved at Bayern and cemented his place as one of the best in Europe. Simply a fine all-around goalkeeper: a good shot-stopper, confident at coming off his line to claim the ball, fearsome in one-on-one situations and a decent distributor, too. Having reached the semifinal in 2010-11 and the final in 2011-12, he'll be determined to go one better this time around.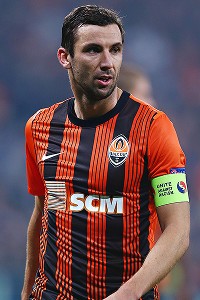 Michael Steele/Getty ImagesShakhtar's talented right back Darijo Srna has led his club to six domestic league titles.
Darijo Srna, Shakhtar

Now in his 10th year at Shakhtar, Srna will go down as one of the finest players of his generation never to play in one of Europe's major leagues. But that hasn't stopped him from receiving the international acclaim he deserves -- he now captains Shakhtar, who he has won six league titles for, and last week earned his 100th cap for Croatia. A technically gifted right back possessing great stamina and crossing ability, Srna would be first choice for the vast majority of the competition's final 16.

Thiago Silva, PSG

Zlatan Ibrahimovic grabbed the headlines when completing his move from Milan to PSG, but the signing of Silva was equally important. The Brazilian has been the best centre back in Europe over the past two or three seasons -- completely dominant in the air, calm and precise with his tackling, while his ballplaying ability has also seen him play in midfield. Injured and unavailable for this week's first leg in Valencia, Carlo Ancelotti will be desperate for his star defender to return soon.

Mats Hummels, Dortmund

No other player better represents Dortmund's dominance over Bayern over the past couple of seasons -- Hummels spent 11 years in Bayern's academy, before he was loaned to Dortmund, who subsequently signed him permanently. Impossibly calm in everything he does, Hummels has the pace to play an extremely high defensive line, and frequently starts attacks by marauding forward on the ball, earning comparisons to Franz Beckenbauer.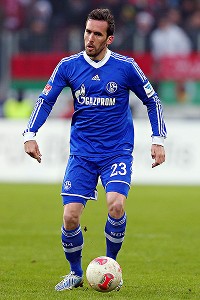 Alexander Hassenstein/Getty ImagesGalatasaray will have to be wary of Christian Fuchs' lethal left foot on set pieces.
Christian Fuchs, Schalke

In truth, this is probably the weakest position in this list. Who do you include -- Fabio Coentrao at the expense of Cristiano Ronaldo? Patrice Evra and leave out Robin van Persie? Nacho Monreal would have been a contender had he remained at Malaga, but Fuchs is a good all-around fullback -- he mixes physicality with a commitment to attack, and he possesses a fine left foot that features prominently on set pieces, as well as crosses from open play.

Andrea Pirlo, Juventus

The competition's most extravagant deep-lying playmaker, Pirlo has been responsible for so much of Juventus' best moments since he joined Juventus from Milan in 2011. A former No. 10 who adapted his game to dictate play from deep positions in front of the centre backs, few other players have such an aura in possession of the ball, and even fewer boast his innate calmness when under pressure from opponents. The best way to stop Juve? Stop Pirlo.

Joao Moutinho, Porto

Moutinho's development slowed worryingly in his final couple of campaigns at Sporting, but since his transfer to Porto, he's emerged as one of Europe's most impressive passing midfielders. His performance at Euro 2012 -- particularly against Spain, when he went toe-to-toe with Xavi Hernandez, Xabi Alonso and Andres Iniesta, and still starred -- proved his raw quality. For Porto, he keeps the passing tempo high, and also storms forward to connect the midfield with attack.

Santi Cazorla, Arsenal

A magical, diminutive playmaker who might be Europe's truest two-footed footballer. That adaptability means the Spaniard can play on either flank, although Arsene Wenger has generally preferred to use him in central positions this season. Capable of dropping deep into midfield to ensure possession dominance, yet also handy at getting into goal-scoring positions, Cazorla's form over the past three seasons, across three clubs, has been as good as any other Spanish midfielder.

Lionel Messi, Barcelona

There's little left to be said about the four-time Ballon d'Or winner and Barcelona's record goal-scorer of all time in official competitions -- but it's worth remembering that Messi has finished as this competition's top goal scorer for the past four seasons, despite the fact he's not even a pure goal scorer. Equally capable when shooting, dribbling or passing, Messi is an astonishingly complete, once-in-a-lifetime footballer.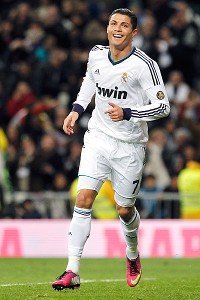 Elisa Estrada/Getty ImagesIt will feel like old home week when Cristiano Ronaldo's Real Madrid faces former club Manchester United.
Cristiano Ronaldo, Real Madrid

Set for a reunion with Manchester United this week, Ronaldo's development since his initial move to Old Trafford nearly a decade ago has been astonishing -- from a gangly, scrawny show-boater into an incredibly powerful and consistent all-around forward with one of the most impressive goal-scoring records in recent football history. From long-range tomahawks to simple tap-ins, 182 goals in 179 games at Real Madrid tells its own story.

Robin van Persie, Manchester United

Once a creative deep-lying forward, van Persie is now a consistent, ruthless penalty box striker. Predominantly left-footed, van Persie has worked on his right foot and his heading ability to become an all-around threat and has also stayed clear of injuries over the past couple of years, which had previously hampered his development. A Champions League runner-up in 2006, van Persie has so far only won one UEFA Cup and one FA Cup -- his move to United seems certain to earn him more honours.

Substitutes:

Fraser Forster, Celtic

A couple of superb displays against Barcelona have significantly improved his reputation.

Joao Pereira, Valencia

As with many teammates, not at his best this season, but one of the best fullbacks at Euro 2012.

Riccardo Montolivo, Milan

The creative midfielder has upped his game since his summer move from Fiorentina, becoming one of the key players in Milan's recent revival.

Isco, Malaga

Arguably the standout performer in the competition so far this season, Isco is yet another incredibly talented Spanish attacking midfielder.

Didier Drogba, Galatasaray

The hero of last year's final, Drogba has returned from China to provide Galatasaray with a reliable goal-scoring threat.