Bale and Ronaldo comparisons not so ridiculous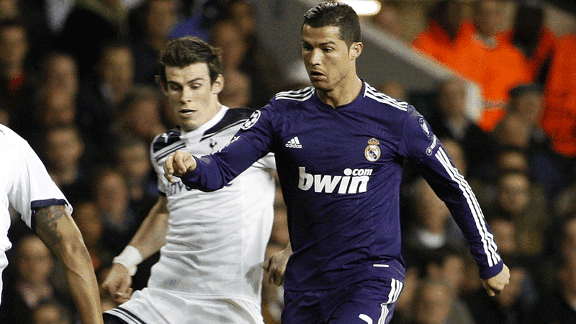 GettyImagesGareth Bale is still firmly in Cristiano Ronaldo's shadow but could yet rapidly develop in the same way the Portuguese did
A certain sports presenter was widely ridiculed last week for suggesting that Gareth Bale was better than Cristiano Ronaldo because he's 'simply unplayable'. Although the reasoning was perhaps inaccurate, comparisons between the two continue to be made and WhoScored.com suggest that in a number of respects it isn't unjustifiable.

Positionally they are similar, but certainly not the same. While Bale remains more of an attacking winger, Ronaldo is a wide forward whose average position for Real Madrid is usually the furthest upfield. The Welshman's progression since moving forward from full-back, however, is not unlike that of the Madrid man, and it would be hard to contest the fact that Bale may well have more joy in the role that Ronaldo plays under Jose Mourinho.

Physically they are also very alike. Both stand at 6'1" and have added real power to their game having bulked up over time, developing devastating acceleration and agility in turn. As his confidence increases, Bale's mannerisms are increasingly Ronaldo-esque from the way he rolls his shirt sleeves to his approach to a direct free-kick.

As it stands the Portuguese's remarkable goal tally is currently enough to suggest that Bale is not up to his standard just yet, but based on the rate that he has developed the potential to close the gap is there.

The players have all-but identical critiques. Bale has picked up a reputation for diving, particularly this season, with that label also hanging over Ronaldo during his time in England. The Spurs winger is also criticised at times for attempting too many 'pot shots', while no one in world football does so more often than the former Manchester United icon.

Here we'll take a look at the duo's respective league stats this season, while also examining the progress that Tottenham's star man is making.

We start with the reason why many claim that the two shouldn't be held in the same regard: their respective records in front of goal. While Bale struck twice this weekend to take his Premier League tally to 13, another hat-trick for Cristiano Ronaldo ensured that he went one better and his figures remain almost twice that of the Wales international, with 24 goals in total this season.

To gauge a player's productivity in front of goal, however, one must always look to the number of shots attempted. Ronaldo is unsurpassed in this sense across Europe's top 5 leagues with 7.5 per game almost 2 more on average than any other player. In turn his chance conversion rate, given the sheer volume of efforts at goal he takes, is reasonably modest at 14.6%.

Bale has attempted a huge 4.6 shots per game - the 5th most in Europe - with a conversion rate of 12.7% not far adrift, but there's certainly room for improvement. However, the fact that the 23-year-old's efficiency in front of goal has almost doubled from last season (from 6.6%) is surely evidence enough that his goal hauls will continue to swell with time.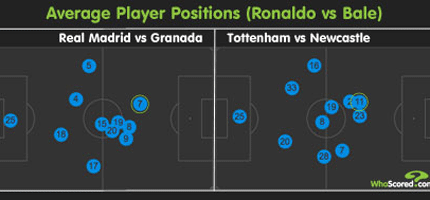 Other / Whoscored.comCristiano Ronaldo and Gareth Bale's average positions were near identical in their last games
If Bale were to play as far forward as Ronaldo on a regular basis, as the player positions from the WhoScored match reports from Spurs and Real's respective weekend fixtures suggest is beginning to happen, he may well reach the 20-goal mark this season.

In terms of chance creation, both peaked last season when it came to assists, with Ronaldo recording 12 in 38 appearances and Bale 10 in 36. This time around neither have managed to come close to such figures, with Ronaldo's four assists eclipsing Bale's seemingly sorry one. A large part of this can be put down to the quality of finishing at the Bernabeu. Ronaldo has created 1.6 chances per game thus far, while Bale's average is up at 2.3 per game, so his team-mates at White Hart Lane must take some of the blame.

The dribbling averages also stack up in Bale's favour, with the Welshman's more direct approach having come under the spotlight recently following a wonder goal at Norwich. Ronaldo has more tricks, of that there is no doubt, but he often looks to stand up his opponent, slowing play down at times, while Bale will look to push the ball past the opposition, relying on his upper body strength to ride tackles. The Spurs man completes 2.1 successful dribbles per game compared to Ronaldo's 1.5, with his overall success rate just up on the Real Madrid forward (49% to 46.6%).

The fact that Bale is still more of a winger than Ronaldo is shown by their crossing figures. The former averages 0.7 accurate deliveries per game from open play compared to Ronaldo's 0.3 per game, though the comparison between them is strengthened because the two have an identical accuracy from their overall attempts (11.4%).

Finally we take a quick look at the defensive contribution of each player, with Bale's unsurprisingly higher. He averages 1 tackle and 1.5 interceptions per game compared to Ronaldo's near non-existent figures of 0.5 and 0.2 respectively. Many may suspect that the latter offers more help when it comes to defending set pieces, but an average of 0.6 clearances is considerably down on Bale's 2.2 per game.

Stats certainly don't tell the whole story but denying that comparisons between the two can be drawn is perhaps equally as daft as the comments that sparked this debate were claimed to be by many. At just 23 Bale has the potential to be one of Europe's top players and though he's unlikely to ever match up to Ronaldo's records when it comes to goals, his threat and promise grows game after game.

All stats courtesy of WhoScored.com