Saints pressing their case in the Premier League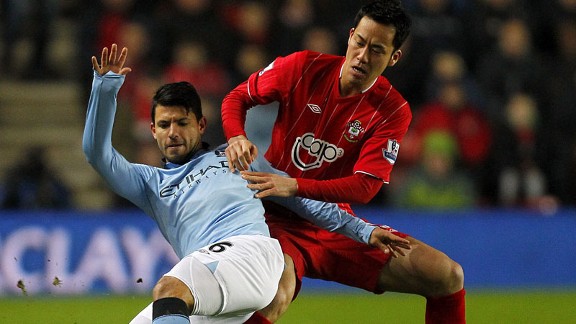 PA PhotosMaya Yoshida battles for possession with Sergio Aguero
Pressing was a philosophy embraced in Barcelona, but not just by Barcelona. Because, as Southampton earned their first win under Mauricio Pochettino, the Argentine showed he has brought an ethos with him from Espanyol.

Pep Guardiola was not the only manager in Catalonia to focus on winning the ball back high up the pitch. Pochettino did likewise, an approach that has troubled both Manchester teams. Sir Alex Ferguson described Southampton's second-half performance at Old Trafford as the best by a visiting team against United this season. City suffered their heaviest league defeat of the season against Saints.

If their downfall was self-inflicted, with all three goals coming from basic individual errors, Southampton can argue they forced the mistakes. The defending champions' pass completion rate was down to 76%, the lowest of the season and Southampton followed where Liverpool led last Sunday, looking to win the ball in City's half.

If that failed, the aim was to regroup with at least four of the five midfielders forming a shield in front of the back four and press in deeper positions but Saints' first objective was to hassle and harry City in their own territory. Sometimes they committed six men forward when they didn't have the ball, looking to regain it. It is a policy which requires a high level of fitness and which could be risky: had City got out of tight situations, they would have only seen four opponents between them and goalkeeper Artur Boruc.

Southampton even pressed the centre-backs at times; one pass Joleon Lescott sent straight into the stands came when Steven Davis was closing him down. There was another instance when Morgan Schneiderlin, supposedly the most defensive of the Southampton midfielders, was chasing down the other City centre-back Javi Garcia.

Most significantly, Jason Puncheon's opening goal came from pressing, the winger robbing Gareth Barry and, because his team-mates were in advanced positions, they had four attackers against four defenders. Their other strikes, while still more glaring mistakes from England internationals, highlighted other parts of the gameplan that predated Pochettino's arrival. The second is obviously attributable to Joe Hart's fumble, but the build-up was instructive. One of Southampton's trademark moves is for striker Rickie Lambert to pull away to the flanks to meet a diagonal pass, sometimes with the winger cutting inside him. This was a ball from left to right; more often it is the other way around especially with Jay Rodriguez, who has spent much of his career operating as a centre-forward, currently manning the left flank.

Indeed, there were two significant elements to Rodriguez's positioning. As a sometime striker, he spent much of his time infield, sometimes running past Lambert to become the most advanced man. In addition, he did not always track Pablo Zabaleta back - sometimes Davis came across to the left to cover for him as 4-2-3-1 became 4-4-2 - which presented a dilemma for the City right-back: should he go forward, leaving an opponent in space behind him? He did for City's goal although, as it was a counter-attack from a corner, that was less Rodriguez's responsibility than it would have been in open play.

For Southampton's third goal, however, Rickie Lambert moved into the room behind Zabaleta - once again, proof of the striker's fondness for the inside-left channel - before Barry put the ball into his own net. It illustrated Zabaleta's difficulties, which were compounded - some might say created - by the men supposed to be his allies. A midfielder by trade, Garcia was the right-sided centre-back but was uncertain in his positioning. Ahead of Zabaleta, Samir Nasri was of little assistance. In effect, the Argentine had to be a one-man right flank.

As ever when City trailed, Roberto Mancini tinkered. The problem the City manager had was that, with Mario Balotelli sold and Carlos Tevez absent, he had no striking options. Instead, he switched personnel and formation in defence and midfield, first trying to put David Silva in the hole and turn his initial 4-4-1-1 into 4-3-1-2. Then he made a familiar switch, going to a back three which, unusually, contained no specialist central defenders. Lescott was withdrawn and Garcia flanked by Zabaleta and Gael Clichy. Finally when Maicon came on, he was the right wing-back in a 3-5-2 system, meaning James Milner, only a substitute himself, had three different briefs in his cameo.

It was a defeat that could leave City 12 points behind Manchester United with 12 games to play. Meanwhile, the statistics gave an indication of Southampton's approach and its effectiveness. Schneiderlin had the most interceptions in the game, just as he does over the Premier League season. Their leading tackler was Puncheon, the right winger and, while many strikers can be the outfield players least involved in play, Lambert attempted 53 passes and had 68 touches - a sign that, because Southampton were pressing, they had players near him and could combine with him when they got the ball back.