Can Everton finish in the top 4?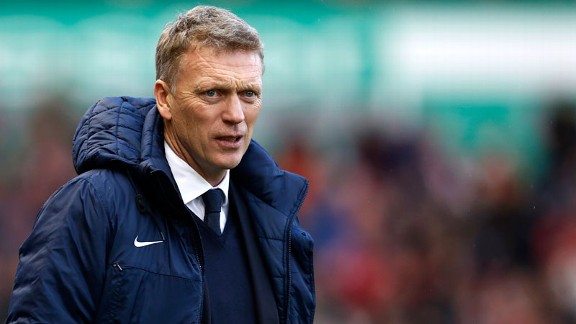 David Moyes can't tell you why Everton stumble out of the gate, but he's got the side poised for Champions League places.
This point in the season -- following the January transfer window, with the big clubs gearing up for the resumption of European football -- is traditionally the time when Everton push on. Notorious slow starters under David Moyes, Everton now find themselves already in fifth position. If they can recreate previous seasons and improve over the final three months, Everton will finish in a Champions League place for the first time since 2004-05.

Moyes has always insisted he didn't understand why Everton started seasons poorly. What's clear, however, is that he's assembled one of his best-ever sides this campaign; Everton have slowly, subtly changed for the better over the last 18 months, after the departures of Mikel Arteta, Tim Cahill and Jack Rodwell forced Moyes to alter the balance and the shape of the side.

- Video: Everton face Manchester United
- More from Michael Cox

Cahill was a fine goal-scoring midfielder, but sometimes you wondered what else he brought to the side -- especially when the goals dried up. Rodwell, for all his early promise, seemed hyped up beyond his true level of ability. And while Arteta's passing quality has become increasingly clear at Arsenal, Moyes has managed to replace that ability with underrated, useful players.

Everton's current midfielders are calm, patient and methodical with their distribution: Darron Gibson and Phil Neville aren't technically spectacular but follow their managers' instructions perfectly, while Leon Osman's deployment in a central role helps Everton's passing stay at a high tempo. Thomas Hitzlsperger, a German international until 2010 and now more intelligent than a mere launcher of long-range thunderbolts, was another astute signing.

This weekend's fixture against Manchester United is unlikely to be a decisive one in the race for fourth place -- Everton's primary objective is to ensure victory in home matches against bottom-half clubs, and preferably to take points from tricky away fixtures against other clubs going for the Champions League places. One of Moyes' problems is the fact that Everton have played Chelsea, Tottenham, Arsenal and Liverpool at Goodison Park already this campaign -- his side now face four difficult return fixtures on the road.

However, Everton have a habit of causing Manchester United problems. In the last six fixtures between the sides, Everton have won by an aggregate of 11-10. They were the side that put a significant dent in United's title hopes last season, with an astonishing comeback to draw 4-4 at Old Trafford, and then started this season with a fantastic 1-0 win on the opening weekend of the season.

That victory was classic Everton, but also classic Moyes. He's a reactive manager who modifies his game plan to exploit the weaknesses of the opposition, and United arrived at Goodison Park with a makeshift defence, with Antonio Valencia at right back and Michael Carrick as a right-sided centre back. Everton usually work the left more frequently than the right, but on that warm August evening, the effect was exaggerated -- Marouane Fellaini drifted to that side and created head-to-head battles against Carrick, so Everton dominated United by sheer force. Fittingly, Fellaini headed in the second-half winner.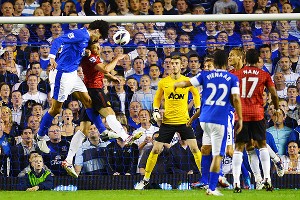 Andrew Yates/AFP/GettyImagesEverton opened the season with a 1-0 win over United at Goodison. The Toffees will look to repeat that feat at Old Trafford this weekend.
But while Fellaini has continued to play superbly, Everton lack goals from their central striker. Nikica Jelavic was signed last January and had an instant impact upon the side, consistently charging towards the near post, almost always finishing with his first touch. In combination with Fellaini attacking deeper positions, Everton had the perfect strike duo for a side that constantly switches the play from flank to flank, crossing the ball as often as possible.

This season, however, Jelavic's form has been poor -- he's had just six goals in the league, prompting Moyes to drop him in recent weeks. "It's something I had been considering for a while," Moyes said. "I wanted to give him every opportunity to get goals but it didn't quite happen ... it was something I was reluctant to do but I felt, in the end, that it was right to give him a breather." The pursuit of Sevilla striker Alvaro Negredo was evidence of Moyes' desire for a replacement, although Everton eventually decided the Euro 2012 winner was too expensive.

Instead, Victor Anichebe has enjoyed a surprise run in the side. His goal against Aston Villa last weekend -- where he received possession with his back to goal, rolled Ciaran Clark effortlessly, then swept a shot past Brad Guzan -- was classic centre forward play, and precisely what Everton have been missing this season.

However, Anichebe remains a frustratingly unreliable player. Perennially 'promising' yet 25 in April, Anichebe's five goals this campaign equals his best-ever record in the league, despite having made his debut in 2005-06. Injury problems are the primary cause of his minimal impact, but it's difficult to imagine him scoring reliably for the rest of the campaign. Even he expects Jelavic to return. "I wouldn't look too far into (Jelavic being dropped) -- Nikica has been unbelievable for us ... when I was injured Nikica took the scoring burden himself, he has been playing on his own every game," Abichebe says. "I talk to Nikica all the time and some of the positions I am getting in to now is because of him."

Put simply, Everton need a reliable source of goals -- from either Jelavic or Anichebe. Moyes' side have scored the fewest goals of the top seven sides in the Premier League, and have been unable to rely upon a sturdy defence either. Amazingly, they went on a run of 16 matches without a clean sheet from September to January -- and when they finally did keep the opposition scoreless, at home to Swansea, they dropped two points by failing to score themselves.

Jelavic netted a fine strike on international duty this weekend against South Korea, and maybe a brief break from first-team action will re-energise him. Either way, without a regular supply of goals from their primary striker, it's difficult to see Everton finally making it into the Champions League 'proper' for the first time.

Still, with crucial away trips against direct rivals set to determine their final position, another impressive performance at Old Trafford could give Everton the necessary confidence for another storming late-season run.

Michael Cox is a freelance writer for ESPN.com. He runs zonalmarking.net.