Is Lampard a luxury Chelsea can do without?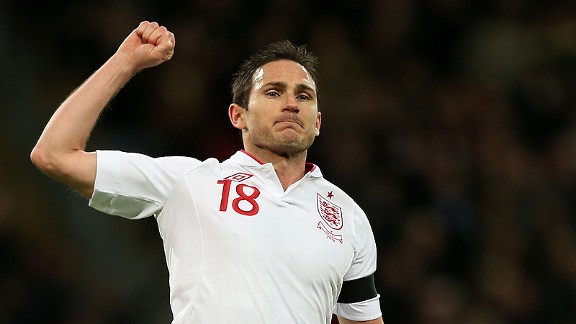 Clive Brunskill/Getty ImagesFrank Lampard's goal against Brazil may have earned him a short-term reprieve at Chelsea. But his declining passing numbers show the club need to start planning for the future, which could be an opening for Kevin De Bruyne.
The issue of Frank Lampard's contract has dragged on at Stamford Bridge, with Chelsea owner Roman Abramovich seemingly willing to let the 34-year-old leave when his current deal expires in the summer. After a quite beautiful match-winner in England's 2-1 friendly victory over Brazil Wednesday night, it seems Abramovich may have changed his mind.

-- Report: Lampard could stay with Blues
-- Lampard mulls his next move

A curling first-time strike at Wembley was a reminder of what Lampard can do - as if it were needed - and came off the back of a run of seven goals in his last nine league appearances. It is the veteran's unwavering ability to find the net that will no doubt be key to earning a new contract at the club, as a look at the midfielders' stats elsewhere show his all-round game is unsurprisingly in decline.

In turn, it may well have been the club - or at least their billionaire owner's view - that the Blues could do without a 'luxury player' in his mid-30s, with Chelsea unquestionably needing to make a transition in their squad if they are to begin challenging for the title again.

Lampard's strength is, and always has been, a tendency to pop up in goalscoring positions, often arriving late in the box to finish off a free-flowing move that he so often started from deep. This season, however, he's been slightly less involved in the build-up play, averaging 43.8 passes a game in the Premier League compared to 51.2 last season. His accuracy is also significantly worse, finding a teammate just 81.5 percent of the time.

As many as 14 Chelsea players have a better pass completion rate. Of the 75 Premier League central midfielders to play at least 10 games this season, his accuracy ranks way down in 57th. Many would point to the adventurous passes he attempts as the reason for such a meagre standing. But considering he has averaged fewer long balls this season than last (3.6 to 4.1), it is clear there has been a drop, having found a teammate with 86.9 percent of his passes in 2011-12.

In terms of creativity, his figures are also way down. He has no assists in the league this season and averages just 0.9 key passes a game. Last season he picked up a modest five assists from 1.9 key passes a game - it is clear his role in linking up play further upfield has diminished.

Lampard has admittedly played in a deeper role than last season, but such a move would usually lead to higher averages for passes and accuracy, and certainly see an increase in his defensive output. However, Lampard's averages for both tackles and interceptions per game are down on those of last season, so it is clear his overall involvement has lessened, hence the 'luxury player' label.

The fact of the matter is Lampard's impact on results remains through his improved conversion rate and that is what, if anything, will keep him at Chelsea beyond this season. His 10-goal tally has come in just 17 appearances and is only one fewer than his total in 30 league games last season. In turn, Lampard has found the net with a superb 25 percent of his shots this time around compared to 16.9 last season and 13.2 the season before that.

Chelsea have won 58.3 percent of the games Lampard has started, compared to 46.2 when he has not, averaging almost twice as many goals when he's on the pitch from kick-off (2.67-1.46). It's clear that with age Lampard will rely on those around him more than he used to, but he still has the ability to add goals, and goals will always be worth their weight in gold - or whatever medium he chooses to be paid in.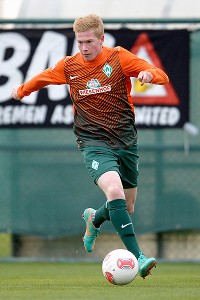 Dennis Grombkowski/Bongarts/Getty ImagesThe passing skills Kevin de Bruyne is showing in the Bundesliga could be of great value at Stamford Bridge.
There will come a time, however, that Chelsea will need to cut their ties with the old guard and although they continue to play key roles at the club, it should be soon. The Blues haven't really been close to the Manchester clubs in the last 18 months and a new crop is needed. With that in mind, the Chelsea faithful should be mindful of the name Kevin De Bruyne.

Signed from Genk last January, staying at the club for the final months of the 2011-12 season, the 21-year-old Belgian is currently halfway through a very profitable loan spell at Werder Bremen. While he played in an advanced role at Genk, and often out wide, De Bruyne has been deployed in a central midfield position in the Bundesliga and continues to impress.

With four goals and five assists, his finishing is not up to Lampard's standard now but he carries the ball well, completing the seventh-most dribbles in Germany this season (58), while his final ball and weight of pass is often superb. Again, only six Bundesliga players can better De Bruyne's 45 key passes. Chelsea may well see the youngster as the man to step into Lampard's boots next season, as he is also accomplished in set-pieces.

Although it seems that Lampard may well stay at the Bridge beyond this year, the torch may well need to be passed sooner rather than later if the Blues are going to rebuild as they need to before challenging for the title again. The belief that Chelsea couldn't replace Lampard's goals from midfield is almost certainly true, but an ability to adapt will be key to the Londoners' success.

All stats courtesy of WhoScored.com