Stoke's game of smoke and mirrors
Everything about Stoke City implies lower league underdogs. Their style of attacking is infamously route one, lobbing the ball towards the league's most notorious beanpole, from the goalkeeper, the wingers or long-throw experts. Their tackling is unashamedly tough but occasionally crosses the line into sheer brutality -- just when you start to consider that such a reputation is unreasonable, Glen Whelan sets the record straight by jumping in two-footed on Javi Garcia.

The image is furthered by the appearance of their manager, who prowls up and down the touchline in a tracksuit and baseball cap, barking one-word instructions at his players. The Britannia Stadium, meanwhile, is a modern ground yet boasts an old-fashioned feel. Until relatively recently, non-paying spectators could mount a small hill just outside and glimpse the action, a scene traditionally reserved for FA Cup giant killings at non-league grounds.

The Potters is a typically English, antiquated nickname, and even the sheer geography of Stoke casts them as outsiders -- Staffordshire is hardly the most renowned footballing region in England, more famous for bull terriers than sport. For various reasons, Stoke are viewed as the underdogs. And while their football might not be appreciated across the country, England undeniably loves an underdog.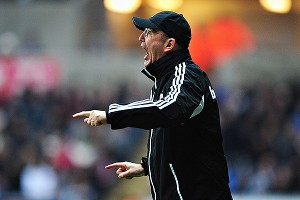 Stu Forster/Getty ImagesTony Pulis likes to portray Stoke as an underdog, which helps deflect the spotlight away from the fact that the Potters have not spent wisely on players.
By casting themselves in that role, Stoke and Pulis get away with an awful lot. Not in terms of their style of play, which has received criticism throughout their five years in the Premier League. (Opinions vary, naturally -- a personal view is that while Stoke's strategy in isolation is limited and frequently horrible to watch, it has effectively established them as a Premier League side. Besides, while few would wish to watch Stoke every week, heterogeneity is vital across a league, to provide different challenges and force opposition managers and players to think and adapt.) Their tackling, too, receives a significant amount of attention.

But here's what Stoke get away with: poor results and performances. In part, Pulis does that by discussing an alleged financial disadvantage. After losing 1-0 at Arsenal on Saturday afternoon, Pulis marched in the press conference room -- standing behind the desk, as always, rather than sitting down like every other manager in the league -- and spelt this out.

"You have to put everything in perspective, and I think sometimes we lose this," he said after Stoke lost to a deflected Lukas Podolski strike. You have a look at [Arsenal's] resources, what they've got, what they've spent, the players they've got … they spent, was it 12 million pounds? On a left-back … we're not in their league in a lot of respects."

But wait a minute. While no one would deny Arsenal have a significant financial advantage over Stoke, Pulis' side aren't quite the poor relations Pulis would like to portray. Forgive a brief but telling dive into the frequently tedious world of 'net spend' (a club's transfer spending, minus their transfer revenue) and the picture becomes clear. In the past five years, Manchester City have been the league's biggest net spenders, while Chelsea are in second place. All roughly as you'd expect. But then Stoke are in third position. They've spent 89 million pounds and received in only 8.5 million pounds. (Arsenal, since Pulis makes the comparison, are actually at the bottom of the transfer net spend table).

This is just one measure of financial muscle -- Arsenal's wage bill is significantly higher than Stoke's, for example. But after a game like Saturday's, when Stoke had just one attempt on target in the 90 minutes, you can't help wondering, where has all that money gone?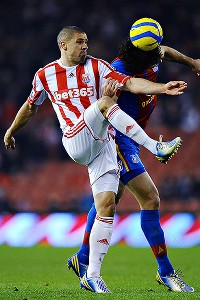 Laurence Griffiths/Getty ImagesJon Walters has been a key starter for the past two years, but his presence in the lineup has served to keep other acquired players on the bench.
Much has been wasted on average players, partly because Pulis continues to play such basic football. Some of the spending has been astonishing; Wilson Palacios was bought for 6 million pounds but is behind the likes of Whelan and Steven N'Zonzi in the pecking order. Upfront, a combined 22 million pounds was spent on Peter Crouch, Cameron Jerome and Kenwyne Jones. With Jon Walters an ever-present for the past two years, only one of that trio starts at once, so Stoke have essentially spent 22 million pounds on one role.

Pulis cites Arsenal's purchase of Nacho Monreal, but the figure has been widely reported as 8 million pounds, and Stoke spent only 1.5 million pounds less, bringing in Jack Butland and Brek Shea. They spent 5 million pounds last summer, 22 million pounds the season before that, 12.5 million pounds the season before that, 21.5 million pounds the season before that, 20 million pounds the summer before that. Only Tuncay (sold for less than he was purchased for the previous summer), Seyi Olofinjana (3 million pounds, the same as he was bought for) and Leon Cort (bought for 1.2 million pounds, sold for 1.5 million pounds) have seen seven-figure sums come into the club.

Stoke's squad is huge. Back-ups are not promising young talents (no one under 24 has played for Stoke this season) but seasoned Premier League players on decent wages. Jerome, Palacios, Jermain Pennant, Matthew Upson, Maurice Edu, Michael Owen, Thomas Sorensen and Rory Delap have managed just three starts between them this season. Some have now left the club, and it's important to point out that Stoke's wage bill isn't particularly high, but it's also fair to question the wisdom on spending (at a reasonable estimate), 100,000 pounds a week on eight players who contribute nothing to the side.

Even Stoke's wealth comes from an old-fashioned source -- a successful local businessman who chose his boyhood football club as the beneficiary of his wealth. Peter Coates' Bet365 company is the largest private employer in the city. If football is going to depend upon huge cash injections, this seems a fairly agreeable manner to do it. But Coates' bankrolling of the club has slipped slightly under the radar, compared to if 80 million pounds had arrived via a Qatari prince or a Russian oligarch. "We could not have achieved our recent success without huge investment," admits Stoke's financial summary from 2010.

The worrying thing is that Pulis' insistence on casting himself as the underdog is lowering expectations, especially on their travels. At home, Stoke are a formidable side -- they held the longest unbeaten home record until the recent visit of Chelsea, for example. Arsenal have won their just once in five visits to the Britannia, yet Stoke haven't won a single point in the reverse fixtures at the Emirates.

Pulis regards away trips to the big boys as 'bonus' games. His strategy at the Emirates was defeatist rather than pragmatic -- Arsenal's defence was weakened on the left side (where Crouch and Walters usually attack) with the absences of Thomas Vermaelen and Kieran Gibbs, yet newcomer Monreal was barely tested. Pulis' postgame comments suggested contentment rather than regret.

Pulis' support of his players is reasonable, as is a narrow 1-0 defeat away at Arsenal, but it's tough to accept his complaints about finances. If Stoke remain underdogs, that status persists primarily because they have spent huge sums of money extremely poorly.

Michael Cox is a freelance writer for ESPN.com. He runs zonalmarking.net.