Same old story: Stoke sitting back
It is plain and simply no surprise to find Stoke languishing fourth from bottom of WhoScored.com's Statistics table when sorting all 98 teams from the Big 5 European leagues by either pass success rate or possession. Stoke's wholly uninspiring approach - despite having players capable of playing with the ball on the floor - has seen them average just 41.9 percent possession and a 70.7 pass success rate. That the only Premier League team behind them in these rankings is newly-promoted Reading speaks volumes about the progress - or distinct lack thereof - in the football being played at the Britannia.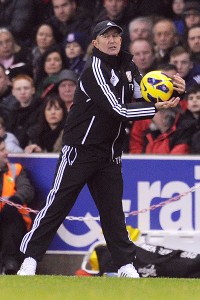 Andrew Powell/Getty ImagesTony Pulis' tactics are keeping Stoke in the Premier League, but aren't very entertaining, especially when the Potters are on the road.
Reading can be excused for such tactics given their sole aim of survival. Of course, it is arguable that Stoke's priority at the beginning of each season is just to maintain their Premier League status even though this is their fifth consecutive season in the top flight. However, in that time in the division they have finished no lower than 14th and have never really been seen as relegation candidates.

Is it not therefore reasonable to expect the Potters to push on and aim for greater heights, particularly given their investment in recent seasons? Manager Tony Pulis continues to persist with their dull long-ball and long-throw, 'get in their faces', typically English physical approach. While playing for five successive seasons in the Premier League is a commendable achievement in itself, it would be welcomed if Pulis opted for a change of tack.

This is not to start anything of the debate on dangerous tackles. Ryan Shawcross was rightly cautioned for an untidy challenge on Laurent Koscielny in the loss at Arsenal this weekend, but the fact is that Stoke's physical approach just isn't successful enough. Arsenal are one of those sides one might associate with being unable to deal with tough-tackling teams, as they have had a fair amount of trouble dealing with the likes of Bolton and Blackburn in years gone by. But they have learned to deal with bigger, more direct, teams and Stoke most certainly come under that bracket.

Stoke's loss at the Emirates was their fifth in five visits there since they joined the top flight. They have only scored twice at Arsenal, one of them a Ricardo Fuller penalty. In fact, in their 20 Premier League visits to Arsenal, Manchester United, Manchester City and Chelsea, the Potters have netted just six goals and failed to pick up a single point, conceding 55 goals. On just about every occasion, they have set up to try and get a point - at best - from the game, and had absolutely no success.

Pulis instills a negative approach to the game in his team, and it is about time he went for another plan of attack on the road; attack being the operative word. Eight goals scored in 13 away games this season speaks volumes, as does the fact Stoke have had five or fewer attempts on goal in four away games this season, including the fewest in a game (two at Aston Villa). Moreover, they have only gained one point from a losing position on the road this season, despite going behind in seven of those. It seems they expect to lose, and hope for a draw when away from their home comforts.

Something that has become apparent in recent weeks is the Potters' propensity for conceding plenty of goals. In their first 19 games, Stoke shipped just 14 goals, but have let in 16 in their last six. Neither injuries nor suspensions have weakened the squad, though it could be that Pulis' extremely consistent team selection has led to a degree of fatigue kicking in. What is also happening, though, is that teams are waking up to Stoke's gameplan, and are finding ways around it.

Pulis' priority, if his team are conceding a lot of goals, will be to tighten up the defence, and rightly so. However, it may just be about time that the Stoke manager starts to think more along the lines of the cliché 'attack is the best form of defence'.

In players such as Jonathan Walters, Charlie Adam and even Peter Crouch, Stoke have attack-minded players who are more than capable of playing what one might call 'good football', as the latter two have proven at former clubs. Pulis, though, likes Walters for his work rate, Adam for his tenacity and set-piece ability and Crouch for his aerial threat. Football has developed beyond this, and the tactics that Pulis promotes are becoming increasingly outdated in the modern game, even in England. It is time for Tony Pulis to take note and change things at the Brittania.

All stats courtesy of whoscored.com