Henderson, like Walcott, could have benefited from slower path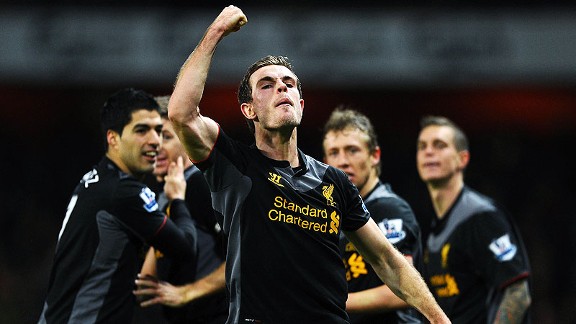 Laurence Griffiths/Getty ImagesLiverpool's Jordan Henderson celebrates after his goal at Arsenal Wednesday. Like other English players, Henderson has taken a rushed path to the Premier League.
Wednesday night could have been Jordan Henderson's breakthrough game. The midfielder pressed, harried and battled Arsenal high up the pitch, drove Liverpool forward with his hard running, and scored Liverpool's second with a goal that owed more to persistence than imagination. Henderson's performance summed up what Brendan Rodgers wants from him in this system, and he was unfortunate not to be awarded man of the match after Arsenal's comeback in the 2-2 draw.

In the end, Henderson's thunder was stolen by Theo Walcott -- but Henderson might see Walcott as something of a kindred spirit. Walcott has become a consistent attacker (only Robin van Persie, Luis Suarez and Juan Mata can match his combined 18 goals and assists so far this season) the problem was his prolonged, frustrating period of development into an established first-teamer.

But Walcott is still only 23, which is staggering considering he signed for 9 million pounds more than seven years ago, and travelled to Germany with England's World Cup squad in 2006. But that was the problem -- Walcott received an international call-up very early and moved clubs for a large sum too soon. It fuels expectations of an immediate impact, when consistency is still years away.

When asked about Henderson after the game, Rodgers made a similar point. "Players used to come to Liverpool and go into the reserves for two years," he said. "These kids are having to go straight into the first team."

Henderson wasn't ready to make a significant impact in his debut season at Liverpool, but he wasn't quite a flop. His signing was an example of long-term thinking, something which has been all too rare at Liverpool in recent years, particularly in terms of recruitment. Andy Carroll was a panic buy; Stewart Downing was signed to provide the panic buy with crosses.

Henderson, on the other hand, was a long-term replacement for Steven Gerrard. "It's a really positive signing -- let's hope he is the next Steven Gerrard," said Liverpool's captain himself, which seemed slightly pompous, although he was realistic about his own shelf life. "That's what good football clubs do -- they replace their best players. Liverpool needs a new Steven Gerrard and it will need a new Jamie Carragher."

But rather than learning from Gerrard on the training ground and acting as a useful backup on matchdays, Henderson was thrown into Liverpool's first XI immediately. He started 31 of Liverpool's 38 Premier League games last season -- aside from a fine performance and a debut goal early on against Bolton, Henderson was underwhelming. It didn't help, either, that Kenny Dalglish used him in multiple positions within various formations, or that Liverpool frequently used five new signings simultaneously.

Henderson needed space to develop in a less pressurised situation; Liverpool, for all their recent struggles, remain a big club with a devoted following and great expectations, but Henderson cost 16 million pounds because of his promise rather than his current ability. Sunderland fans viewed him as a fine prospect but a midfielder who frequently drifted in and out of games -- entirely natural at his age. While others saw highlights of Sunderland games, saw a couple of cracking Henderson set-piece deliveries and declared him a dead-ball specialist, Stadium of Light season-ticket holders considered that area of his game particularly frustrating.

Henderson's England call-up at 20, following one proper Premier League season, was similarly unwise. Starting alongside Gerrard in a friendly against France in 2010, England were embarrassed and Henderson was given the run-around by Samir Nasri. English football remains hooked upon the 'golden' generation in midfield, with Gerrard and Frank Lampard still a major part of the squad, but there's also considerable public opinion, and an undercurrent of agreement from both Fabio Capello and Roy Hodgson, that new blood is needed. Jack Wilshere and Tom Cleverley are other fine prospects, held back by an injury-hit 2011-12 season, but impressive in recent months.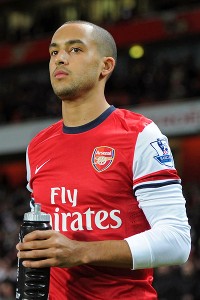 Stuart MacFarlane/Arsenal FC/Getty ImagesAfter seven-plus years and a few bumps in the road, Theo Walcott is starting to realize the potential Arsenal saw in him in 2005.
But here is the problem for players such as Henderson, and Walcott before him: English clubs aren't very clever at developing players in their situation. Their first-team chances come quickly, and they're expected to adapt immediately.

Other countries do it differently. Spain's top clubs have established reserve teams that compete within the main footballing pyramid -- Real Madrid and Barcelona's B teams both compete in the second tier. Barcelona have played this system superbly: Sergio Busquets and Pedro Rodriguez made their first-team debuts at 20 and 21 -- relatively late, compared with Walcott (16) and Henderson (17) -- but had developed in quieter, calmer surroundings and weren't forced to 'grow up' in the first team. When they got there, they were immediately ready for league success, Champions League success and World Cup success.

Germany have a more co-operative, intelligent loan system. Look at the example of Toni Kroos, who might have been a valuable backup for Bayern Munich a couple of seasons ago but was instead loaned out to Leverkusen (a title challenger, no less) to develop for 18 months. He returned and was immediately a key first-team player, a similar experience to Philipp Lahm, who was loaned out to Stuttgart. Young English players only seem to join bottom-half clubs on loan.

Italy, meanwhile, has the complex but useful world of co-ownership, where big clubs can attempt to buy a 'stake' in a player without necessarily forcing him away from his current club.

In the Spanish model, Henderson would be in Liverpool's B team. In Germany's, he might be in the second year of a loan spell, ready to return to Anfield next season. With an Italian setting, he'd probably still be at Sunderland, developing his game steadily with a potential move to Merseyside on the cards in the summer. In England, he's shoved into the limelight and over-promoted to the full national side -- it's sink or swim, with no armbands available and no lifeguard in sight.

Henderson's display against Arsenal was excellent, and his recent form has been encouraging, but he's probably still 18 months from being a consistent, reliable first-teamer for Liverpool. After all, Walcott's equivalent of this 'nearly-breakthrough' game was against Liverpool back in 2008, when he teed up Emmanuel Adebayor for a tap-in after a brilliant mazy dribble, before Arsenal conceded a penalty almost immediately to render his contribution irrelevant. It took him another couple of seasons to live up to his full promise. Henderson might be the same.

Michael Cox is a freelance writer for ESPN.com. He runs zonalmarking.net.