Tactics Board: Left-wing leanings
MANCHESTER UNITED 4-1 FULHAM

As the oldest winger in town returned to his former beat, Ryan Giggs highlighted in the victory over Fulham how his game has changed over the years. Many wide men migrate infield in their dotage, to a place where their diminishing pace is less of a hindrance. At 39, Giggs retains the acceleration to dart past some opponents, which allows Sir Alex Ferguson to field him, as he did two decades ago, out on the left, but he is no longer a sprinter. Instead, his intelligence is now his major asset.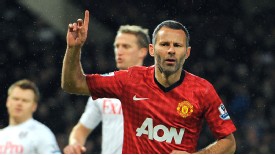 GettyImagesRyan Giggs was back on his old left-wing stomping ground against Fulham
It is why he has been able to alternate between the middle of midfield, the No. 10 role and the flank in the final years of his career. When used wide now, he is actually an amalgam of the three. As Fulham were defeated, Giggs filled many roles – penalty taker is the latest addition to the list – and, in a way, highlighted why he is irreplaceable.

Because, for years, Ferguson has not tried to replace him. Indeed, Manchester United have not had an out-and-out left winger since the younger, if not necessarily young, Giggs. They have used right-footed wingers who tend to cut infield, like Nani and Ashley Young, strikers who are charged with being workhorses, in Wayne Rooney and Danny Welbeck, a midfielder selected for his stamina and defensive ethic in the departed Ji-Sung Park, and, recently, two more who would prefer to be in central roles, in Tom Cleverley and Shinji Kagawa. Wilfried Zaha, scheduled to arrive in the summer, is another right-footed winger who is unlikely to hug the left touchline.

The Giggs of old did that. So did Damien Duff, who might have been his successor had a player Ferguson targeted not joined Chelsea in 2003, and who lined up in the Fulham side. But the modern-day Giggs often occupies a position that was used regularly in Ferguson's playing days: inside left.

Long a specialist outside left, he now tends to be found three-quarters of the way across the pitch. It leaves space outside him for Patrice Evra to advance into. Indeed, Giggs lets the full-back go past him, too. The moment when United should have had a second penalty, when Duff headed a chipped pass intended for the overlapping Evra, was a case in point.

Besides allowing Evra to do some of his running, the other advantage for Giggs is that he can wander between centre-back and full-back or between central midfielder and right winger in an area where opponents are unsure who ought to track him. He can play between the lines, both horizontally and vertically.

The other factor on his flank was Javier Hernandez with the penalty-box predator, like many another striker, drifting left occasionally. His second goal was instructive: while it took a hefty deflection, Giggs was the provider with Hernandez, ahead of him, in a slightly wider position.

Despite the Mexican's new-found fondness for the left, United can be weighted to the right. Whereas, for some of Evra's Old Trafford career, they have had comparatively defensive-minded right-backs, such as Wes Brown, John O'Shea and Chris Smalling, Rafael da Silva is more of a mirror image of the Frenchman.

In front of him, Antonio Valencia is a touchline-hugging right winger and while Nani, who started against Fulham, wanders more often, that flank invariably offers United an outlet. They are more likely to overcome opponents with an overload on the right, whereas it tends to be one runner from deep on the left, unless Giggs turns back the clock by going outside the full-back. The few occasions when Giggs is the most advanced man tend to come when United counter-attack on the right and the 39-year-old aims to sprint in behind the forwards to meet a diagonal ball.

They were slanted to the right against Tottenham for a different reason, to halt Gareth Bale. Against Fulham at Old Trafford, this was more of a familiar gameplan. An increasingly regular part of it is for the central midfielders to play penetrative, vertical passes from deeper positions. Anderson's ball for Rooney to score United's second goal was a case in point; Michael Carrick, his partner in the centre, has made it a feature of his game of late, as was illustrated when he set up Hernandez's winner against Newcastle.

United's current 4-4-1-1 system is the one Ferguson has favoured for the majority of his long reign. Partly because the full-backs are so adventurous, the central midfielders have a relatively restricted brief, which suits Carrick anyway. Fulham, playing a similar shape, allowed them too much room, while also permitting the four more advanced players space further forward, and United's victory was so convincing they ended with a rarity: a central-midfield partnership of Kagawa, rarely deployed in a two, and Paul Scholes, whose mobility has decreased over the years. It left United more open, but still not as open as Fulham.