Why Serie A has fallen out of love with the number ten
Sunday night's meeting between Roma and Inter was an underwhelming match. Despite being the most enticing fixture on paper of the Serie A weekend, the match drifted away after an exciting first 20 minutes, and ended as a scrappy 1-1 draw.

However, the pattern of the game was interesting -- it was played at a relatively slow tempo, interrupted by the occasional burst of sudden, end-to-end attacking. As both sides attempted to bypass the opposition defence quickly after half-time, the linesmen played as crucial a role as some of the players -- there were 11 second-half offsides.

The verticality from central midfield was reflected in, and caused by, the nature of each side's most attacking midfielder. Michael Bradley sped forward from the right of Roma's midfield, while Fredy Guarin was at the top of Inter's triangle, usually drifting towards the left.

Neither is remotely like a 'trequartista,' the archetypal Italian number ten who roamed between the lines, orchestrating attacking moves and creating goal-scoring opportunities. Bradley is more about energy and hard running -- he's proved his technical quality since moving to Italy, but as ESPN FC's Roma blogger Julian De Martinis notes, Bradley has thrived because "his running provides a stable platform for [others] to do what they do best." Guarin, too, is predominantly a runner -- charging back and forth between the central midfield zone and the attackers, driving his side forward rather than carving defences apart.

Yet both proved effective. Roma's opener came from a Francesco Totti penalty, after one of Bradley's typical charges into the penalty area was halted illegally by Andrea Ranocchia. Inter's equaliser was scored by Rodrigo Palacio after Guarin's initial shot was blocked, before the Colombian midfielder simply outmuscled two Roma defenders to reach the rebound, and provided a low cross. Both goals were scrappy, ugly and unremarkable, but they perfectly summarised the current breed of Serie A attacking midfielders.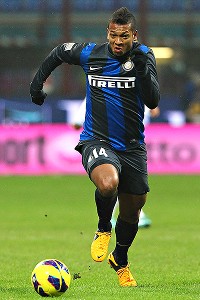 Marco Luzzani/Getty ImagesInter's Fredy Guarin is predominantly a runner, driving his side forward rather than carving defences apart.
Besides, while Bradley started the game, the more technical, arty Miralem Pjanic sat on the bench. As Guarin was blasting past opponents, Wesley Sneijder was packing his bags, preparing for his move to Galatasaray. The Dutchman's form has been dreadfully inconsistent since his incredible 2009-10 season, which is the primary reason for his lack of playing time in recent months -- but it's also true that Serie A has, at least temporarily, fallen out of love with the number ten.

Last year, an Italian magazine show ran a feature with Sneijder and Kevin-Prince Boateng -- good friends -- talking about their playing styles. Sneijder, who believes "the number ten is a special shirt," mocked Boateng for his unsuitability for that role. He is another fine example of a non-playmaking number ten -- Milan used him in that position primarily to fix their problem with a 'broken team' -- he provided the link between midfield and attack with his powerful running. As previously discussed, Boateng's pure playmaking statistics were similar to those of Bradley at Chievo -- in other words, not particularly impressive. Italian World Cup winner Marco Materazzi said of Boateng, "He's a player with a great shot, but he's not a number ten."

Look at the sides occupying the top positions in Serie A, and finding a classic trequartista is difficult -- even Francesco Totti has been shifted to a deep, left-sided forward role in a 4-3-3. Aside from Roma, Inter and Milan, Andrea Pirlo is the true playmaker at league leaders Juventus, but he plays in front of his own defence. Arturo Vidal is a gifted attacking player, but he's another who concentrates primarily on energy, stamina and direct running -- he's the third-most prolific tackler in the league, hardly the sign of a playmaker.

Vidal's teammate Claudio Marchisio, meanwhile, turned down the opportunity to wear Alessandro Del Piero's old number ten shirt. "Whilst it was an ambition of mine when I was younger, I was an attacker back then and now I am a midfielder," he says. "I am not Platini, Baggio or Del Piero. I'm not one who can decide a game, so I do not deserve to ever wear that shirt."

Napoli are an interesting case -- Marek Hamsik is another energetic attacking midfielder rather than a pure creator, although he's bucked the trend this season, becoming increasingly dangerous with his final ball. He's the only Serie A player to reach double figures in terms of assists, but his combative, aggressive nature still makes him more similar to Bradley, Boateng or Guarin rather than Totti or Baggio. Lazio's Hernanes is a wonderfully gifted Brazilian midfielder, and arguably the closest thing to a top-notch central playmaker, but he's more permanently involved in play -- he doesn't receive the ball between the lines,

Even Fiorentina -- a side playing arguably the most attractive football in Serie A, with coach Vincenzo Montella cramming as many passing midfielders into the same side as possible -- don't use a number ten. Borja Valero and Alberto Aquilani shuttle forward from midfield, David Pizarro hits long balls from deep, but Chilean Mati Fernandez, the archetypal South American 'enganche,' can't find a place in the side, having started just six of Fiorentina's 21 games.

All this is particularly odd given that European football has, in the last five years or so, become increasingly hospitable to creative, waifish playmakers. The popularity of 4-2-3-1 in Spain and England means three attacking midfield positions -- and creators like David Silva, Santi Cazorla, Juan Mata, Oscar, Shinji Kagawa, Arda Turan and Mesut Ozil are reasonably content to be moved wide, and asked to drift inside. Even if they don't begin centrally, they can still take up those positions.

Italy, as always, seems to be operating in a different world tactically -- their obsession with 4-3-1-2 at the turn of the decade was also out of sync with the rest of Europe, but it meant the likes of Sneijder, Javier Pastore, Kaka, Diego and Totti were intended to be the fulcrum of the side. Now, since the shift towards a three-man defence in conjunction with an energetic five-man midfield, only Totti remains of that quintet, and even he's used in a modified role.

Tactical trends change increasingly quickly, and with both Kaka and Pastore linked with a return to Italy, we might be remarking upon the sudden re-emergence of the trequartista next season. For now, however, it's plain to see the lack of artistry from between the lines, which used to be one of Serie A's great attractions.

Michael Cox is a freelance writer for ESPN.com. He runs zonalmarking.net.