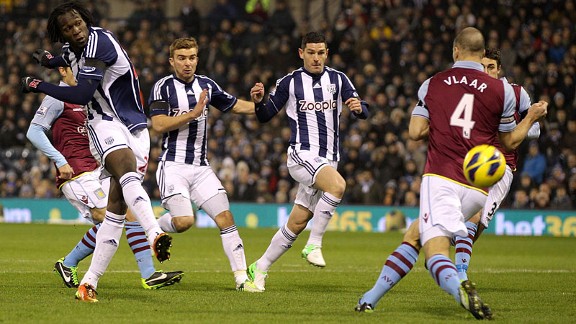 PA PhotosVilla's back three approach had pros and cons as they tried to deal with West Brom
WEST BROMWICH ALBION 2-2 ASTON VILLA

To three or not to three? That has been the question Paul Lambert has wrestled with for much of the season. When Aston Villa conceded 15 goals in three games, to Chelsea, Tottenham and Wigan, it was with a back three. Less than a month later, Lambert reverted to the same shape. If it seemed either brave or desperate, after 45 minutes it appeared inspired.

But what a derby of two halves illustrated were the pros and cons of the shape. Before the break, Villa stifled Albion, pushing men up against their creative players and finding space on the flanks. After it, Albion's were the midfielders who came forward and Villa were forced back. While aiming to play the same system - 3-4-1-2 - in effect they had a back three in the first half and a back five in the second. The other deciding factor was that Albion switched from 4-2-3-1 at the start to 4-4-2 for the final 45 minutes.

Their comeback means Villa have now conceded 20 goals in six league games. There is a theory that if two central defenders can't cope, the safest thing is to introduce a third. Lambert's belief it was the correct shape was illustrated when Nathan Baker went off in the opening minutes and Matthew Lowton, the right wing-back, had to become the third central defender in the reshuffle.

Yet it is rare to opt for a back three against a team with a solitary striker, because it leaves three defenders marking one attacker; indeed one-forward formations are a reason why 3-5-2, and its variants, rather went out of fashion. Yet what it gave Villa was in enabling them to push the full-backs up. In the first half, the block of four subdued Albion's creative trio in their 4-2-3-1 system. Then Villa's back three had comparatively little to do.

Steve Clarke's reshuffle changed everything. If the first half showed the advantage of Villa's back three, the second period illustrated the disadvantage. As teams trying to hold on to a lead are wont to do, Villa dropped deeper, their full-backs in particular, as Albion, now playing Jerome Thomas as an out-and-out winger and with striker Romelu Lukaku spending more time on the right, gave them reasons to retreat. It left Lambert's side with five at the back and the Albion full-backs, who had no immediate opponents, were encouraged to come forwards (as they tend to be among the most cautious in the division, it is something they rarely do otherwise). Clarke's side were allowed both territory and possession.

Chris Brunt's goal was indicative of the change. The Northern Ireland international was one of Albion's two central midfielders. Yet when he scored, from the edge of the Villa box, he was unchecked but his shot flew past four opponents; Peter Odemwingie, with his run and cross, and Romelu Lukaku, who had arrived at the edge of the six-yard box had taken Villa so far back that not only were the defenders within a dozen yards of their own line but so were anchor midfielders Ashley Westwood and Fabian Delph. Brunt, in contrast, was all alone.

It also led to a series of Albion shots from just outside the box. They were often free there because Villa, sometimes with seven or eight men in their box, were encamped still closer to their goal. Thomas was particular prominent; indeed, when he ran at Eric Lichaj, it made it a game where both teams had targeted the opposing right-back.

When Villa conceded their second, however, it was in familiar fashion. They leaked goals from set-pieces under both Gerard Houllier and Alex McLeish and, with different defenders, have continued to do so under Lambert. Odemwingie's equaliser came from a corner, and a consequence of having the ball high up the field, particularly on the sides, is that corners tend to follow.

At the other end, it was telling that both Villa goals had followed passes from Charles N'Zogbia; deployed in the hole in a 3-4-1-2 formation, he used his freedom to go to either flank and set up first Christian Benteke and then Gabriel Agbonlahor. Albion's holding players often sweep up in front of the central defenders but they did not track N'Zogbia when he went nearer the touchlines.

But though one goal came from either flank, it was a one-sided game in one respect: when going forward Villa devoted particular time to the left. Agbonlahor and N'Zogbia both drifted out there frequently, sometimes in the same move, thus effecting an overload. Overall, it suggested they felt they could trouble right-back Billy Jones, particularly because Odemwingie (the right winger before the break, a striker thereafter) does not offer his full-back much support.

Agbonlahor and Benteke were distanced from their team-mates in the second half, particularly after N'Zogbia went off. With physical power and pace respectively, they troubled Albion. The statistics showed their different styles. Benteke won 16 aerial duels, much the most of any player. He also attempted 41 passes, almost three times as many as Agbonlahor (14), who rarely looked for team-mates. Many a move ended with him, whether with a dribble or a shot in the search for another goal. Ultimately the team with three centre-backs were left needing three goals to get the three points. They could not manage to get them but Villa at least escaped the bottom three.