Sandro's injury new dilemma for AVB, Spurs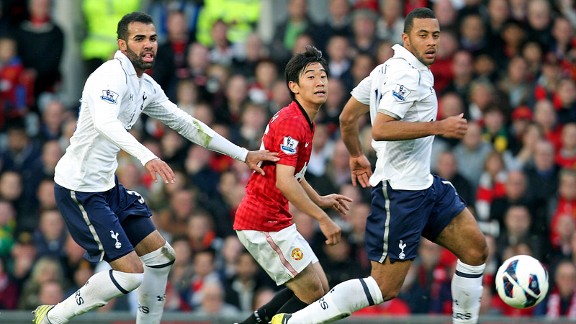 Matthew Peters/Man Utd/Getty ImagesSpurs' Mousa Dembele, right, has to find a new partner in Tottenham's midfield with Sandro on the injured list.
The midfield zone has always been important in influencing a team's style, but in recent years it has become even more pivotal. Put simply, the ball tends to spend longer in that region -- only 15 years ago, bypassing the midfield zone was the standard approach for many Premier League sides. Now, with an obsession with possession football and the majority of sides packing three players into the centre of the pitch, the midfield battle has become even more crucial.

Harry Redknapp isn't regarded as the finest strategist around, but the midfield trio in his final season as Tottenham manager was arguably the most cohesive in the league. Scott Parker, Luka Modric and Rafael van der Vaart were a tremendous combination, a classic example of a triumvirate splitting duties: Parker was the ball-winner, Modric the distributor and van der Vaart the advanced playmaker. Three clubs finished above Tottenham last season, but with Sir Alex Ferguson not sure of the best partner for Michael Carrick, Roberto Mancini alternating the role of Yaya Toure from week to week, and Arsene Wenger struggling to decide upon his most advanced midfielder, Tottenham could compete against the very best when all three midfielders were fit.

When inheriting the Tottenham squad from Redknapp, Andre Villas-Boas ripped up the successful midfield and started again. This wasn't an entirely voluntary act -- Modric had wanted to leave for a while, Parker's absence was due to injury and van der Vaart was happy to return to Hamburg. But the failure to purchase Joao Moutinho in the summer transfer window left Villas-Boas short in the centre of the pitch, and suddenly, Tottenham had a problem.

In May they possessed a brilliantly efficient midfield triangle; now they had a bunch of strangers. Mousa Dembele was new. Gylfi Sigurdsson was new. Clint Dempsey was new. Sandro wasn't, of course, but he was yet to strike up a relationship with the other three. When drawing Tottenham's likely formation at the start of 2012-13, you may as well have drawn a big question mark in the centre of the pitch.

Slowly, it all came together. Dembele was a late signing and didn't start until the third game of the transfer window against Reading. There, his mobility and movement seemed to kick-start Tottenham's season -- having looked static in their opening three fixtures, now Tottenham had rotation and unpredictability in the centre. Dembele could drop deeper than Sandro, or move in advance of Sigurdsson, and Tottenham's midfield trio simply pivoted around the stranded two-man Reading midfield. The superb victory at Old Trafford a fortnight later underlined how direct and purposeful they were in the centre, and since then, Tottenham's midfield have played well. Sandro is a reliable, efficient holding player; Dembele an all-round attacking midfield threat.

The problem has come higher up the pitch, as neither Sigurdsson nor Dempsey seemed to suit the advanced midfield role. Sigurdsson's passing is consistently wayward, while Dempsey was a scorer rather than a creator at Fulham.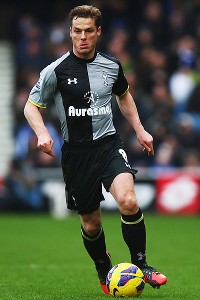 Clive Rose/Getty ImagesWith Scott Parker alongside Mousa Dembele, Tottenham might concede too much space between the lines.
Villas-Boas was forced to change. Away at Arsenal, with Dembele out, he debuted a 4-4-2 system featuring both Emmanuel Adebayor and Jermain Defoe up front. The presence of two strikers was a clear factor for the opening goal, but Adebayor's unnecessary dismissal tested Villas-Boas' patience. Still, after the Togo striker served his suspension, the Portuguese coach has continued with two forwards. It's worked well -- the duo are both capable of dropping deep and linking play, and if one is always providing a deeper passing option, the presence of Dempsey or Sigurdsson isn't necessary; their job has effectively been outsourced higher up the pitch.

Sandro and Dembele, meanwhile, struck up a good understanding. Dembele was forced into a slightly more reserved role; his dribbling has been less obvious in recent weeks, but his passing is very assured. Surprisingly, his pass completion rate is higher than Modric's was last season.

"They are showing great form together, it's difficult to find a pairing [in the Premier League] that is doing as well," Villas-Boas said earlier this month. "Sandro and Dembele have been decisive for us in recent weeks and their form is excellent. It's great to see."

Now Villas-Boas has a problem. Sandro's knee injury against QPR last weekend was more serious than first believed, and after surgery this week, he's expected to be out for the remainder of the season, a significant blow. He was Tottenham's key midfielder, an ever-present player in the centre of the pitch. "He does so much for the team, he works so hard. He's a real fighter," Defoe told the media.

At least Scott Parker has returned from injury to deputise, although he is a more all-action player, less calm and disciplined than Sandro. The Brazilian is a tough competitor, but also intelligent with his positioning and composed with his ball-winning. Parker is classically English, harrying around the pitch and getting stuck in.

With Parker alongside Dembele, Tottenham might concede too much space between the lines for opposition attacking midfielders. The alternative option, Tom Huddlestone, lacks mobility -- and although his long diagonal passes can be outrageously accurate, such moments are too infrequent for Villas-Boas to justify handing him a regular place.

A venture into the transfer market is not unreasonable, although Villas-Boas will surely look to purchase a midfielder who can play alongside Sandro when the Brazilian returns, rather than recruiting a direct replacement. A second stab at luring Moutinho is a possibility, and the more adventurous Lewis Holtby will join in the summer.

Until then, it remains to be seen how Parker and Dembele cope against Manchester United this weekend. Having cleverly replaced Tottenham's previous midfield combination with a system that exuded his love of verticality and rotation, Villas-Boas must now construct another partnership from scratch -- the problem is, this duo might be too mobile.

Michael Cox is a freelance writer for ESPN.com. He runs zonalmarking.net.