Will Man City take a negative approach (again) vs. Arsenal?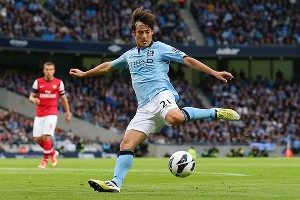 Alex Livesey/Getty ImagesCity have the perfect tools to defeat Arsenal -- like David Silva -- but will Roberto Mancini go negative again? Let's hope not.
Recent matches between the Premier League's big clubs have often been goalfests, but Manchester City's trips to Arsenal in recent seasons have been dreadfully dull. Roberto Mancini has always played remarkably defensive football, and his side haven't registered a goal in three attempts at the Emirates.

The 0-0 draw in April 2010 is a contender for the most underwhelming Premier League game of recent years: Arsenal's title challenge had collapsed dramatically and motivation had vanished, while City made no attempt to win the game. Mancini was content to play out a goalless draw, confident his side would defeat Tottenham to secure a Champions League place -- although that plan eventually backfired.

Mancini used a startlingly unambitious midfield three -- Nigel de Jong, Patrick Vieira and Gareth Barry -- and barely tested Arsenal's elderly centre back duo of Mikael Silvestre and Sol Campbell. "I am not used to games like this," said a bemused Arsene Wenger. "We created very little chances. Man City did not create anything, were highly focused on defending and gave us no space … it was a locked game."

Mancini utilised similar tactics the following campaign, with Carlos Tevez once again deployed as a lone striker. Yaya Toure initially motored forward to provide support, but Arsenal passed around City in midfield, hit the woodwork a couple of times, and Mancini reacted. At half-time, he told Toure to sit deeper alongside de Jong and Barry, closing out the game and playing for a 0-0.

Disgruntled at Mancini's negativity, Arsenal fans booed City off the pitch. "I prefer one point and this, rather than no points and applause," the Italian said. But he admitted his strategy was defensive-minded. "I like to play better football than this."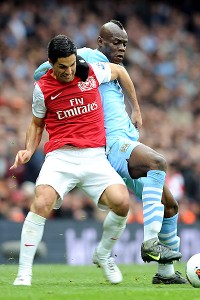 David Price/Getty ImagesLast season at the Emirates, Arsenal held off City to win 1-0 thanks to Mikel Arteta's goal.
Then there was last season. City travelled to the Emirates seemingly needing a win to remain in the title hunt, but Mancini again chose caution. Arsenal dominated the game while Mancini constantly meddled with his midfield following Toure's injury -- his side were simply too reactive, and his substitutions were amazingly tame. Tevez only played five minutes, Edin Dzeko remained on the bench, and Aleksandar Kolarov replacing Samir Nasri was Mancini's attempt to add attacking thrust. Following Mikel Arteta's winner, City were eight points behind Manchester United with six games remaining.

In summary: that's three games played, zero goals scored, and just four shots on target. This is Mancini's bogey fixture.

Granted, there are some caveats: the City side of 2009-10 was incomparable to the star-studded squad of today, and although unsuccessful in hindsight, settling for what effectively became a Champions League playoff against Spurs was not a ludicrous strategy. The following season, City at least started with attacking intentions before adjusting their tactics when they became overrun. Mancini has also suffered from injury problems -- David Silva has yet to play a part in the fixture, for example, and City did record a win at the Emirates in last season's league cup. Although, considering Arsenal were playing a mixture of reserves and youngsters, a late counter-attacking winner from substitute Sergio Aguero was hardly indicative of a positive approach.

Sunday's match becomes an opportunity to assess Mancini's attacking ambition. The frustrating aspect of his previous strategy is not the reactive approach in itself -- counterattacking is the optimal approach for many sides travelling to the Emirates -- but the fact is, it's not City's style. They are ball hoarders, boasting the highest average possession in the league this season, yet Mancini has been happy to disregard his side's identity, overadjusting against a side beneath his own in the league table.

Another reactive performance this weekend would be inappropriate. Mancini only needs to assess the performance of the last victors at the Emirates, Swansea City, to learn that possession football can triumph. Michael Laudrup's players were applauded off the pitch by the Arsenal fans, and although Mancini's disregard for the preferences of opposition supporters is understandable, there's a lesson in there -- Swansea stayed true to their identity, played in their usual fashion and deservedly won the game.

Mancini is handicapped by the absence of both Nasri through suspension and Toure, who is at the Africa Cup of Nations. Nasri is not a significant loss -- his sheepish displays at his former club suggest he lacks the mentality to prove the boo boys wrong, but Toure's driving midfield runs are irreplaceable. Mancini is almost certain to select James Milner in place of Nasri, and Javi Garcia in Toure's central midfield role. Milner will track Kieran Gibbs, while Garcia will sit in front of the defence. Already, it's not looking positive.

But City possess attacking weapons to hurt Arsenal, and Mancini must commit players forward. Wenger's side are still unconvincing between the lines of defence and midfield this season -- the early compactness that appeared so effective in the ruthless 2-0 win away at Anfield is less obvious at home, and although Arteta guarantees some tough tackles, in a positional sense he's not a natural holding player.

That's the zone where City can stretch Arsenal. The relationship between Tevez and Aguero is superb -- Tevez currently occupies a deeper role for City, positioning himself between the lines and dragging opposition defenders towards the play. Aguero, meanwhile, has tremendous acceleration and darts into space in beyond the opposition back four. The last time City faced Arsenal in the pre-Mancini era, Mark Hughes' dressing room flip-pad was leaked after the game -- City's game plan was to pull Thomas Vermaelen out of position, then attack the space in behind him. A similar approach might prosper on Sunday, although much depends on Aguero's fitness.

Then there's Silva, who will make his first appearance at the Emirates, but scored the winner against Arsenal at the Etihad in 2010-11. He's the catalyst for City's intricate passing in the final third, a playmaker who will drift inside, create overloads in central positions, and attempt to slide the ball through the defence. City have the perfect tools to defeat Arsenal through their regular game plan this weekend, so why would Mancini want to be negative?

Michael Cox is a freelance writer for ESPN.com. He runs zonalmarking.net.