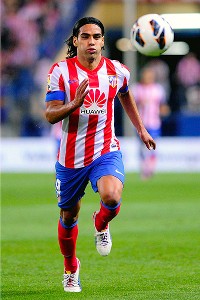 GettyImagesFalcao scored 36 goals in 49 games last season for Atletico Madrid, proving why he is arguably the purest striker currently in European soccer.

In the era of the "false 9," there is no truer No. 9 than Radamel Falcao. He'd look wrong with any other number on his back, having worn the traditional striker's shirt for River Plate, Porto, Atletico Madrid and the Colombian national team. After Pippo Inzaghi's retirement, the Colombian has assumed the role of being the most renowned penalty box poacher in European football. His hat trick against Athletic Bilbao on Monday night was another demonstration of his brilliant goal-scoring ability.

Yet the Atletico striker is hardly an overnight sensation, and many South American players could learn from his journey to the top. Rather than moving directly to one of Europe's elite leagues, Falcao had a more gradual progression via Portugal. Along with the likes of David Luiz, Ramires, Alvaro Pereira, Fabio Coentrao and Angel Di Maria, Portugal has become a particularly fertile breeding ground for Europe's next generation of superstars.

The country has been producing its own excellent youngsters for years, but recently the top clubs have become particularly astute at recruiting youngsters from South America, developing them for a couple of years and selling them on at a great profit. Benfica and Porto are, quite literally, the first port of call for South Americans, and the two clubs battled it out in the summer of 2009 for the signature of Colombia's finest forward since the days of Faustino Asprilla. Porto signed Falcao for 4 million euros -- two years later, the club would sell him to La Liga for 40 million euros.

This period was of great benefit to Falcao -- his experience at Porto allowed him to settle into European life at a steady pace. There were opportunities to rack up easy goals at small provincial sides, but also fiercely contested derbies and Champions League matches against Europe's elite. Falcao started excellently with seven goals in his first seven Portuguese league games, but as Porto's domestic campaign was hampered by Hulk's long-term suspension, Falcao's real impact was in Europe. Four goals in eight Champions League matches -- including one against Atletico -- was a fine debut campaign and a sign of things to come.

2010-11 was the season when Falcao turned into one of Europe's best. "It was the season that defined my career," he says. "It's a season that I will never forget -- and neither will the fans of Porto or European football."

The arrival of Andre Villas-Boas made Porto more dynamic, more attacking and more intelligent on the ball. It often looked as if Porto simply battered teams through sheer force, but the more you saw them, the more it became obvious that the cohesion of their movement was sublime. When one player dropped deep, another would charge forward. When a winger came inside, the full back overlapped.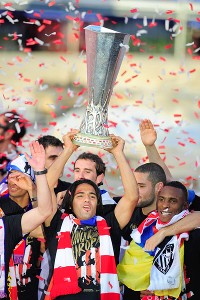 Falcao's prodigious strike rate in the Europa League -- 17 goals in 14 games for Porto in 2010-11 followed by 12 in 15 for Atletico last season -- propelled both clubs to win the competition.

On paper, it's simple stuff, but on the pitch it was almost unstoppable as Falcao's brilliant movement and perfectly timed runs helped Porto to an unbeaten league season. Again, his main impact was in Europe -- 17 goals in 14 Europa League games, including the winner in the final.

Even among those who knew of his quality, Falcao's subsequent move to Madrid raised eyebrows -- 40 million euros for a player unproven outside Argentina and Portugal was a huge sum. Having received a similar amount from the sale of Sergio Aguero, Atletico was intent on spending it immediately to prove their ambition. Luckily, its ambition was matched by Falcao's. "I thought it was the right time to make the leap to a major league," he recalls. "I wanted the challenge to come to Spain and play in one of the best leagues in the world with the best players."

Only those best players -- Lionel Messi and Cristiano Ronaldo -- scored more La Liga goals than Falcao last season, and he once again provided a brilliant encore in the Europa League final in May, with two excellent strikes versus Athletic Bilbao. One was a brilliant curled shot into the far corner from distance, the other a blasted finish after a Ferenc Puskas-style drag-back in the penalty box that left his marker sliding across the turf in the wrong direction. It wasn't quite a single-handed performance -- Atletico defended superbly for the rest of the night -- but he was the main man.

Then again, Falcao always will be the main man. Stylistically, he's something of a throwback -- he's a pure penalty box striker, the type that has become increasingly rare as coaches demand greater linkup play from their frontman. Some of his goals are scrappy and others are beautiful, but there's an incredible efficiency about all of his strikes. He's able to power in headers from unusual angles when his body shape seems wrong, while his feet are always in the right position to exploit a loose ball inside the penalty box.

On Monday night he tormented Athletic Bilbao again with a fine hat trick, though his second goal was quite unusual -- to meet a lofted cross toward the far post, he flung himself toward the ball, hung in midair and coolly converted the chance with an outstretched left boot. Does he specialize in anything else apart from finishing? Maybe not, but if you're good at only one thing in football, make it being a brilliant goal scorer.

It's difficult to see Falcao thriving in another position -- he'd be uncomfortable out wide, his passing isn't advanced enough to feature as a creator, and a strike partner would get in the way of his preferred runs. At last summer's Copa America, he tried to do too much for Colombia, constantly dropping deep and trying to link play. It didn't suit him, and his national team disappointed as a result.

At Atletico, he can concentrate on prowling the penalty box. Having scored 30 goals in European competition over the last two seasons, including three in his two finals, this Friday's UEFA Super Cup match against Chelsea is another chance for Falcao to prove himself as being Europe's greatest No. 9.