The decline of Dani Alves
There was a common theme amongst reactions to the FIFPro World XI: broad agreement for the front three, some minor quibbles in the midfield and an overwhelmingly unpopular back four. Sergio Ramos has certainly earned his place, but Marcelo has never been the most convincing left back, Gerard Pique had a disastrous first half of the calendar year and Daniel Alves has been out of form for the majority of 2012.

It's sad to see Alves struggling in recent times -- at his peak he was a fantastic footballer, crucial to Barcelona's game plan and amongst the most difficult opponents in world football. In a Barcelona side that unashamedly indulged in technique over physicality, with astonishing success throughout Pep Guardiola's four-year tenure, Alves was arguably the most "different" regular starter, the man who offered variety, verticality and sheer speed.

He was one of those players more impressive in the flesh than on television. When watching football from the comfort of your own home, it's easy to take players' physical exertion for granted. Watching Alves up close is an entirely different experience -- you realise quite how quick he is, how impressive his acceleration is and how relentless his forward running is. We've become so enthralled by Lionel Messi's goal scoring, Andres Iniesta's quick feet and Xavi Hernandez's passing, that the challenge of facing Alves was often forgotten. How could opposition left wingers defend against him, when they couldn't run as fast and they couldn't run as far?

Barcelona were perfectly structured to take advantage of Alves' forward bursts. His relationship with Messi is wonderful -- their understanding starts before games, when they warm up together, thumping 40-yard volleyed passes to each other. When Messi was still a right winger, he could cut inside, which allowed Alves to burst down the wing, and vice versa. When the Argentine became Barcelona's central forward, Pedro Rodriguez (not Barcelona's most talented player, but arguably the most comfortable with the side's integrated movement) knew exactly which runs to make to allow Alves forward. The positioning of the winger was always key, and when Alves played right back for Brazil in this period, he spent half the time shouting at a teammate to get out of his way.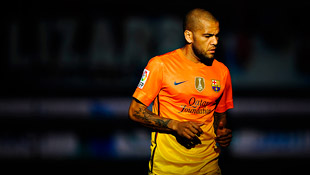 David Ramos/Getty ImagesWith diminished pace and decreased attacking influence, will Dani Alves ever be the same again?
But over the past couple of seasons, Alves' form has declined. His stamina is less obvious, his runs are less effective, his crosses frequently wayward. Perhaps it's a cynical view, but his performances declined sharply after he signed a new long-term contract in March 2011. Barcelona generally aren't accustomed to long, drawn-out contract negotiations. Messi, Xavi and Carles Puyol signed new deals in December with a minimal amount of fuss, but Alves' negotiations were protracted. He wanted a salary closer to that of his more illustrious teammates, and his agent conspicuously flirted with Premier League clubs.

The deal, which runs until 2015, was right for both player and club. But with his financial future secured, has Alves lost motivation?

He certainly had problems with Guardiola last season -- Alves was omitted from the side for a couple of Barcelona's big games, and although Guardiola praised him as "irreplaceable," reports suggested he was happy for Alves to leave for disciplinary reasons. Rumours suggested that Alves wasn't working as hard in training, that his focus wasn't up to scratch. If the right back has followed the Brazilian football stereotype -- a few years of supreme football, followed by a dramatic decline when partying took precedence over playing -- it will affect him more than most. Others can rely on imagination and skill -- Alves' incredible fitness levels owe much to his training regimen.

He certainly appeared guiltier than most after Guardiola's decision to leave. "Pep said that he would only leave when we were no longer responding to him," Alves said in an interview last summer. "We did not respond to him on the field as he would have liked, and this is why the players feel responsible for his departure."

The saga continued into the summer. "It's true that there were rumours that I would not be staying at Barca and I was upset that the club did not intervene," Alves told a news conference. Tito Vilanova quickly responded, saying he was unaware of Alves' concerns and would have immediately assured Alves of his position at the club.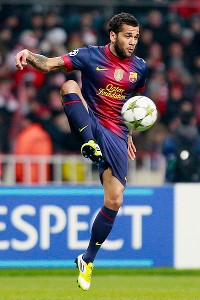 Dmitry Korotayev/Epsilon/Getty ImagesIf Alves' position in the club is secured thanks to his long-term deal, his position in the first team is anything but.

Yet if Alves' position at the club was certain, his position in the team is not. When Guardiola left him on the bench last season -- in the home leg of the Champions League tie against Chelsea, for example -- it was sometimes because he wanted to play a 3-4-3 system that didn't suit Alves. Vilanova's tactics are less experimental and more "classic" Barcelona -- 4-3-3, with two full backs. Alves, put simply, isn't one of his best options.

Oddly, Alves has been superseded, in one way or another, by three separate players. The signing of Jordi Alba has given Barcelona, for the first time in years, a genuinely exciting attacking left back. As a Spanish international and a La Masia product, his impact has been instant and he contributes so much of what Alves once offered -- consistent attacking, intelligent timing of runs, a reliable end product.

Then there is the form of Adriano -- like Alves, a Brazilian ex-Sevilla full back. Able to play on either flank, Adriano was generally used at left back immediately after his arrival in 2010, but this season he's excelled on the right, impressing with his defensive performance and contributing some tremendous goals.

Finally, Martin Montoya will be handed more opportunities in the remainder of 2012-13, especially as Barcelona move toward a situation where the league title has been secured. He's another La Masia product, and a more defensive-minded player than Alves. Barcelona have generally preferred to play with one attacking "wing back," and a more solid full back on the opposite side -- Alba is now a fixture at left back, so Montoya is the more natural right back.

Statistics from Barcelona's La Liga campaign sum up Alves' minimal impact. Alba has contributed two goals and four assists from 15 starts, Adriano has scored five times from nine starts and even Montoya has provided two assists from four starts. Alves has begun 10 matches, yet hasn't directly contributed to a single Barcelona goal.

Football is about more than goals and assists, especially for a right back -- but then Alves contributed them on a regular basis because he was so much more than a right back. Far from being deserving of a place in a world XI, Alves currently doesn't deserve a place in the Barcelona XI.