Ba vs Torres - A statistical comparison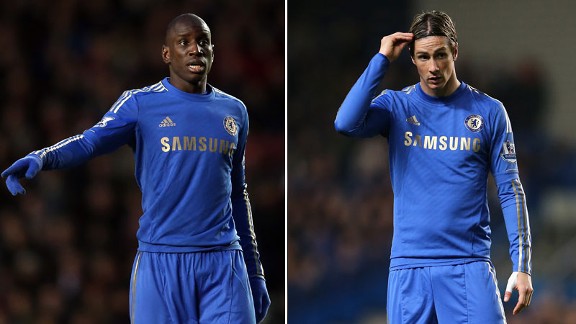 GettyImagesDemba Ba and Fernando Torres look set to battle for a single spot
Fernando Torres' and Demba Ba's Chelsea debuts could hardly be more contrasting. While Torres' saw the start of a run of 576 minutes of Premier League football without a goal, and 903 minutes in all competitions, Ba hit the ground running with a brace against Southampton this weekend. It remains to be seen how much the Senegalese will feature in league games given manager Rafa Benitez's affiliation with Torres, but after Saturday it is hard to see Ba embarking on as bad a run as Torres did. Here, we use WhoScored.com's vast array of statistics to analyse the two strikers' performances this season.

- Lythell: Chelsea rampant as Ba shines

Torres arrived at Chelsea with the pressure of an exceptional price tag, which is something Ba does not have to deal with, but both arrived at the club with another striker as the main man. Torres had something of a harder task, charged with ousting Didier Drogba as the Blues' frontman, while Ba will be lauded for anything he does with Torres, who has been much maligned for his displays this term, flounders.

How exactly, though, will Ba improve Chelsea? There is no doubt that the two will not play together, with Chelsea's attacking midfield unlikely to be sacrificed for the strikers, and Ba will want to be given the chance to have a run in the first team, with Torres already handed that chance this season, to little avail. Both have made 20 league appearances this season, with Ba leading the scoring charts with 13 goals to Torres' seven. Torres' return is decidedly meagre in a team that scores as freely as Chelsea - his seven strikes make up just 18% of Chelsea's goals this season and include a drought of 750 minutes without a Premier League goal. With very little alternative options up front, that was not the kind of thing that Chelsea required from their £50 million star striker.

Ba is also capable of going off the boil at times. Although he has been consistent this term, scoring 50% of Newcastle's goals - the highest proportion by any player in the Premier League - when Papiss Demba Cisse arrived last season, he went on an incredible run of 1188 minutes without a league goal. That is nearly 20 hours without a strike, and goes a long way to showing that Ba is not good at giving way to another striker. Ba and Torres will certainly be going head-to-head for a single spot in the Chelsea line-up.

While Ba has scored more, he has also had a great deal more attempts on goal than Torres, with 89 to Torres' 47. That means his conversion rate - 14.6% - is actually lower than Torres' this season - 14.9%. Torres also hits the target with a higher proportion of his shots (48.9%) than Ba (41.6%), so if Ba is going to have to adapt his game so that less of the play revolves around him, he may in fact become less effective at Stamford Bridge. After Saturday's brace, however, there was no sign of his threat abating.



Other / WhoScored.comDemba Ba and Fernando Torres look set to battle for a single spot
Ba's only attacking input is in front of goal. He has averaged more touches per game (38.7) than Torres (35.3) but has just 8.7 touches per shot, while Torres, who is more conservative in his play, averaging nearly twice as many touches of the ball per attempt on goal (15.0). As a result, Ba takes 59.5 touches per goal, while Torres takes 100.9 for every goal he scores. Fewer touches per goal is not always a good thing, and usually merely indicates that the player is more direct and does less for the team's general play. Ba is that type of player, without a single assist to his name this season; he is the only player with over seven goals but no assists, as can be seen on the WhoScored Premier League statistics page. Torres, though, with over 100 touches per goal, should really have more than the one assist he has. Shane Long, for example, averages 94.6 touches per goal - fewer than Torres - and yet has three more assists.

The problem for the Spaniard is that he does not hold on to the ball well enough. Ba has exhibited fantastic hold up play for Newcastle this season, with a huge portion of the times he loses possession due to him having a shot that misses the target. Torres has lost possession, on average, 14.8 times per game this season - more than Ba's 12.4 - whilst also completing fewer passes per game (14.9) than Ba (19.2).

Chelsea have enough sources of creativity in their ranks for Ba to retain his style of play with little impact on his team-mates. Mata, Hazard et al will lay on chance after chance for their striker, and the team may well flourish with a confident forward who isn't scared to shoot on sight. The Senegalese international, with the hold-up play he is capable of, playing with his back to goal to bring those players into the game, could just be a near perfect fit.

All stats courtesy of whoscored.com